BEAUTY
First Lady Dr. Jill Biden Dons in This Trendy Hair Accessory
Feb 16, 2021 02:51 AM EST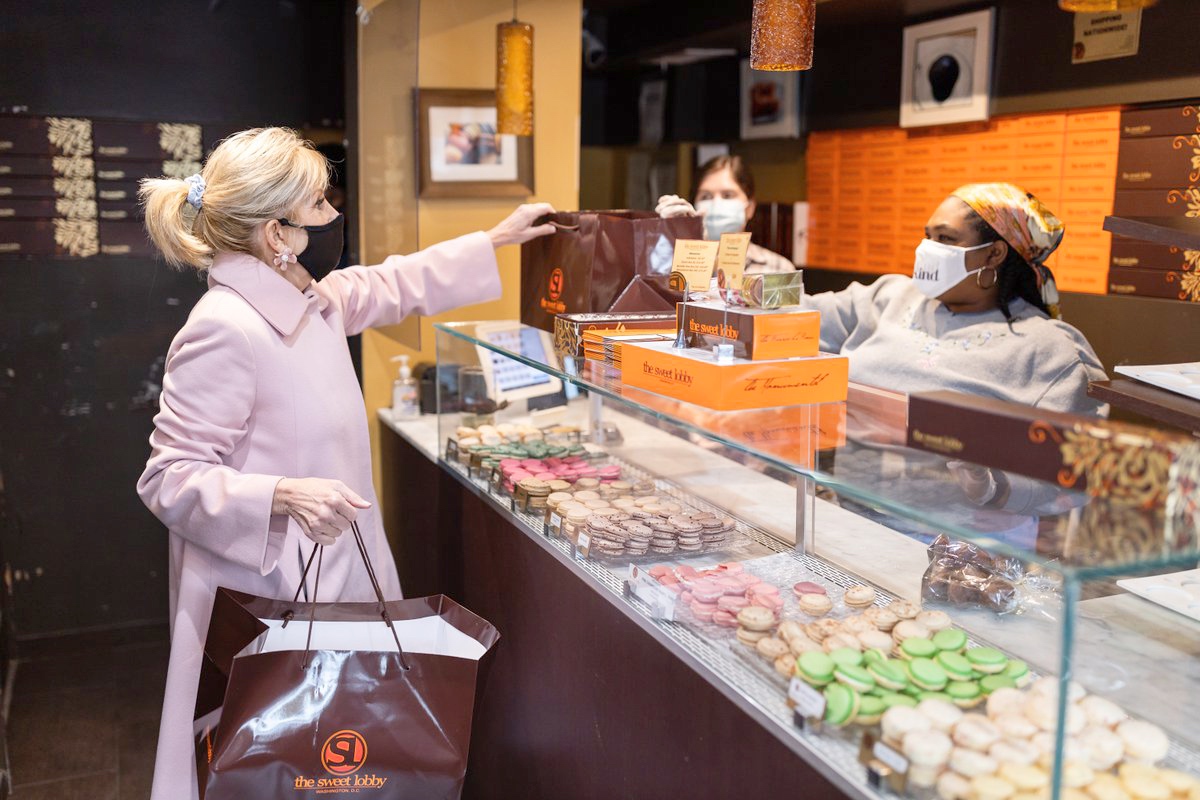 Credit : Dr. Jill Biden Twitter
Dr. Jill Biden exudes grace and class during President-elect Joe Biden's inauguration ceremony at the United States Capitol in Washington, D.C.
She wore a turquoise coat and dress with a matching face mask, made by the New York-based designer Markarian.
Moreover, she was often spotted alongside the US President, donning sustainable pieces that American designers created.
However, just like most of us, the FLOTUS has her down days when she wants to dress casually.
IN CASE YOU MISSED: Miranda Kerr Reveals Why She Made the Switch To Clean Beauty


Dr. Jill Biden's Scrunchie Mania
Over her recent social media post, the 69-year-old New Jersey native posted a photo of her sporting a casual yet chic outfit ahead of Valentine's day.
However, Twitter users were captivated by her relatable hair accessory that includes a light blue scrunchie.
To recall, these fabric-covered elastic hair ties became a massive hit in the '90s. They are commonly used as hair ties but can also be worn as a bracelet.
In 2020, scrunchies made a huge comeback and have been reported as Pinterest's top-ranking beauty trends for the year.
Twitter Loves Dr. Jill Biden's Scrunchie
With FLOTUS being the new hair influencer, Twitter can't get enough of her relatable hairstyle.
"Wearing a ponytail in a scrunchie. And I bet she samples some for herself in the car. Love her!" one fan tweeted.
The second user echoed the same sentiment and posted, "Look at @FLOTUS rockin' the scrunchie and pony! Love seeing this precious love story in the White House!"
Meanwhile, an individual strongly expressed her approval regarding comfort before fashion mantra.
"@FLOTUS, You are a class act! Love the coat and scrunchie! The scrunchie is comfortable and stays in nice..so I am with you on the scrunchie!" one wrote.
ALSO CHECK: Chrissy Teigen's Top 5 Biggest Beauty Mishaps


How to wear Scrunchies Like Dr. Jill Biden
There are tons of ways to elevate your look using scrunchies.
As seen on the Biden matriarch, she wore it the classic way, featuring a side-swept low ponytail.
Aside from this, scrunchies can be worn as a topknot, making it perfect for messy high buns.
You can also do the half-up hairstyle using silk scrunchies for that girly- girl look.
Moreover, for those who love to experiment with trendy hairstyles, these can be used as a bubble ponytail, using two to three scrunchies, depending on the length of your hair.
Celebrities who are Rocking the '90s Scrunchies Trend
Apart from the First Lady, celebrities are also spotted donning this trendy hairstyle.
If she's not on the runway or red carpet, you can often see photos of Gigi Hadid sporting a high ponytail with colorful scrunchies.
Also joining the scrunchie bandwagon is her fellow model and friend, Hailey Baldwin, who wears the hair accessories in a half-up messy ponytail.
READ MORE: Addison Rae's Item Beauty Speaks About Empowerment