Oct 28, 2020 09:34 PM EDT
(Photo : milkmakeup / Instagram)
If you're a makeup junkie, chances are you've heard of Milk Makeup. With its growing fan base of two million followers on Instagram, Milk Makeup is developing a cult-like following on social media thanks to its cool-girl, millennium vibe straight out of New York City. In fact, Milk was born there. A brainchild of a group of creatives, Milk cofounder Mazdack Rassi, product developer and COO Dianna Ruth, creative director Georgie Greville, and beauty and fashion editor, plus E! News correspondent Zanna Roberts Rassi, Milk Makeup is cruelty-free, paraben-free, and 100% vegan.
While fans like it for their minimalist yet colorful aesthetic, they love it more because they're handy and very easy to apply. You don't need a bunch of makeup tools like brushes and beauty blenders to have a fully made-up face. Your fingers are enough to do the trick with their blendable and hydrating formulas. Its low-maintenance vibe screams New York, where everyone seems to be in a rush to get somewhere.
Milk Makeup has an impressive number of products, 85 and counting. Marie Clare reports that inventory is low, leading to obsessive hoarding and even reselling at much higher prices. With actresses like Liv Tyler and Kate Bosworth in their fan club, makeup enthusiasts are keen to try these so-called Holy Grail products.
Also Read: Milk Makeup's New Kush Brow Gel Is Infused With CBD Oil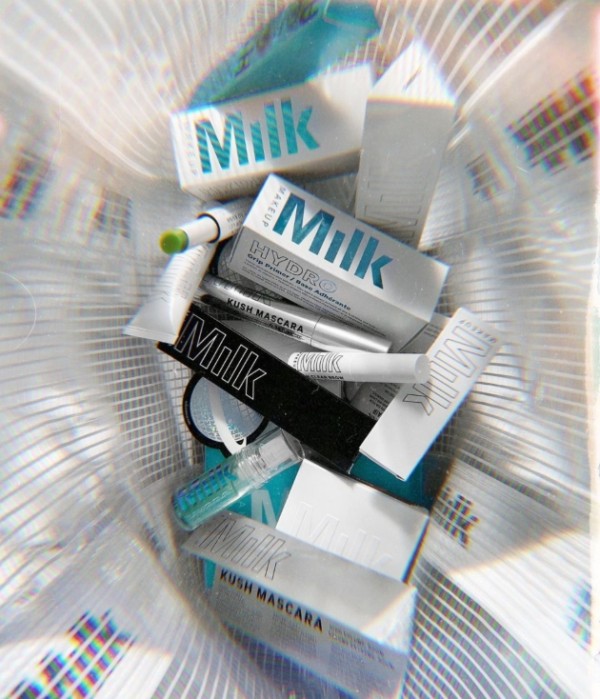 Here are some of their most popular products doing the rounds on social media:
KUSH High Volume Mascara
Cosmopolitan describes this mascara as a "magic wand." It goes on to say that it's difficult finding great eco-friendly mascaras, but having derived cannabis oil and unique heart-shaped fibers, KUSH delivers length and volume in spades.

Lip + Cheek
If you're always on the go, a multi-use product is always a good buy. As its name suggests, Lip + Cheek can be applied onto your lips and cheeks. Marie Clare writes that it's especially good for those who have dry skin and states that the shade 'Werk' works for any skin tone.

Flex Concealer
With 24 shades to fit most, if not all, skin tones, this concealer is another favorite of the Marie Clare beauty team. While some concealers dry up and crack, this promises to move with the skin and blend seamlessly. If you're constantly battling blemishes and dark undereye circles, you may want to give this a go.

KUSH Lip Balm
With Covid-19 raging on, lipsticks have taken a backseat due to wearing masks. While mascne or mask acne has become common, dry lips are also becoming a concern. While masks are not especially abrasive, they still cause friction against our lips that they can sometimes be irritated. With a hydrating lip product like KUSH Lip Balm, that will no longer be a problem. Formulated with shea, cocoa and mango butters, and other natural ingredients, it's a delicious blend of emollients to keep your lips moisturized.

Is it worth it?
While Milk Makeup is on the pricey side, consumers don't seem to mind. According to Marie Claire, the brand had a waitlist of 17,000 before it even launched in the U.K., and within the first 24 hours, after they opened their pop-up store in Convent Garden, five of their most popular products have been sold out. So, is it worth it? Many seem to agree.
Related Article: Virgin Coconut Oil as a Makeup Remover | What You Need to Know
See Now: 100 Most Beautiful Women In The World
PHOTO GALLERIES
BEAUTY IDEAS
HOW TO