Jennifer Lopez wowed fans as she gave the classic long black dress a modern twist.
The pop icon officially welcomed "the sandal season" with the newest campaign shoot for DSW Spring 2021 collection.
Jennifer Lopez Wears $1,148 David Koma's Cut-Out Mini Dress
The "Get Right" hitmaker, who is the face of the brand's latest campaign, teased her 145 million followers with a series of sneak peek snaps donning a head-to-toe black ensemble.
"It's officially sandal season, and the new spring #JLOJenniferLopezcollection has arrived at @DSW!" Jennifer Lopez's Instagram caption reads, alongside a photo of the "Hustler" star sporting a cut-out LBD.
As usual, the 51-year-old triple threat looked stunning in her David Koma's Cutout Cady minidress that retails for $1,148.
It was first showcased during the spring '20 runway, featuring pretty revealing skin-tight cut-out details from the chest and down the sleeves.
In another IG post, the mother-of-two shared a short clip of her behind-the-scenes during her DSW campaign shoot.
"BTS from my @dsw shoot #JLoJenniferLopez," the caption reads.
READ MORE: It's Hers: Jennifer Lopez's Haircare Launch
Jennifer Lopez's DSW Collaboration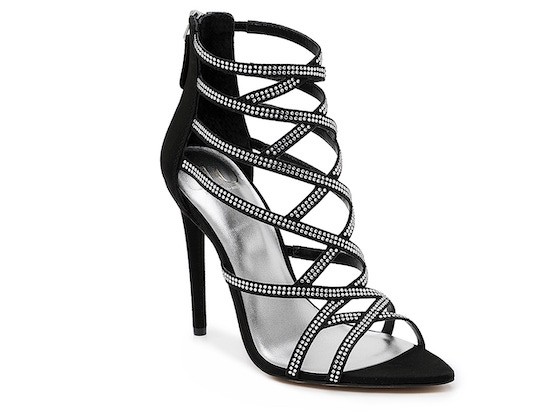 Aside from her jaw-dropping black mini dress, the main star of Jennifer Lopez's look is her eye-catching strappy heels.
The Golden Globe nominee sported a Torrie sandal from her latest collaboration with DSW.
The said footwear is from the JLO JENNIFER LOPEZ collection, which retails for $80.It features a jeweled caged strap covered with rhinestones.
Moreover, the dramatic silhouette is perfect for a date night look as it showcases a strappy detail that slightly covers the ankles down to the toes. In addition, it has a sharp, pointed toe and 4-inch stiletto heel.
Despite its heel height, the Torrie sandals are comfortable since it has a lightly padded footbed and a zipper back heel closure for easy access.
Jennifer Lopez Sizzles in a Leopard Print Outfit for DSW Debut
The award-winning singer became the face of DSW after she made her debut in March 2020.
For her first collection, the customers had a wide array of footwear choices ranging from sexy heels to edgy flats from only $59 to $189.
Interestingly, the "on the Floor" songstress sets pulses racing with her first campaign shoot as she dons in a leopard print lingerie and matching heels.
Jennifer Lopez wore a cropped animal print blazer that matches her sexy lingerie, showing off her long-toned legs as she paired it with a kitten heel strappy sandals.
She then capped off her look with bold makeup featuring smokey eyes and nude lips while her hair is in a sleek pulled-back style.
As for her accessories, she dons in gold, bold hoops, and a massive diamond ring.
At the time, E! News obtained that the said collection is close to her heart as it represents the cities that became a part of her life--this includes New York, Los Angeles, and Miami.
"We're bringing the downtown street style that represents New York, some old Hollywood glamour, and a vibrancy that's representative of Miami. With this collection, it's my hope that people can find and represent multiple sides of themselves, all while remaining true to their most authentic self," she furthered.
READ MORE: Jennifer Lopez Rocks A Pixie Cut For Allure's 30th Anniversary Issue