Justin Bieber and Hailey Baldwin continue to prove that they are the ultimate couple goals as they often dons in trendy outfits.
As the Canadian superstar celebrates his 27th birthday, the blonde beauty penned a heartfelt post alongside the couple's never-before-seen sweet moments.
"Another year around the sun with you, another year of getting to love you, grow with you, and laugh with you. Happy 27th birthday, you are my favorite human, and I'm grateful to be by your side," she wrote.
In one photo, the runway model posted a photo during their much-awaited ceremony where Hailey Baldwin's wedding veil has a phrase that says, "Till Death Do Us Part."
This was followed by a series of snaps where the young lovers were photographed wearing Justin Beiber's clothing line, Drew.
Since their hush-hush marriage in 2018, the duo has been spotted giving their fans some major #couplegoals on different occasions.
That said, here are five times Justin Beiber and Hailey Baldwin nailed the couple street style.
READ MORE: Ice Queen Hailey Bieber Debuts in Ivy Park Collection
Although it is unclear if Stephen Baldwin's daughter will be walking on Fashion Week, the blonde beauty and her husband were spotted strolling the streets of Paris ahead of the socially-distanced event.
The Grammy winner was photographed in a stylish outfit with his signature baggy cargo-style jeans and cozy Isabel Marant sweater over a deeper shade of blue jacket.
He then paired it with a baby blue printed hat and classic white Nike sneakers.
Hailey Baldwin's outfit, on the other hand, complimented the singer's blue ensemble as the runway model dons in a yellow leather suit and a matchy bucket hat.
Back in 2019, the Hollywood couple graced the cover of Vogue for their March issue. In one layout, Justin Beiber and Hailey Baldwin's outfit featured a matchy polka dot ensemble. The Bare Minerals muse was sporting a triangle top and a bikini with a flowy cover-up while the "Sorry" hitmaker wore polka dot trousers as the duo sat on a foldable beach chair.
The Canadian crooner and his wife definitely have a thing for the outdoors. Based on Justin Beiber and Hailey Baldwin's Instagram, they often go off the grid to unwind and have alone time together. In September, the Vogue cover girl shared a photo of them wearing the Drew merch. She was sporting an oversized violet matchy sweater and jogger pants while the "Love Yourself" singer opted for a gray sweater, paired with a black jacket and dark jogger pants.
It seems that the paparazzi love the A-lister couple.
Earlier this month, the award-winning singer and Baldwin were photographed wearing the comfiest street style outfit.
Of course, Justin Beiber was in his Drew ensemble but his wife chose to hit the streets of Los Angeles with an oversized longline coat paired with loose trousers and a simple white top.
PDA Packed Red Carpet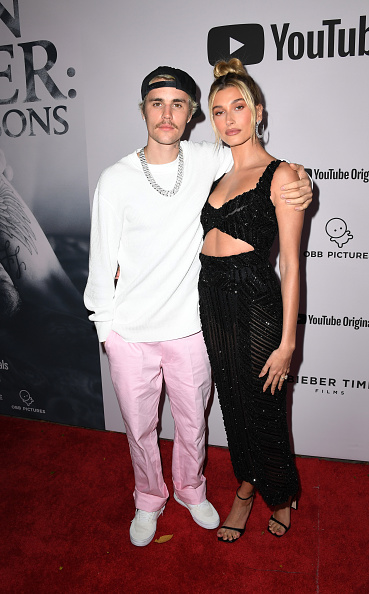 Last but not least with Justin Bieber and Hailey Baldwin's best fashion moments was during the "Seasons" red carpet premiere for his new YouTube docuseries.
Who would forget the couple's PDA moment as the couple couldn't keep their hands off each.
At the time, the runway model stuns in a body-hugging sequin-embellished dress with cut-out detail at the center, flaunting her toned abs.
On the other hand, the Candian singer appeared in a simple white long-sleeved thermal tee and baby-pink trousers.
READ MORE: Hailey Bieber Set to Launch New Skincare Brand "Rhode"