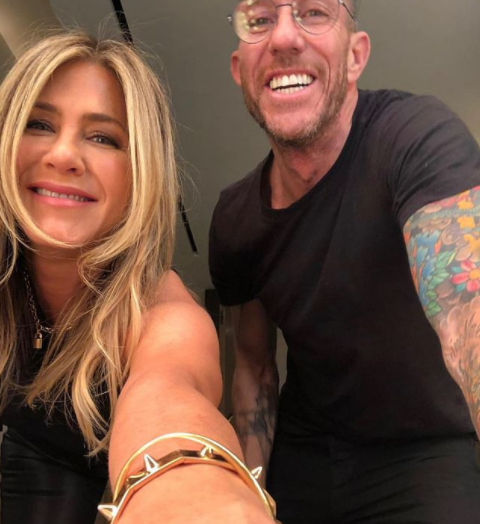 Credit : mrchrismcmillan/Instagram
Jennifer Aniston has long been a hair icon. Ten seasons of the beloved TV show Friends have shown fans and viewers Aniston's numerous hair transformations. The "Rachel" haircut was so iconic in the '90s. Aniston's character, Rachel, even made a joke about it in the show. Until now, any change in Aniston's hair makes the news and makes beauty editors perk up. Aniston just debuted blonde hair for her return to "The Morning Show." That Instagram post garnered over four million likes. In honor of her 52nd birthday, her longtime hairstylist, Chris McMillan, and colorist of nearly 30 years, Michael Canalé, share Jennifer Aniston's care routine with Vogue.
Bronde before blonde.
Canalé says Aniston is the "original bronde." In case you're wondering, bronde is the blend of brown and blond. It took years of gradually lightening Aniston's brunette locks to her signature beachy highlights and now to a full golden blonde. If you want to blonder, Canalé suggests going bronde first, especially if your skin is warm like Aniston's. To preserve your new hair color and bring out the blonde tones, Aniston's go-to gloss treatment is Canalé Midnight Blue Signature Gloss.
Double cleanse your hair.
Like many, Aniston doesn't wash her hair daily. When she does, she alternates between Drunk Elephant Cocomino Glossing Shampoo and Living Proof No Frizz Shampoo. She lathers, rinses, and repeats the process. McMillan recommends double cleansing to keep the scalp clean for a longer time. Next, McMillan says they condition from roots to tips with either Drunk Elephant Cocomino Marula Cream Conditioner or Canalé Soften Conditioner. McMillan assures that this practice doesn't make hair look flat. Spread conditioner over hair evenly with a wide-toothed comb.