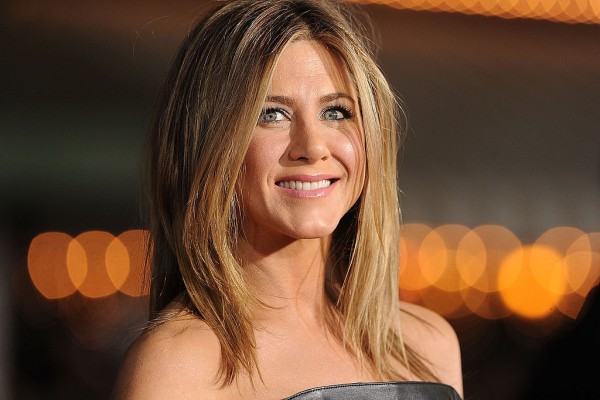 Wellness brand Vital Proteins, best known for its collagen products, gains a new Chief Creative Officer in everyone's favorite F.R.I.E.N.D., actress Jennifer Aniston. This is Aniston's first business venture into the wellness industry, but has had sponsorships with Aveeno, Smartwater and Eyelove.
Joining Vital Proteins came naturally as Aniston has long been a believer of the brand and the benefits of collagen. She started drinking Vital Proteins' Collagen Peptides years ago and shared in a 2018 interview with Well + Good that it gives her a healthier glow. It also made her nails stronger.
In a statement on behalf of the wellness brand, Aniston affirms she always been advocating for nourishing wellness from within. This is also why she started using Vital Proteins years ago.
"Now to have the opportunity to be a part of the brand in a bigger way as chief creative officer is very exciting to me," Aniston added.
Harper's Bazaar lists Vital Proteins' Strawberry Lemon Collagen Water, Collagen Creamer, and the Unflavored Collagen Peptides as Aniston's favorites from the brand. She will soon appear in a Vital Proteins ad campaign this December.
Also read: Gemma Chan is the New Face of L'Oréal Paris
What is Collagen?
Collagen accounts for one-third of the body's protein composition. Healthline emphasizes that collagen is a major building block of skin, bones, muscles, tendons and ligaments. It's also found in your corneas, teeth, and blood vessels.
An NYC dermatologist adds that as we age, the body's production of collagen slows down and by the time we're in our 30s, we will lose it at a rate of one to two percent. Factors like age, sun exposure, stress, poor diet, and smoking can also contribute to the breakdown of collagen.
Nutrients that help the body produce collagen are Vitamin C, proline (found in dairy products, egg whites, wheat germ and mushrooms), glycine (found in pork and chicken skin, plus other protein-rich food, and copper which you can get from cashews, sesame seeds, lentils and organ meats. While the jury is still out that drinking collagen supplements really help produce more collagen, small studies have found that it can improve skin hydration and elasticity. And while dermatologists would like to see bigger clinical studies, they are optimistic about ingestible collagen.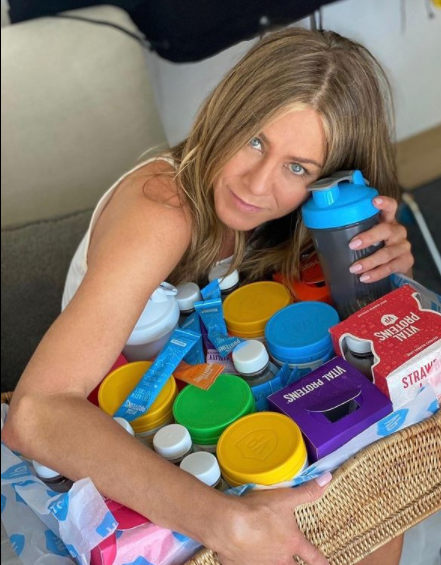 Types of Collagen
There are many vairous types of collagen, but the most common that you'll find in many supplements are Type I, Type II and Type III.
Science Direct writes that Type I is the most abundant collagen, and it is particularly important in bone, skin, and connective tissue. Vital Proteins add that the decrease of Type I collagen production can result to thinning hair, brittle nails, fine lines, and sagging skin. Their Collagen Peptides, which Aniston drinks regularly, is primarily composed of Type I collagen.
As written in The Encyclopedia of Food and Health, Type II consists of tissues derived from the cartilage and vitreous humor and Type III is found in loose connective tissue and also in the muscle, where it has an association with Type I collagen. Vital Proteins recommends their Cartilage Collagen (composed of Type II collagen) for joint health, while their Marine Collagen is rich in Type III.
Related article: Jennifer Hudson and Busy Philipps Lead Olay's Empowerment Campaign