Jan 08, 2021 10:00 PM EST
(Photo : katherinepower/Instagram) A sneak peak at Merit's Flush Balm.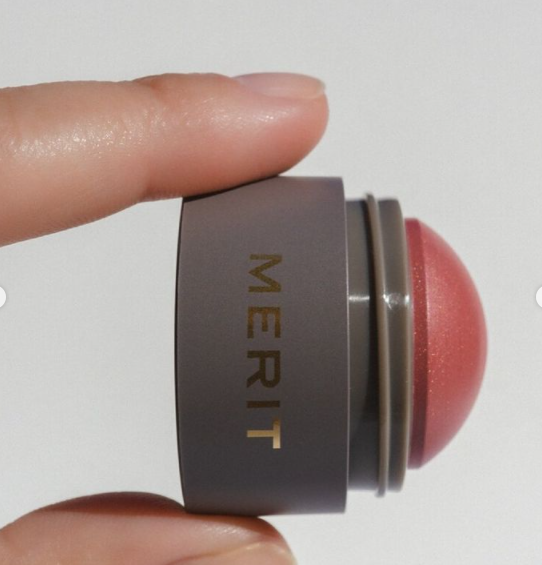 Katherine Power, the co-founder of the fashion brand and website Who What Wear and the successful clean skincare brand Versed Skincare has just launched Merit, a clean beauty brand that will make every minimalist's heart flutter. Merit will be starting off with seven products that aim to give you the perfect five-minute face. All products, according to Power, are "impossible to mess up" and can easily be applied with your fingers or Merit's brush if you want to be a bit more luxurious with the application. Merit products have been formulated according to the European Union's standards of clean beauty and all are vegan and cruelty-free.
Allure had the exclusive opportunity to converse with Power and try out Merit's product line. Associate digital beauty editor Sarah Kinonen says that Merit has transported her to Pre-Covid times when makeup was something enjoyable. Being a makeup minimalist herself, she adds that Merit was designed for people like her who are not too keen on wearing lots of makeup but want that extra oomph factor for everyday looks.
As Power shares, "Merit is the antidote to the overwhelming, saturated world of beauty with too many steps and 50 shadow pallets being dropped every week. It's built around the concept of minimalist beauty, and the fact that we just want to look like ourselves, but better." Here's Kinonen's review of the entire product line.
The Minimalist
The Minimalist is a complexion stick that's a cross between foundation and concealer. Power says that seamless formula blends into the skin, so you won't be able to identify "what's makeup and what's you." It comes in 20 shades and Kinonen used two - the lighter Silk to brighten dark undereye circles and Cream to conceal redness and melasma. She observes that while the Minimalist has a creamy texture, it dries down matte.
Also read: Introducing About-Face: Controversial Singer Halsey Launches Makeup Line
Day Glow
Power says they created the Day Glow highlighter since it was hard for her to find a subtle highlighter for day use. If you want a natural glow without the shimmer and sparkle, Day Glow comes in two shades (Cava and Bounce) that will give you a subtly dewy sheen. Cava is an opalescent pearl, while Bounce is a rosy shade somewhere between pink and purple. It's also formulated with olive oil, squalene, and amino acids to give skin extra dose of moisture.
Flush Balm
This cheeks stain is Merit's version of a cream blush. It comes in five shades, Beverly Hills, Cheeky, Mood, Raspberry Beret, Terracotta, and Kinonen went with the rose-toned Beverly Hill for a natural-looking flush that she compares to the aftermath of a 30-minute cycling class.
Brow 1980
As its name suggests, Brow 1980 will give you that '80s aesthetic of full and fluffy brows - a trend that's fully back on the spotlight. Brow 1980 is made with kaolin clay and synthetic beeswax and is both a pomade and a gel so if you don't have a lot of sparse areas, you can let go of your eyebrow pencil. It comes in Blonde, Brown, and Black/Brown and Kinonen opted for Blonde for a softer look to go with her "grown-out highlighted hair."
Clean Lash
Clean Lash is a clean mascara that will challenge the standards of clean mascaras everywhere. Merit has done its best to eliminate the usual complaints that come with clean mascaras - smudging and clumping. Clean Lash is also a tubing mascara that features polymers to coat every lash and rival eyelash extensions.
Shade Slick
Shade Slick is a tinted lip oil formulated with shea butter, plus avocado, grapeseed, and rosehip oils. There are four shades ranging from a muted pink to deep wine to add subtle color to the lips. Kinonen says that Shade Slick will easily be a mainstay in her makeup arsenal with its highly pigmented and non-sticky gel-like consistency.
Brush No. 1
While all complexion products can be easily applied with your fingers, Merit has created a blending brush if you prefer setting products with a brush. Of course, you can use it for other products just as Kinonen uses hers with her staple Ilia NightLite Bronzing Powder.
Merit's affordable new collection will be available on January 12 at meritbeauty.com.
Related article: Rare Beauty's Stay Vulnerable Collection Comes Out On January 7
See Now: 100 Most Beautiful Women In The World
PHOTO GALLERIES
BEAUTY IDEAS
HOW TO