Beauty Buzz
Regency Era Fashion Has Been Revived Thanks To Netflix's Bridgerton
Jan 07, 2021 10:05 AM EST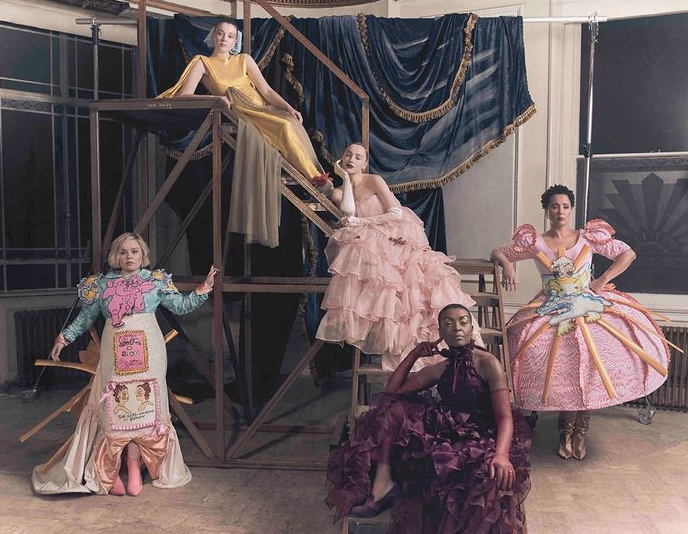 Credit : britishfashioncouncil/Instagram
Netflix enjoyed a surge of viewers of the holidays and its mostly thanks to the new romantic Regency-era TV series, Bridgerton. Based on a series of books by best-selling historical romance author Julia Quinn and produced by Grey's Anatomy's Shonda Rhimes, Bridgerton took Netflix by storm and made instant stars out of the show's leads. The show's extravagant sets, fashion, hairstyles, and makeup also made a huge impression on international audiences and the term "Regencycore" is now used to describe the Regency era fashion seen on the show.
According to Lyst, the Regencycore fashion trend caused a spike in searches for recency-inspired clothing and accessories. The online searches for corsets went up by 123 percent, empire-waist dresses by 93 percent, long gloves by 23 percent and pearl and feather headbands by 49 percent. Brands that have benefitted from these surges include Magnetic Midnight and Simone Rocha for headpieces, Dion Lee and Rasario for corsets and Brock Collection and Erdem for dresses. While the chances of wearing extravagant fashion pieces may be limited at this time, it hasn't stopped fashionistas around the globe from jumping on the trend. Refinery29 jests that if a Regency-era TV show can temporarily make us move on from loungewear then so be it.
Also read: The Queen's Wardrobe: Anya Taylor-Joy Now Owns The Queen's Gambit Vintage Pieces
Vogue also lists some beauty lessons that viewers can learn from the fashionable ladies of Bridgerton.
Baby bangs over curtain bangs.
Curtain bangs are last year's biggest bang trend, but actress Phoebe Dynevor, who plays female lead Daphne Bridgerton, rocks baby bangs. Mark Pilcher, Bridgerton's Academy Award-nominated hair and makeup artist, tells Nylon that he took inspiration from Audrey Hepburn in the movie War and Peace. While Daphne's bangs were uncommon in the Regency era, he says that you can find that style in some paintings.
Brushed up brows are back in style.
Full and fluffy brows are seen on Daphne Bridgerton throughout the show. If your brows haven't been touched up by an expert for a long time now, worry not. One modern trend that you can adapt are soap brows. Using a clean mascara wand, rub it against a clear soap and use the residue to help your brows stay put. Fill in spare areas with a soft eyebrow pencil for a fuller look.
DIY beauty works just as well.
From homemade blushes to face masks, get a naturally rosy glow with some DIY recipes as seen on the show. Try this rose petal and yogurt mask from Byrdie: Mix one-fourth cup of crushed rose petals with 2 tablespoons of yogurt, one tablespoon of chickpea flour and two tablespoons of rose water. Apply the thick paste on your face and let it dry. Rinse with some milk followed by cold water.
Curls are always in fashion.
From younger ladies on set, to the matrons and even the Queen, curls are obviously fashionable then and now. Popsugar points out that Eloise Bridgerton's modern and shaggy curls partnered with a fringe would be striking even in this modern time. If only curling irons existed in that era, these women would be unstoppable. For 2021, natural curls and embracing natural hair texture are just a couple of hair trends that beauty editors have predicted.
Related article: The Top Hairstyle Trends You Can Expect to See in 2021