BEAUTY
Francois Nars Launches New Capsule Collection in Honor of His Mother Claudette
Dec 16, 2020 08:08 AM EST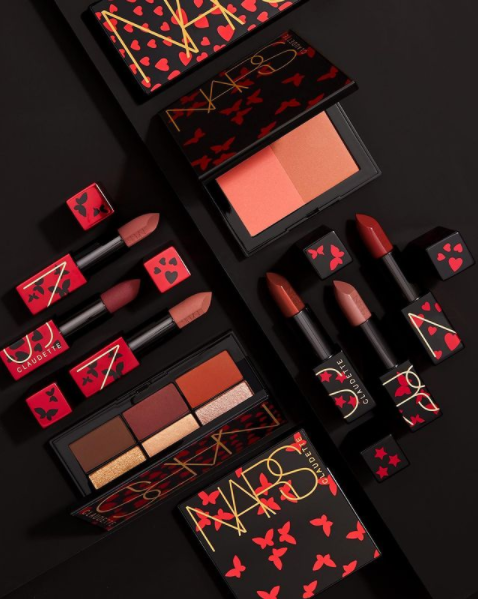 Credit : narscissist / Instagram
Iconic beauty brand NARS just launched a limited-edition capsule collection named after François Nars's inimitable mother and muse Claudette. Channeling his childhood nostalgia, Nars's new Claudette Collection includes a blush duo (Claudette's trademark), a six-pan eyeshadow palette, ten new shades and finishes of Audacious lipsticks. Four lipstick shades are named after his mother, Claudette Augustine, and his two grandmothers Ginette and Lea.
Nars' Beauty Influences
In a Vogue interview, François Nars shares that his mother and two grandmothers were his biggest influences and he has always been inspired by their elegance. Silent movies also showed him the glamour of Hollywood through Greta Garbo and Marlene Dietrich. He adds that his parents had an extensive library and the paintings of Picasso and Matisse he found in books left a big impression on him as a child.
For the Claudette Collection, Nars drew inspiration from his mother's glamourous style in '70s. He explains that Claudette is a believer in the less-is-more philosophy, even if the makeup in the '70s was heavy-handed. He goes on to share that his mother would wear designer clothing, but her makeup always remained light and that detail stuck with him. Nars adds that Claudette's favorite makeup item is blush and that's why it was crucial to include it for this capsule collection.
The Claudette limited-edition capsule collection is now available on the official NARS Cosmetics website and on Sephora.
Also read: Charlotte Tilbury Launches pH-Powered Color-Changing Lipstick (and Shares Her Beauty Commandments!)
The Best of NARS
François Nars made his debut 25 years ago through a 12-piece lipstick collection in Barney's New York. He relaunched his original dozen in 2019, with a massive bonus of 60 additional shades. But Nars' genius extends to more than lipstick. Here are some of the best NARS makeup products beloved by makeup artists, beauty editors and NARS enthusiasts all over the world.
Orgasm Blush
The Zoe Report claims that according to brand sales data, one NARS Orgasm blush is sold every minute in the United States. It was launched in 1999 and has been on everyone's beauty radar ever since. While the name is one of the reasons for its popularity, the shade is universal and fits almost everyone. To see it on different skin tones, check out Glamour's skin test. It's also on Allure's Best of Beauty Hall of Fame and to name a few, celebrity fans include Megan Markle, Jennifer Lawrence, Adele, Kylie Jenner, and Catherine Zeta-Jones.
Radiant Creamy Concealer
Byrdie reports that this concealer can be found on Sephora's bestselling list every year. The texture is very light and comfortable to wear, but its creamy formula can hide everything you want covered for as long as you want.
Laguna Bronzer
If you're aiming for golden beach goddess, this is the bronzer for you. It's mostly matte but like the famous Orgasm, it also has a bit of gold shimmer to give you that sun-kissed glow. It looks best on light to medium skin tones and if you find this shade on the lighter side for a bronzer, try the deeper-hued Casino.
Velvet Matte Lip Pencil in Dragon Girl
François Nars tells Vogue that his grandmother always wore red lipstick and the Jungle Red shade always reminds him of her. While other matte lipsticks can be drying, this matte lip pencil is hydrating, long-wearing and highly pigmented. Dragon Girl, according to Popsugar, is Taylor Swift's go-to.
Related article: The Most Memorable Beauty Moments of 2020