BEAUTY
Charlotte Tilbury Launches pH-Powered Color-Changing Lipstick (and Shares Her Beauty Commandments!)
Dec 08, 2020 10:01 AM EST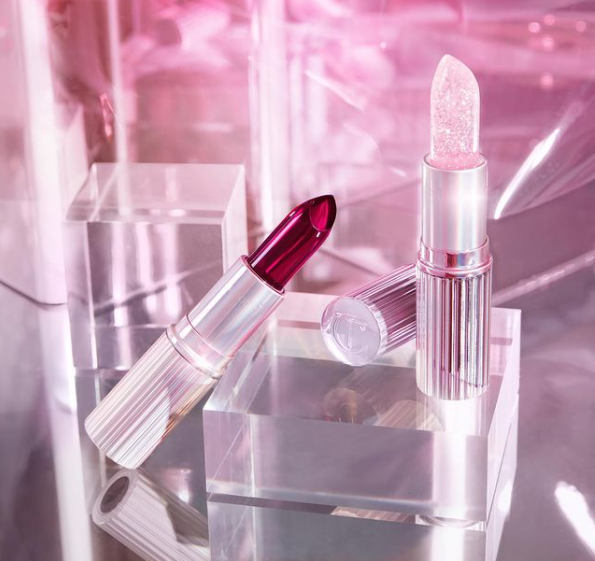 Credit : ctilburymakeup / Instagram
(Photo: ctilburymakeup / Instagram)
Charlotte Tilbury Glowgasm Lips in Glittergasm and Jewelgasm.
It's always a highly anticipated event when celebrated makeup artist turned makeup mogul Charlotte Tilbury launches a new makeup product. Right on time for the holidays, the Glowgasm Lips are a lip balm and lipstick hybrid that start out sheer and changes into a personalized pink or red shade depending on someone's natural lip color, temperature, and pH level. It's like a mood ring for your lips. The limited-edition Glowgasm Lips come in two shades - Glittergasm gives the user a customized shade of pink with multidimensional sparkle, while Jewelgasm will eventually turn into a personalized shade of red. Glowgasm Lips are formulated with vitamin E and jojoba oil to moisturize lips and keep them nourished and smooth. They're also housed in pretty holographic tubes that any beauty junkie will be thrilled to receive on Christmas. Byrdie news writers tested both Glowgasm Lips colors and you can see the effect on different skin tones here.
Charlotte Tilbury, MBE
As an influential makeup artist and for her excellence in the cosmetics industry, Charlotte Tilbury was awarded the MBE or Member of the Order of the British Empire by Queen Elizabeth II in 2018. According to Glamour, some of her celebrity clients include Kate Moss, Nicole Kidman, Blake Lively, Kim Kardashian-West, Penelope Cruz and Amal Clooney.
Also read: Alicia Keys Launches Keys Soulcare in Partnership with e.l.f. Cosmetics
Tilbury's Beauty Commandments
Tilbury shares her beauty commandments with Byrdie below.
Choose the right shade of foundation.
Tilbury says the most common makeup mistake is choosing a foundation shade. To find the perfect match, she says to test colors in natural light. Don't forget to match the shade to your neck and ears, as well. She suggests drawing a line of foundation onto the cheek, neck, and ears. The right shade should blend seamlessly against the skin. One of Tilbury's best-selling foundations is the Airbrush Flawless Foundation, and it comes in 44 inclusive shades.
Don't forget the lip liner.
For Tilbury, lip liner is "life changing." Use it to trace and enhance the shape of your lips or cheat by lining outside the lips to resize it. Of course, you should match your lip liner to your lipstick.
The five-minute face.
If you only have five minutes to get ready, Tilbury says red lipstick never goes out of fashion. Use a lip liner to enhance the shape of your lips and fill in with a moisturizing lipstick. She recommends her K.I.S.S.I.N.G Lipstick in So Marilyn as the perfect Hollywood red. To complete your five-minute face, use a natural bronzer to enhance your natural facial structure. To do this, Tilbury says suck in your cheeks and then follow the hollow with your makeup brush. Then brush some bronzer along your temples, nose, and jawline. Top the look off with some highlighter on top of the cheekbones, down the center your nose and on your cupid's bow. Make sure to blend well.
Take care of your skin.
Great skin is the perfect canvas for equally great makeup. Avoid dry, dull, and dehydrated skin by moisturizing religiously. Tilbury adds that apart from wearing sunscreen every day, also look for makeup with SPF for an added layer of sun protection. Lastly, don't neglect your lips. Apply a lip scrub to remove dry skin and apply Vaseline for a moisture boost.