BEAUTY
Alicia Keys Launches Keys Soulcare in Partnership with e.l.f. Cosmetics
Dec 05, 2020 04:42 AM EST

Keys Soulcare has finally arrived. After months of hinting at a lifestyle-slash-beauty brand, multiple Grammy Award-winning singer-songwriter Alicia Keys, in partnership with crowd favorite e.l.f. Cosmetics, launched three brand new products before the expected due date, which was sometime in early 2021.
While e.l.f. is well-known for its budget-friendly makeup, Keys is starting with products geared towards self-care and wellness.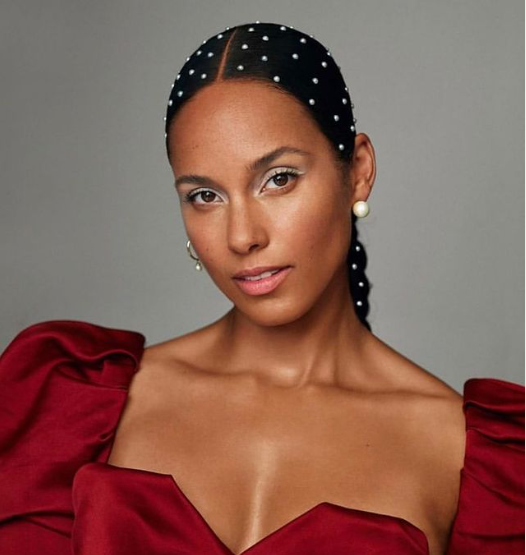 (Photo: aliciakeys / Instagram)
Alicia Keys is all ready for the Holidays.

The Keys Soulcare collection includes the following products:
Skin Transformation Cream
Developed with board-certified dermatologist and co-founder of clean beauty brand W3LL People Dr. Renee Snyder, this facial cream features these ingredients:
Bakuchiol
Dermatologist Dr. Mona Gohara tells Good Housekeeping that bakuchiol is the botanical alternative to retinol. It has anti-inflammatory anti-microbial properties and has the same gene expression as the more popular retinol. They share the same function of regulating collagen and elastin production, and both target fine lines and wrinkles.
While retinol is a very common ingredient in serums and moisturizers, and many will attest to its anti-aging benefits, bakuchiol is gentler on the skin and more suited to sensitive skin. Additionally, unlike retinol, bakuchiol is not photosensitizing and can be used during the day. Dermatologists usually recommend retinol for night use.
Ceramides
Ceramides are lipid molecules that protect the skin's barrier and helps retain moisture.
Hyaluronic Acid
Hyaluronic acid is a humectant that draws and holds moisture at the surface of the skin. Its moisturizing benefits are long term, and it continually improves skin elasticity.
ALSO READ: The Best Skincare Ingredients To Use Together

Obsidian Face Roller
Obsidian is known as the truth stone. In psychic wellness, it's a protective stone that blocks psychic attacks negative energy. It also draws out tension, mental stress, and brings clarity.
Whether you're a believer or not, Keys suggests using this face roller to massage the Skin Transformation Cream over your face for a relaxing experience. Face rolling also helps with lymphatic drainage and reduces swelling.

Sage + Oat Milk Candle
Complete your wellness routine with some aromatherapy. The Sage + Oat Milk Candle is soothing, calming, and relaxing - a perfect balm at the end of a stressful day (or year).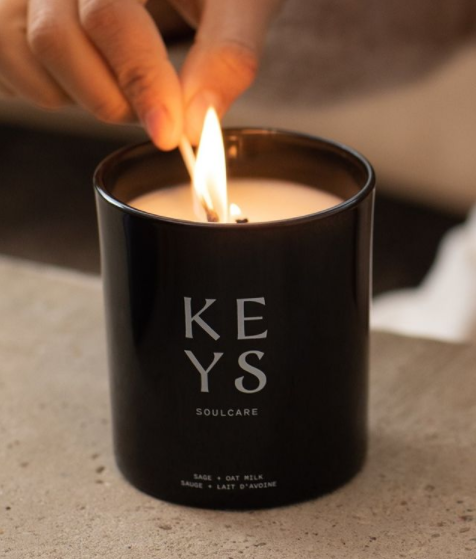 (Photo: keyssoulcare / Instagram)
The Key Soulcare Sage and Oat Milk Candle will soothe your soul.

You can now avail yourself of these three wellness products online at the Keys Soulcare and Ulta. International shipping will be available in January 2021.

Christmas at E.L.F.
Meanwhile, on the e.l.f side of things, here are their top gift suggestions for Christmas, and nothing is over $10!
Bite-size Eyeshadows
These four-pan eyeshadow palettes are excellent stocking stuffers and come in eight variants: Cream and Sugar, Rose Water, Berry Bad, Pumpkin Pie, Hot Jalapeño, Acai You, Truffles, and Carnival Candy.
Liquid Glitter Eyeshadow
An Allure Best of Beauty Award Winner, these liquid eyeshadows will brighten up your holiday party looks. It comes in 11 shades, and the best-selling ones are Flirty Birdy, Copper Pop, and Dirty Martini.
Candy Coated Lip Set
The set has four of e.l.f.'s best-selling lippies. It includes the Lip Plumping Gloss in Mauve Glitz and Mocha Twist and the Lip Lacquer in Fantasy and Clear.
Sleigh All Day Beauty Box
This box has it all to complete a natural look: Primer Infused Shimmer Blush in Always Cheery, Lip Plumping Gloss in Champagne Glam, and Eyeshadow Duo in Deer Me and Doe Eyes.