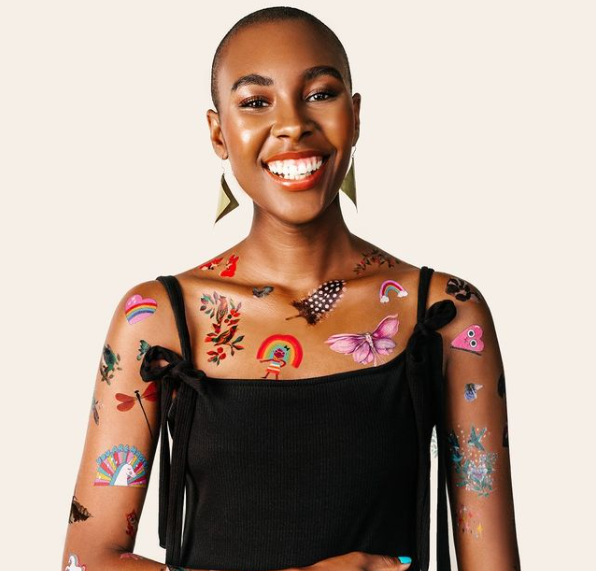 With COVID-19 closing businesses left and right, local artists' tattoo parlors are suffering just as much as hair salons. As tattooing requires close contact, the client lists have dwindled to the brave souls who dare to risk exposure. As a result, temporary tattoos are on the rise.
Thanks to companies like Tattly and Inkbox, people can choose between thousands of intricately designed temporary tattoos drawn out by tattoo artists and illustrators. These tattoos are available online and can last from four days to as long as two weeks.
However, one downside to this is that some tattoo artists get ripped off. Mira Mariah, Ariana Grande's go-to tattoo artist, has done three collaborations with Inkbox, and she tells Allure that other artists have used her designs as patterns.
With artistic inclinations, people can draw up their own designs directly on the skin with Freehand Ink, which can be bought from Inkbox. This way, customers can explore their own artistic abilities without unethically copying other artists' hard work.

Short-term Commitment
As temporary tattoos continue to evolve, these companies allow customers to try on tattoos and figure out the ideal placement before fully committing to a permanent one.
Inkbox
Inkbox has more than 4,000 designs to choose from, with prices starting at $10.
34ᵗʰ Street writes that its website has customizable designs, which can be printed out for customers. Inkbox temporary tattoos come in muted colors so that users can see how a blackwork tattoo will look on them.
As mentioned earlier, their Freehand Ink online lets buyers draw their own designs directly on the skin. Inkbox has placed instructions on its website with guides on applying their temporary tattoos and some useful techniques on using the Freehand Ink.
ALSO READ: Thirteen Lune: The Online Mecca for Black and Brown-Owned Beauty Products
Paperself
If the customer prefers colorful tattoos, Paperself tattoos have watercolor-style designs. They also incorporate a lot of white in their designs, making them a good brand to start with for those interested in white ink tattoos. Unlike Inkbox, Paperself does not have a customization feature, but a wide array of inventory provides a good deal of artistic ideas.
Tattly
Temporary tattoos at Tattly start at $2 and are designed by real artists from all over the world. People who are undecided on a design can get some inspiration from here before going for a permanent tattoo. Tattly tattoos are made from vegetable-based ink and are non-toxic.
Tattapic
Tattapic temporary tattoos look very realistic, are long-lasting, easy to apply, and waterproof. Users can create their own designs, upload photos to be turned into tattoos, or choose from pre-made designs. Color is also very much present in their designs, making it perfect for customers who want to try a little bit of everything.
Conscious Ink
Conscious Ink specializes in word and manifestation tattoos. If customers want to see how a word, phrase, or sentence looks on a particular part of the body, there are customizable designs here or ready-to-go inspiring quotes and powerful manifestations. They also sell manifestation cards, headwear, t-shirts, tanks, and leggings.
RELATED ARTICLE: Chris Evans Shows off His Tattoos, Some Are Surprising