Never mind her undeniably catchy music, sultry dance moves, and hit romantic comedy movies, Jennifer Lopez says that the number one thing that people ask her about is her skin. In an exclusive interview with Allure, Lopez shares that when she was in her early 20s, she went to see two dermatologists - one in New York and the other in Los Angeles.
The first gave her valuable advice: wear sunscreen every day. She credits that as the secret to her youthful skin while admitting that the second dermatologist's advice was to start using Botox.
That advice cost them Lopez as a client. Fast forward to 2020, Lopez has finally realized her dream to release her own skincare line. The much-awaited JLo Beauty will finally be available on New Year's Day.
JLo Beauty will be starting with eight skincare products that feature olive oil as a secret ingredient, something that her mom and aunt have used for years. Lopez and her team formulated the JLo Beauty Olive Complex, which combines olive-derived squalene, extra-virgin olive oil, olive leaf extract, and fermented oil.
As Dr. Diana Gall tells Good Housekeeping, olive oil is rich in vitamin A, D, E, and K, antioxidants that fight free radicals and help prevent premature aging and sun damage.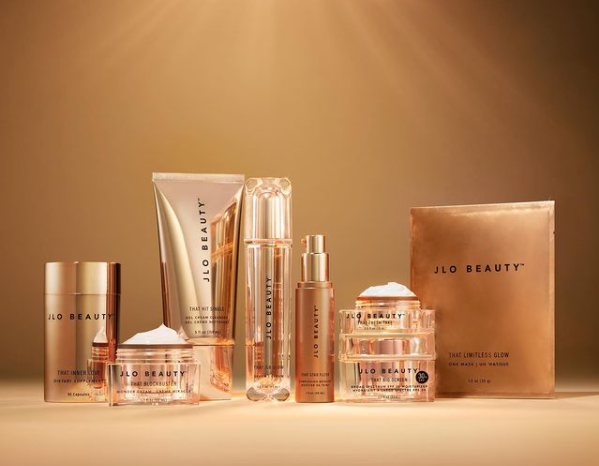 Here's the full lineup of JLo Beauty:
That Hit Single Gel-Cream Cleanser
Start and end the day right by washing your face. The hero ingredients of this luxe cleanser are the JLo Beauty Olive Complex, Japanese knotweed root, rice bran extract, and coconut fruit. Lopez shares that at the end of the day, she likes nothing more than taking off the ton of makeup she wears for work. She also reveals that her favorite look is her bare face. Taking your makeup off at the end of the day is something that dermatologists always stress. This is especially important for those who are prone to acne and breakouts.
ALSO READ: It's Hers: Jennifer Lopez's Haircare Launch

That Blockbuster Nonstop Wonder Cream
This ultra-moisturizing face cream is formulated with hyaluronic acid, a powerful humectant that keeps skin moisturized throughout the day, plus antioxidant-rich yeast-derived ferments, tea, and honey.

That Big Screen Broad Spectrum SPF 30 Moisturizer
As Lopez has mentioned, she's a big believer in sun protection, and it was vital for her to include it in her skincare line. To keep skin firm and dewy, this sunscreen is formulated with hyaluronic acid and glycerin, another humectant that keeps skin healthy and glowing.

That Fresh Take Fierce Eye Cream
This eye cream is formulated with a blur complex that promises to hide dark undereye circles and fine lines. It's also meant to boost luminosity around the eye area.

That JLo Glow Multitasking Serum
Two years in the making, this quick-absorbing serum tightens and lifts skin with brightening fermented rice sake and a sugar-derived matrix.

That Star Filter Instant Complexion Booster
A primer-slash-highlighter, the mineral pigments in this booster will give you that JLo kind of radiance.

That Limitless Glow Multitasking Mask
For those times that skin looks dull (hello, winter!), this custom-designed two-piece mask is saturated with the JLo Glow serum for an instant facelift. Handy for traveling and gifting.

That Inner Love Dietary Supplement
To achieve a glow from within, Lopez insisted on creating a supplement. It includes olive oil and the daily recommended dose of copper and manganese to support the body's collagen production.
JLo Beauty will be available on www.jlobeauty.com on January 1, 2021, and at Sephora's online and physical stores and Amazon on January 14, 2021.
RELATED ARTICLE: The Complete Guide to Layering Skincare Products