Your grandmother would tell you that in her time, a regular skincare routine consisted of just three steps - cleanse, tone, and moisturize. These days, it seems that the number keeps getting higher as innovative skincare products continue to pile up.
When the Korean 10-step skincare routine hit American shores, women began incorporating more products. They found it essential to achieve that same glow and flawless quality that every Korean woman seemed to have perfected. Some found their comfort zone in five steps, while some even exceeded 10 and went up to 12 steps.
Korean-American model and influencer Irene Kim has a whopping 25 steps that she shared with Vogue. However, there are still many people who are new to these multi-step routines. Let's go through it step by step.

Morning Skincare Routine
Cleanser
While some simply splash on water first thing in the morning, women who use a lot of products in the evening may want to get rid of that oily feeling. COSRX Low-pH Good Morning Cleanser is considered a cult favorite among K-beauty junkies.

Toner
In Korean skincare, toners are rarely alcohol-based like a lot of its Western counterparts. A toner rebalances your skin's moisture levels after cleansing. Stylecraze recommends Dear, Klairs Supple Preparation Facial Toner, Missha Time Revolution Clear Toner, and Innisfree Green Tea Balancing Toner.

Serum
If you already have a Vitamin C serum in your skincare arsenal, it's best to use it in the day. It adds an extra layer of protection for the skin against skin radicals and aids in skin brightening. Harper's Bazaar lists Skinceuticals C E Ferulic, Neutrogena Rapid Tone Repair Brightening 20% Vitamin C Serum Capsules, Drunk Elephant C-Firma Vitamin C Day Serum, and Glow Recipe Pineapple-C Brightening Serum among the best serums of all time.
Also read: Common Skincare Mistakes Dermatologists Always See

Moisturizer
A moisturizer seals in your serum and adds a protective moisture barrier to keep your skin hydrated for the day. Be sure to choose the right one for your skin type, so nothing feels heavy or greasy. For dry skin, Cosmopolitan says Skinfix Barrier+ Lipid Peptide Cream is the best. For oily skin, Cosmo goes for La Roche-Posay Effaclar Mat Mattifying Moisturizer. For acne-prone skin, try Differin Soothing Moisturizer.

Sunscreen
Sun protection is a must - even on gloomy winter days. Dermatologists push hard on sunscreen as it can help prevent skin cancer, premature aging, and pigmentation. If you're on the oily side, you can opt for a two-in-one product like EltaMD UV Daily Facial Sunscreen SPF 40 for hydration and sun protection.
When choosing a sunscreen, go for an SPF level of 30 and above. Remember to look for a broad-spectrum sunscreen to protect you from UVA and UVB as well. Women's Health stands by Aveeno Protect + Hydrate Sunscreen Lotion SPF 50 and Neutrogena Ultra Sheer Dry-Touch Sunblock SPF 100.
If you're looking a little spotty but want to skip the foundation, try Complexion Rescue Tinted Moisturizer Broad Spectrum SPF 30 or MDSolarSciences Mineral Tinted Crème Broad Spectrum SPF 30.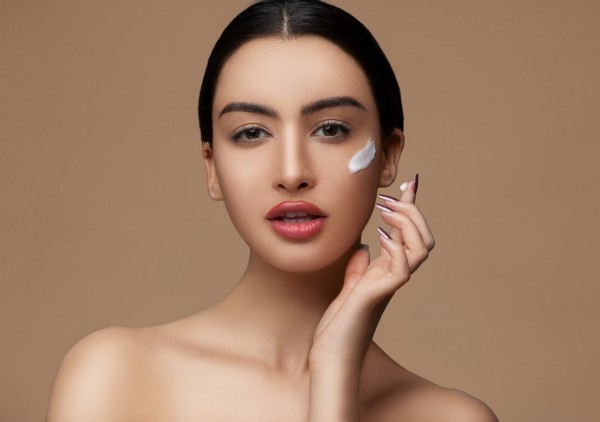 Evening Skincare Routine
Cleansing Oil
Double cleansing is one of Korea's biggest contributions to skincare junkies. The first step is applying a cleansing oil or balm to a dry face and gently massaging it all over to get rid of the day's buildup of grime, sunblock, and makeup. You then rinse that off and follow with a facial cleanser. An Allure Best of Beauty Award winner is Sulwhasoo Gentle Cleansing Oil. Another Korean favorite is Neogen Real Cica Micellar Cleansing Oil.

Cleanser
The second step of double cleansing is to use a foaming cleanser. This gets rid of the oil residue and gives the skin a deeper cleanse. You can use your favorite facial cleanser for this step, or if you want to try something new, another Allure Best of Beauty Award winner is Japanese brand Tatcha's The Deep Cleanse.

Face Mask
You can use a face mask once or twice a week if your skin needs a little boost. When your skin is looking a bit dull, try Burt's Bees Restoring Antioxidant Mask. Allure also recommends Caudalie Instant Detox Mask for those dealing with excess oil and breakouts.

Toner
Follow the face mask with your usual toner.

Treatments
If you're into acids like BHA and AHA or if you use retinol, this is where you insert those skincare products. Just don't mix those to avoid hypersensitivity.

Serum
Follow up the treatments with your usual serum. If you use acids, it's best to use a hydrating serum.

Moisturizer
While you can use your usual moisturizer in the evening, skincare experts recommend heavier night creams to your skin can benefit from the extra level of hydration overnight. Marie Clare loves L'Oréal Paris Dermo Expertise Triple Active Hydrating Night Moisturizer and Origins High-Potency Night-a-Mins Resurfacing Cream.
Related article: Skincare Shopping: What Dermatologists Are Telling You To Save or Splurge On