Dec 01, 2020 08:35 AM EST
(Photo : bondi_skinco / Instagram) Bondi Skin Co.'s Vitamin C serum, Hyaluronic Acid serum and Vitamin A serum.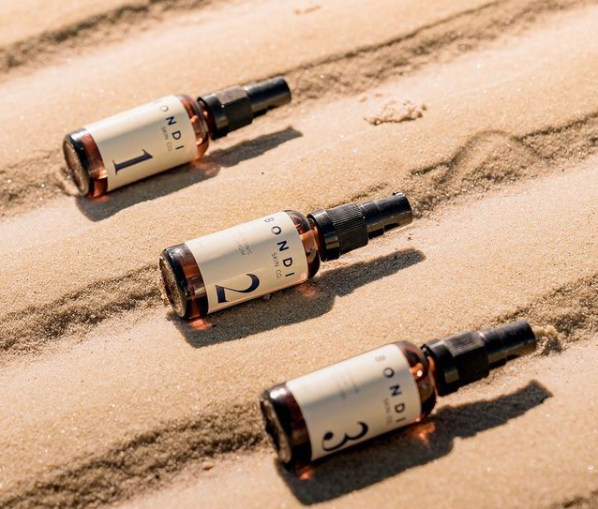 While women are often overwhelmed with the enormous amount of skincare products in the market, some men feel that their options are limited and just help themselves to whatever their partners are using. This is what drove the founders of Bondi Skin Co. to do their own research, find the most effective ingredients, and formulate a skincare line for their fellow men. Co-founder Dougie Joseph shares that one of the things they've found out is men are equally as interested in anti-aging as women. As anti-aging products are usually marketed for women, Bondi Skin Co. intends to fill that void by introducing their three-step product line to men who are looking for a simple skincare routine that does the job.
Bondi Skin Co. launched three products in June 2020. These three are simply labeled 1, 2, and 3, with 1 being the Vitamin C Serum, 2 as Hyaluronic Acid Serum, and 3 as Vitamin A Serum (Retinoid). Joseph suggests using 1 and 2 in the morning and all three at night. All products are all-natural, vegan, cruelty-free, and bottled up in sustainable packaging.
Men Vs. Women's Skin
The two major differences between men's and women's skin are collagen and sebum production. Board-certified dermatologist Dr. Ted Lain tells L'oreal's skincare.com that men produce more oil (almost double) than women and have a higher collagen density. That explains why men seem to age more gradually than women, especially when women reach menopause and their estrogen level decreases. However, Dr. Lain recommends that men should start using retinol earlier as their collagen levels begin declining at a younger age.
Also read: Welcome to the Humanrace: Pharrell Williams Launches Skincare Line
Tips for Better Skin
Dermatologist Dr. Howard Sobel shares with Men's Journal that layering too many products can irritate the skin. He recommends these maintenance basics for better skin in men:
Wash your face.
A splash of cold water in the morning isn't enough. Cleansing with the right product removes dead skin cells and brightens the skin. Dr. Sobel suggests using a cleanser with glycolic acid both in the morning and evening. Men's Health likes Dr. Dennis Gross Alpha Beta Pore Perfecting Cleansing Gel, while Men's Journal's pick is Anthony Glycolic Facial Cleanser.
Dr. Sobel also advises an exfoliating scrub once or twice a week to stimulate skin cell growth. Some of Men's Health's top picks are Dove Men + Care Deep Clean Face Scrub, Brickell Men's Renewing Face Scrub for Men, and Kiehl's Facial Fuel Energizing Face Scrub.
Don't forget to moisturize.
Dr. Sobel says that moisturizer should be an automatic step after washing your face to seal in moisture, especially in the winter. Those with dry skin can use oil based facial lotions, while those with oily or acne prone skin should stick to water-based products. Try Clinique For Men Maximum Hydrator Activated Water-Gel Concentrate for oily skin or Malin + Goetz Vitamin E Face Moisturizer for dry to normal skin. Finding a moisturizer with SPF will also save you a step. The Manual's best bets are Dermalogica Invisible Physical Defense SPF 30, Skinceuticals Physical Fusion UV Defense SPF 50, and Neutrogena Ultimate Sport Face Oil-Free Sunscreen Lotion.
Start using retinol.
Dr. Sobel suggests using retinol as early as your late 20s to prevent lines and wrinkles in the future. Remember that this ingredient is photosensitive, so incorporate it during your evening regimen. Try MenScience Pigmentation Repair Formula, Murad Retinol Youth Renewal Night Cream, or Neutrogena Rapid Wrinkle Repair Regenerating Cream.
Related article: Simple Rules From Dermatologists For Great Winter Skin
See Now: 100 Most Beautiful Women In The World
PHOTO GALLERIES
BEAUTY IDEAS
HOW TO