Dec 01, 2020 04:20 AM EST
The HBO miniseries The Undoing boasts an all-star cast with Hugh Grant, Nicole Kidman, and the incomparable Donald Sutherland. While the season finale had mixed reviews, Nicole Kidman's beautiful coats, auburn spirals, and simple makeup looks were a hit.
The series' Emmy-nominated makeup artist Kyra Pachenko tells Vogue that director Susanne Bier wanted a unique and very bohemian look for Kidman, a Manhattan therapist in the miniseries. As a busy mother with a stressful job, the look had to be practical, which could easily be done in a taxi on the way to work.
The Look
To achieve Kidman's dewy glow, Panchenko mixes a cocktail base of La Mer Crème de la Mer Moisturizer and La Mer The Concentrate. Next, she uses the matte Clé de Peau Radiant Fluid Foundation, which she breaks down with a dose of In Fiore Calendula Solution Botanique.
She adds that since Kidman already has beautiful skin, she doesn't like covering it with too much foundation to keep her client's natural glow. Panchenko then uses Glossier Cloud Paint in either Puff or Dusk to brighten up Kidman's face.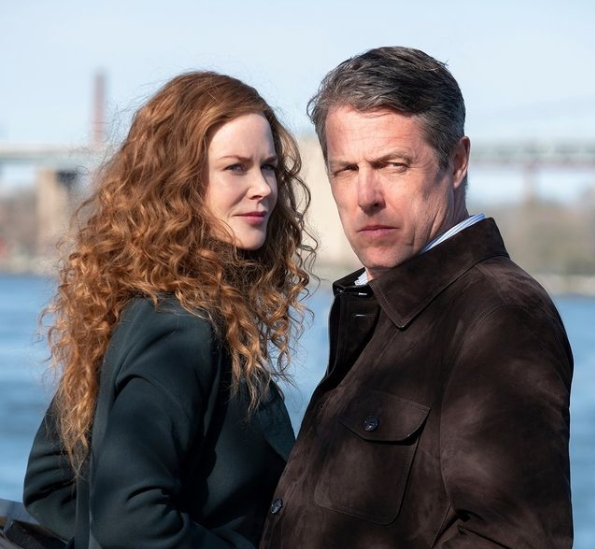 For the eyes, a sheer covering of Armani Eye Tint Liquid Eyeshadow in #8 (a frosty taupe) on the lids and Hourglass Caution Extreme Lash Mascara on the lashes complete Kidman's eye makeup. Lastly, for the lips, Panchenko applies Pat McGrath Lip Fetish Sheer Colour Balm in Love Supreme, a warm beige shade, or the rosier hue of McGrath's Blow Up.
ALSO READ: Professional Makeup Artists Reveal Their Best-Kept Secrets
Nicole Kidman's Anti-Aging Routine
While everything on Panchenko's makeup arsenal can be bought in the market, Kidman's glowing skin is a product of genetics and dedication. While Hollywood stars may have the best access to skincare and treatments, Kidman's regimen is surprisingly low-maintenance and easy to follow.
Always remove your makeup at night.
Kidman never goes to bed with makeup on. When she's too exhausted, she makes sure that she'll at least use cleansing wipes. She adds that they're a great travel companion, as you can get them through any airport security. Women's Health suggests Simple Kind To Skin Compostable Cleansing Wipes, Neutrogena Makeup Remover Cleansing Towelettes, and CeraVe Makeup Removing Cleanser Cloths.
Hydrate dry skin.
Kidman says she has dry skin and her go-to product is La Mer Crème de la Mer Moisturizer. While that is quite pricey, she also loves Aquaphor Healing Ointment, which is a fraction of La Mer's hefty price tag.
For dry skin and extra hydration this winter, Harper's Bazaar recommends Tatcha The Dewy Skin Cream, Neutrogena Hydro Boost Water Gel, CeraVe Moisturizing Cream, and Kiehl's Ultra Facial Cream.
Wear sunscreen daily.
Since she's very fair, Kidman shares that she's worn sunscreen since she was a young girl. She likes Neutrogena Ultra Sheer Dry-Touch Sunscreen Broad Spectrum SPF100+ and Neutrogena Sheer Zinc Sunscreen. She reveals that even makeup artists love it since they can easily apply makeup over it.
Include retinol in your night routine.
Kidman believes in retinol and loves the Neutrogena Rapid Wrinkle Repair line. She also likes the brand's accessibility, adding that it works so well, and she can just buy her retinol staples anywhere.
RELATED ARTICLE: The Best Skincare Ingredients To Use Together
See Now: 100 Most Beautiful Women In The World
PHOTO GALLERIES
BEAUTY IDEAS
HOW TO