Nov 26, 2020 08:12 AM EST
(Photo : Joseph Mucira / Pixabay ) Cystic acne is the most severe type of acne.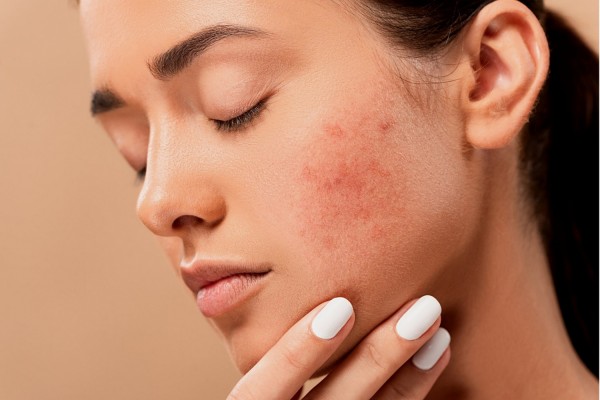 Cystic acne are deep-seated pockets of white blood cells common to women in their mid-20s and 30s. Hormones are the primary reason, while dietary causes like too much dairy, sugar and caffeine also contribute. Unlike surface acne that are easier to pop, trying to do the same to cystic acne can only lead to skin trauma and inflammation. As a result, you may end up with discoloration and scarring.
According to board-certified dermatologist Joshua Zeichner, cystic acne is the most severe type of acne. While cortisone injections can dry them out faster, it's not as easy and safe to visit a dermatologist's clinic at this time. Aside from today's health and safety reasons, it can also be costly. As suggested by top dermatologists, here are the best treatments to try at home.
First Aid
Just like treating a sprained ankle, icing down cystic acne is helpful. Dr. Rachel Nazarian of the Schweiger Dermatology Group suggests applying an ice cube directly on the pimple. This will decrease the size immediately as the small blood vessels that are sustaining the cyst will be constricted by ice-cold temperatures. Dr. Zeichner recommends doing this three times within one hour in intervals of 10 minutes (10 on, 10 off). Make sure you wash your face before doing this.
Three-step Approach
As Dr. Zeichner shares with Allure, the best way to fight cystic acne is to find a routine that combines complementary acne-fighting ingredients like salicylic acid and benzoyl peroxide. To maximize the use of these actives, he recommends a facial cleanser formulated with salicylic acid. Try La Roche-Posay Effaclar Medicated Gel Acne Cleanser, COSRX Salicylic Acid Daily Gentle Cleanser, CeraVe Salicylic Acid Renewing Cleanser or Neutrogena Oil-Free Acne and Redness Facial Cleanser.
Also read: Use Face Mapping To Combat Acne
Follow that up with an oil-free and non-comedogenic moisturizer since moisturizing protects the skin and heals acne marks. Look for soothing ingredients like ceramides, glycerin and dimethicone. Avoid anything with coconut oil as it's known to clog pores. Good Houskeeping's Beauty Lab suggests Neutrogena Oil-Free Acne Moisturizer, La Roche-Posay Effaclar Mat Face Moisturizer, CeraVe PM Facial Moisturizing Lotion and Simple Water Boost Hydrating Gel Cream.
Lastly, add a spot treatment that contains benzoyl peroxide. Benzoyl peroxide lowers the level of acne-causing bacteria on the skin and helps lessen inflammation. Benzoyl peroxide products usually come in concentrations of 2.5, 5 and 10. For leave-on spot treatments, Dr. Zeichner recommends just the 2.5 concentration to avoid dryness. Cosmpolitan's top picks are Glossier Zit Stick, Urban Skin Rx Clear Complexion Acne Serum + Spot Treatment, Paula's Choice Clear Regular Strength Daily Skin Clearing Treatment and La Roche-Posay Effaclar Duo Acne Spot Treatment. For really painful and red bumps, apply a hydrocortisone cream like Cortizone 10 Maximum Strength Cream.
For severe cystic acne cases, ask your dermatologist about Spironolactone medication.
Don't Forget Sunscreen
Board-certified dermatologist Dr. Laurel Geraghty reminds anyone who is prone to acne that wearing sunscreen daily is critical. The dark spots that come after a blemish take a long time to heal and frequent sun exposure will only exacerbate it. Just like your moisturizer, stick to oil-free and non-comedogenic formulas. Dr. Geraghty approves of Neutrogena Clear Face Oil-Free Sunscreen, La Roche-Posay Anthelios Clear Skin, EltaMD UV Clear and Olay Sun Facial Sunscreen + Shine Control.
Related article: How Dermatologists Deal With Combination Skin
See Now: 100 Most Beautiful Women In The World
PHOTO GALLERIES
BEAUTY IDEAS
HOW TO