Nov 26, 2020 05:36 AM EST
(Photo : Andrea Piacquadio / Pexels) Influenced by Eastern Medicine, face mapping helps point out the source of acne and how to prevent it.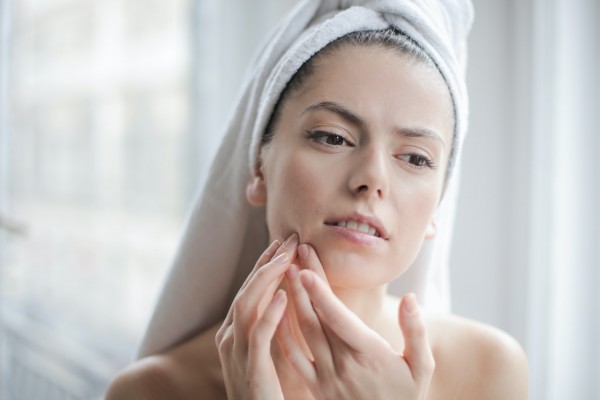 According to the American Academy of Dermatology, acne is the most common skin condition in the US and affects around 50 million people every year. While acne is prevalent among adolescents and young adults, it continues to affect people in their 30s and 40s. The rate of adult acne is actually increasing and it affects 15 percent of women.
Esthetician Lindsey Blondin tells Teen Vogue that great skin usually starts from the inside. Hormones, poor hygiene and diet, stress or underlying health issues can all be factors why acne appears on certain parts of the skin. Face mapping is a method that stems from Eastern practices. It uses the location of acne for treatment and prevention. While it is still best to consult a dermatologist to figure out the best treatment for your specific needs, face mapping is a good place to start.
The Acne Face Map
Forehead, Hairline and Temples
In Chinese Medicine, the forehead symbolizes the digestive system, while the temples are connected to the kidneys and bladder. Breakouts here are said to be caused by excessive alcohol consumption, bad diet, poor digestion, or irritated bowels. In the modern acne map, acne on the forehead may be the result of using heavy haircare products that clog your pores around the hairline and temples. Dirty hair and bangs also contribute to forehead acne, as well as wearing hats and caps. Stress is another culprit. It will help to incorporate salicylic acid into your skincare routine to fight breakouts.
Also read: Introducing Acids: The Difference Between AHAs and BHAs
Nose
Blondin says the nose is linked to the heart. To help reduce breakouts here, cut back on spicy food and meat. Go for good fats like fish, avocados, flaxseed and nuts. Since the nose is also full of pores, seek out makeup that is non-comedogenic. For the best spot treatments, Allure suggests Cosrx Acne Pimple Master Patches, My Clarins Clear-Out, Clean & Clear Advantage Spot Treatment and Dr. Dennis Gross DRx Blemish Solutions Acne Eliminating Gel.
Cheeks
The cheek area corresponds to the respiratory system. Blondin advises to stop smoking or at least lower your stick count. If you work outdoors, make sure to cleanse your skin thoroughly. You may want to try the K-beauty technique that is double cleansing. Anything that touches your cheeks can be contributory. Change your pillowcases and bedsheets regularly and pay attention to your mobile phone. If you make and take a lot of calls, clean the surface regularly. Makeup brushes and sponges also collect bacteria. Avoid sharing and clean them regularly, as well.
Chin and Jawline
Dermatologist Dr. Whitney Bowe says that acne on these parts of the face point to hormonal imbalance. Dr. Clair Chang of Union Square Laser Dermatology tells Real Simple that when androgen levels overtake estrogen, it leads to excessive oil production that can cause clogged pores and breakouts. While menstruation and menopause trigger hormonal imbalances, you can still help yourself out by getting enough sleep, drinking lots of water and using the right skincare. You may also want to consult a dermatologist about taking spironolactone or birth control to combat hormonal acne.
Related article: Simple Rules From Dermatologists For Great Winter Skin
See Now: 100 Most Beautiful Women In The World
PHOTO GALLERIES
BEAUTY IDEAS
HOW TO