Nov 24, 2020 03:58 AM EST
(Photo : Ani Kolleshi / Unsplash) While mask-wearing is still necessary, fight maskne and perfect your makeup with these tips.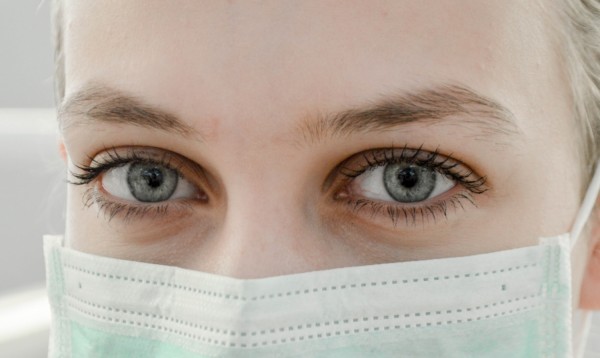 By this time, most of us have gotten used to wearing masks whenever we go out. For everyone who loves makeup, masks have posed a challenge to their usual routines as lipsticks, particularly, have taken a backseat. Maskne, or mask acne, has also been a full-blown concern for many. While some of us have may have already adjusted our skincare and makeup routines, there are still people who can use a little help. Dr. Chaneve Jeanniton tell Vogue that this is the time to pare down. Listed below are great tips from dermatologists and makeup artists on how to handle skincare and makeup in this time of regular mask-wearing.
Skin Care
Simplify your regimen.
Congestion becomes an issue when we wear masks and thick creams or strong exfoliants have the tendency to add to that. Dr. Jeanniton suggests using a gentle cleanser, hydrating toner, a gel moisturizer, and sunscreen during the day. She also reminds everyone to wait for at least five minutes for everything to be absorbed by the skin before donning a mask. At night, you can add a light serum and opt for those with soothing ingredients like aloe, niacinamide and hyaluronic acid. Elle suggests Glossier Super Pure serum, Fresh Rose Deep Hydration Face Serum and First Aid Beauty Ultra Repair Hydrating Serum. If you need a dose of freshness in between, Vogue recommends Mario Badescu Facial Spray with Aloe, Cucumber and Green Tea.
Also read: Niacinamide: The Multitasking Hero Ingredient
Don't forget to wash your mask regularly.
A very big contributor to mask acne is a dirty protective mask. It's best to launder your mask after every use to prevent reintroducing grime, oil, and germs to the surface of your skin. Dr. Jeanniton also suggests using hot water and a fragrance-free detergent like Tide Free and Gentle which is recognized by both the National Eczema Association and National Psoriasis Foundation. This will be helpful for those who have sensitive skin.
Invest in a silk mask.
Dermatologic surgeon Dr. Howard Sobel shares that silk is naturally hypoallergenic, cooling, and absorbs less moisture than cotton and other synthetic blends so it won't dry out your skin.
Makeup
Less is more.
Makeup artist Nour Agha says that if you can skip foundation and concealer on the lower half of your face, then do it. The humidity under the mask can mess with sebum production which can lead to clogged pores and breakouts. Only apply foundation on exposed parts of the face if needed and stick to lightweight formulas. It will be even better if you can get away with a tinted sunscreen. Health lists these as dermatologist-approved: Elta MD UV Daily Broad-Spectrum SPF40, Australian Gold Botanical Sunscreen Tinted Face Mineral Lotion SPF 50 and La Roche-Posay Anthelios Tinted Ultra-Light Face Sunscreen SPF 50. Makeup artist Cyndle Komarovski shares that blotting papers and a matte lip balm are mainstays in her bag.
Play up your eyes.
As half your face is covered, it's up to the eyes to do the talking, makeup-wise. Groom your brows, lift and volumize your lashes and go bold and graphic with eyeliner. The cat eye is going strong, and eye makeup trends for the coming year include colored mascara, as well. You can even play around with crystals, adds Komarovski.
Related article: Looking Ahead: Top Makeup Trends For 2021
See Now: 100 Most Beautiful Women In The World
PHOTO GALLERIES
BEAUTY IDEAS
HOW TO