Nov 18, 2020 06:32 AM EST
(Photo : donny.davy / Instagram) Emmy Award winner Doniella Davy's many winning looks on HBO's Euporia has highly-influenced Gen Z makeup.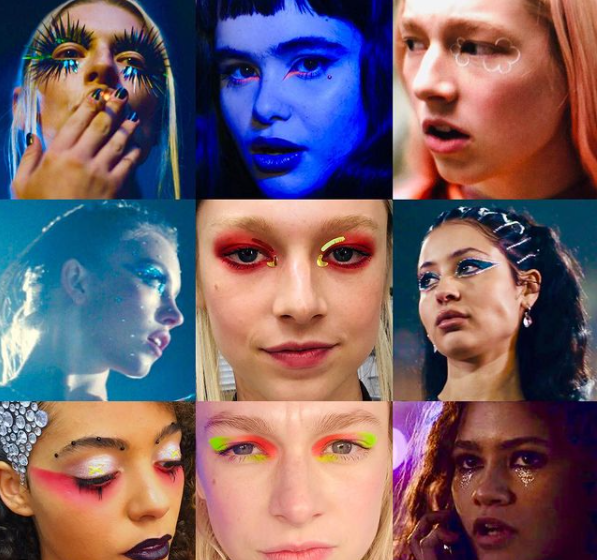 Gen Z Ideals and Makeup Trends
As Bloomberg reports, Generation Z (young people under the age of 23) already account for a quarter of the global population. They're also an active consumer base for the makeup and skincare industry and their needs are becoming increasingly different from Millennials. While fun is still an important factor, they are also anxious about the future and are respectful of sustainability. They don't also put much pressure into choosing between mass market and luxury brands, but look for products that go with their developing ideas and ethics.
Refinery29 also observers that Gen Z is inching away from being sexualized and looking to artists like Billie Eilish for inspiration. Her decision to stick to baggy clothing while topping album charts tells these young people that women do not have to be overtly sexy to be successful. This translates into makeup choices, as well. Euphoria, HBO's hit tv show that produced epic makeup looks for Gen Z, also shows how makeup can signal emotions and character development.
Now that Covid-19 is keeping most people indoors, the effort of being conventionally made up is no longer an issue. Gen Z has been using online platforms to experiment, share and learn from others. TikTok is awash with trends, from crazy and dangerous to absolutely doable. Elle Magazine shares some Gen Z makeup trends they tried here:
Glitter Brows
An updated version of the soap brows, that TikTok makeup trends that uses clear soap to make bushy and feathery eyebrows, glitter brows follow the same technique, but just adds glitter. Mix loose glitter or a shimmer powder like J.Cat Beauty Shimmery Powder into your soap mixture and brush onto eyebrows. If you're unfamiliar with soap brows, dampen a spoolie and rub it against clean soap. A clear soap like the Neutrogena Cleansing bar is best. The residue that creates is what you will mix with the shimmer powder.
Also read: These New Makeup Collaborations Will Give You A Strong Dose of Nostalgia
Neon Eye Makeup
This colorful look was created by Emmy Award winner Doniella Davy. Before Covid-19, she was able to teach Elle staffers a few looks from the show. Start with a lavender eyeshadow and pait it all over your lids. Try NYX Vivid Brights Cream Color. Apply any shimmery eyeshadow in the same color after. Next, grab a neon red eyeliner like Suva Beauty Hydra Liner in Acid Trip and apply all around your eye's perimeter. It's up to you how thick or thin you make it. Brush your eyebrows with a clear brow gel, curl your eyelashes and apply mascara on your top and bottom eyelashes. Finish with any peach nude liner and lipstick.
Green with Envy
Another winning Euphoria look, start with a cream shadow in bright green. NYX Vivid Brights is the makeup artist's go-to. Apply a shimmery light green eyeshadow to set the cream base. You can get all green shades you need from Huda Beauty's Obsessions Eye Palette in Emerald. Add a darker green liner just below your lower lashes then trace your lower waterline with waterproof black eyeliner. Coat your upper and lower lashes generously with black mascara. Brush your eyebrows with brow gel straight up then apply a berry or burgundy lipstick to finish ff the look.
Related article: TikTok Makeup Hacks That Actually Work
See Now: 100 Most Beautiful Women In The World
PHOTO GALLERIES
BEAUTY IDEAS
HOW TO