Nov 17, 2020 10:10 AM EST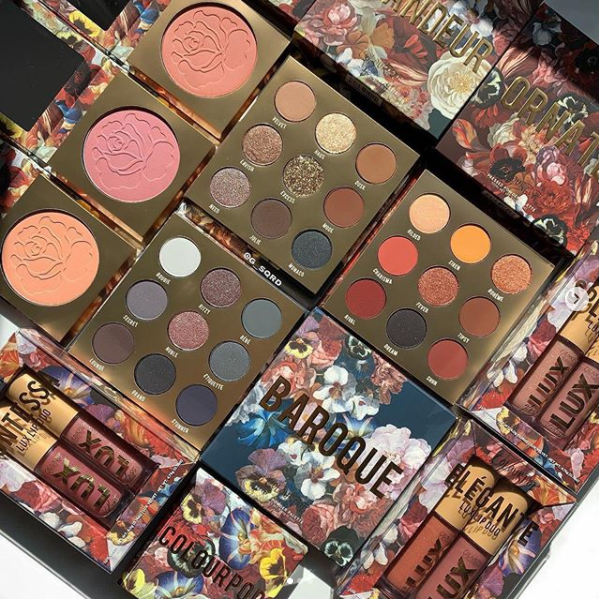 Colourpop goes dark and moody with its holiday offering, the Dark Blooms Collection. With three new eyeshadow palettes, three pressed powder blushes and six Lux liquid lipsticks all packaged in darkly rich floral-patterned boxes, the collection screams, "Get me for Christmas!"
Let's break down each set and their themes:
Baroque
Baroque features a cool nine-pan tonal palette with metallic shades of gray and navy. This set includes the Panache Lux Gloss (midtone pink with silver and gold pinpoints), Fatale Lux Liquid Lip (peony pink), and Vogue Pressed Powder Blush (midtone pink).
Ornate
Ornate gives you a touch of fall with a warm red palette with terracotta and peachy tones. The set comes with the Lust Lux Gloss (peachy terracotta with gold pinpoints), L'auberge Lux Liquid Lip (midtone coral pink), and Palatial Pressed Powder Blush (rosey terracotta).
Grandeur
Grandeur is heavy on the golds and bronzes that will give that golden goddess glow. This set includes the Renaissance Lux Gloss (pinky nude with gold pinpoints), Ingenue Lux Liquid Lip (midtone pink), and Chaise Pressed Powder Blush (fresh peach).
Each set goes for $38 or you can get the entire collection for $110. There are also lip duos that go for $15 or you can just buy them per piece. The price ranges from $8 to $14.
Speaking of holiday collections, here are fresh launches by other major beauty brands for some holiday shopping inspiration:
Star Lux
Wet N Wild's new holiday offerings include three Star Lux Shadow Quads, three Star Lux Glitter Highlighter Duos, Star Lux Starlighter Brush, two Star Lux Lip Scrubs and five Star Lux Lip Glosses. The price ranges for $2.99 to $4.99, which make them the perfect stocking stuffers.
Colourpop At Forest Site Collection
A collaboration with makeup artist and YouTuber Raw Beauty Kristi, this collection includes a 12-color eyeshadow palette, four individual metallic eyeshadows, three gel eyeshadows and two Lux lip glosses. This collection was dropped on Nov. 12 and apart from a couple products, everything was sold out immediately. How's that for an endorsement? Official restocking will be done by December 11 for those who missed out.
Kylie Cosmetics x The Grinch Holiday Collection 2020
Kylie Jenner partnered up with Dr. Suess's The Grinch and will launch her fifth holiday collection on November 19. The collection will include Shadow Sticks, Pressed Illuminating Powder, a Kyliner Liquid Liner Pen, two Shimmer Eye Glaze, a Pressed Powder Palette, a Lipstick Set, and her signature Lip Kit.
Also read: Kylie Jenner Rocks A Pink Bodysuit To Launch Her New Bath Collection
Bobbi Brown Cosmetics Holiday Collection 2020
With the brand's signature neutrals with a dash of boldness, Bobbi Brown's holiday collection includes the Luxe Gilded Highlighter in Foiled Petal (pinky gold), Lux Prismatic Lipstick (in a bold shade of magenta) and six eyeshadow palettes of different sizes. Prices ranges from $29 to $59.
LES CHAINES D'OR DE CHANEL
For Chanel's 2020 holiday collection, their iconic golden chain interwoven with black leather bag strap is embossed on their pressed powder eyeshadows and illuminating blush. The collection includes four eyeshadows, four lipsticks, an illuminating blush, a long wear eyeliner, an extreme volume mascara, gold nail polish and a gel top coat. Price ranges from $28 to $70.
Related article: These New Makeup Collaborations Will Give You A Strong Dose of Nostalgia
See Now: 100 Most Beautiful Women In The World
PHOTO GALLERIES
BEAUTY IDEAS
HOW TO