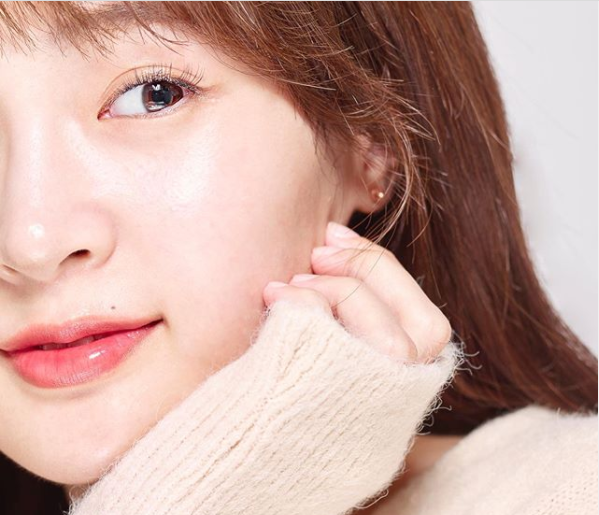 When Korean Skincare infiltrated the US market, it became so successful that even homegrown brands have developed products that closely resemble their Korean counterpart. We're not naming any names though. While the 10-step Korean skincare routine sounded laborious and time consuming, women everywhere became willing slaves because the results were fantastic. Ingredients like snail mucus, bee venom, fruit acids and hyaluronic acid became an ordinary thing and sales from Korean skincare (and makeup!) have been steady ever since.
The latest Korean skincare trend is called "Choc-Choc Skin." Ada Ooi, celebrity Facialist-Acupuncturist Skin & TCM Wellness Expert, describes choc-choc skin as "well-moisturized skin that has got a healthy, juicy and plumpy glow." The point is making sure your skin is well-hydrated and creating the right water-oil balance. Sounds just about right for winter season.
To achieve choc-choc skin, you need to follow these seven steps:
Exfoliation
Gentle peeling gives you a clean base and enhances product absorption. The choice of chemical or physical exfoliants will depend on your preference, but the key is removing dead skin cells to reveal your true skin. Exfoliate three times a week.
Soko Glam, the first and biggest provider of Korean skincare products in the US, recommends the following exfoliators: Skinfood Black Sugar Strawberry Wash-Off Face Mask, Some By Mi AHA-BHA-PHA 30Days Miracle Toner, Neogen Bio-Peel Gauze Peeling (available in Lemon, Green Tea and Wine), Cosrx One Step Original Clear Pads and Hanskin Real Complexion Hyaluron Exfoliating AHA Treatment.
First Cleanse
The first cleanse is meant to take off makeup and sunblock. Following the philosophy that "oil melts oil," choose a non-foaming oil-based cleanser to get rid of stubborn makeup and SPF. You can also try a cleansing balm. If you're not familiar with it, cleansing balms come in jars and start solid. You scoop a small amount and massage it over your face, add water to emulsify, then rinse it off. A Korean cult favorite is Banila Co Clean It Zero Cleansing Balm. For cleansing oils, some of Soko Glam's bestsellers are Hanskin Pore Cleansing Oil, Mamonde Petal Spa Oil to Foam Cleanser and Neogen Real Cica Micellar Cleansing Oil.
Also read: Chrissy Teigen Drops Her Skincare Secrets!
Second Cleanse
This second round of cleansing removes any oil residue from the first cleanse and gives the skin a deeper cleanse. Glamour Magazine is a huge advocate of double cleansing and recommends AHC Aqualuronic Facial Cleanser. Neogen Green Tea Real Fresh Foam Cleanser is another bestseller on Soko Glam.
Tone
Toning rehydrates the skin and balances the skins pH level right after cleansing. We're not talking about those alcohol-based drugstore astringents. Korean toners contain hydrating and skin-soothing ingredients hydrolyzed collagen and green tea. Stylecraze's top picks are Dear, Klairs Supple Preparation Facial Toner and Missha Time Revolution Clear Toner.
Serum
The right serum addresses your skin concerns like excess oil, dryness, sensitivity, acne and wrinkles. For sensitive and acne-prone skin, try White Seed Brightening Serum by The Face Shop. For dry and rough skin, go for Cosrx Propolis Light Ampoule. If you have dull, uneven skin tone and fine lines, look for Dear, Klairs Freshly Juiced Vitamin C Serum.
Water Cream
In K-beauty, multi-layers of moisture are key to get that glowing skin. In this sixth step, Ooi recommends water-rich formulas that contain anti-oxidant and anti-inflammatory ingredients. Soko Glam reviewers like Tony Moly Chok Chok Green Tea Watery Cream, Mamonde Rose Gel Water Cream and Dear, Klairs Fundamental Water Gel Cream.
Moisturizer
In this final step to get choc-choc skin, moisturizer acts as the sealant for all the skincare products you've layered on. Reach for an emollient-rich moisturizer with oils that are non-comedogenic (does not clog pores). Dear, Klairs Rich Moist Soothing Cream has over 500 positive reviews on Soko Glam. So does Missha Super Aqua Cell Renew Snail Cream.
In this time of Covid-19, self-care is something that we all should find time for. Indulge yourself and take this seven-step journey to choc-choc skin.
Related article: Makeup Primer: The Key To Achieving A Flawless Face