Nov 12, 2020 08:36 AM EST
(Photo : Sound On / Pexels) Streaky foundation? Patchy eyeshadow and lipstick? Use a makeup primer to achieve a flawless look!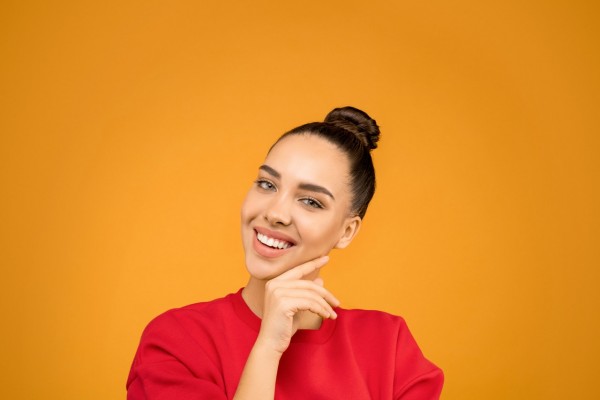 Working from home doesn't mean slacking off in the makeup game. In this age of Zoom conferences, you still have to put your best face forward. While some are blessed with flawless skin and can get away with some mascara, a hint of blush and a bold lip, the rest of us have issues to conceal. Dark undereye spots, large pores, oily skin, fine lines and blemishes are the usual suspects. The answer to all this? According to the experts, it's finding the right makeup primer.
Celebrity makeup artist, Jamie Greenburg, tells Good Housekeeping that primer "creates a smooth canvas for your makeup. It also keeps your makeup in place, keeps it from moving, [and] can keep it matte or luminous." Primers come in different formulas - gel, cream or liquid. The trick is putting it on before anything else to create the illusion of smooth skin since it fills in your creases, lines and pores. It blurs imperfections and evens out skin texture so anything you layer on top goes on evenly and sticks to your skin better.
With different formulas also come different types of primer. There are primers for the eyelids, eyelashes, lips, face. There are also hydrating primers for dry skin, mattifying primers for oily skin and tone-correcting primers to banish redness, dullness, or hyperpigmentation. Mainly, you have to choose between a silicone-based or water-based primer.
Also read: Running Late for Your Meeting? Try These Easy Beauty Tips
Silicone VS Water-based
Silicone primers are best for creating a poreless appearance. They also work best for those with dry skin. Check out the ingredient list. If anything ends in cone or siloxane, you've got yourself a silicone primer. Water-based primers are a better option for oily skin, especially because most formulas are oil-free and have a mattifying effect. Silicone primers may also feel heavier on top of oily skin and some report breaking out from it.
Expert Tips
Primers work best on a clean and moisturized face. Allow your moisturizer to dry before putting on primer.
Apply primer all over your face. Some newbies only put primer on areas where they see lines, big pores, and blemishes, but that will only create a patchy surface for your makeup. A little goes a long way, too. A pea-sized amount is enough for your whole face.
For water-based primers, make sure to wait until it's dry before applying makeup. The same goes for eye and lip primers.
By the way, you can wear makeup primer even without makeup and enjoy its skincare benefits. If you want to go out with a bare face, a silicone primer will keep you face matte and poreless. It will also help keep moisture locked in. A water-based primer adds a second layer of moisture and depending on the formula you choose, will even out your skin or brighten it without the need for foundation or highlighter.
Expert Picks
For dry skin - Younique Touch Glorious Mattifying Primer
For oily skin - Tatcha The Silk Canvas Protective Primer
For visible pores - DHC Velvet Skin Coat
For uneven skin - Hourglass Veil Mineral Primer
Best drugstore finds:
Monistat Chafing Relief Powder Gel
Nyx Studio Perfect Primer
Rimmel Stay Matte Primer
Ulta Matte Face Primer
Related Article: How to Clean Makeup Brushes: The Lazy Girl's Guide
See Now: 100 Most Beautiful Women In The World
PHOTO GALLERIES
BEAUTY IDEAS
HOW TO