BEAUTY
Ace That Face! The Best Zoom Makeup Tips from Celebrity Makeup Artists
Nov 13, 2020 04:15 AM EST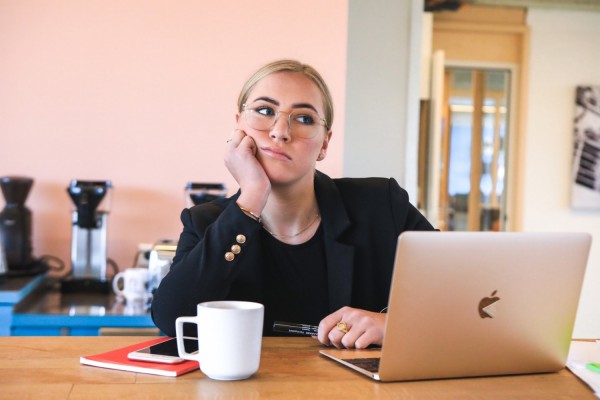 (Photo: Magnet.me / Unsplash)
Look your best on camera, even if you just woke up! Here are the best zoom makeup tips from celebrity makeup artists.
Now that we've entered the Zoom Age, our usual beauty tricks might need a little tweaking. When you're seen though a computer screen, dewy makeup can look greasy, your MLBB lip might look washed out, and your contouring efforts may give you unflattering shadows. We've gathered some useful tips from celebrity makeup artists across top beauty platforms and here's what they have to say.
Find your light
The first step to looking good on any camera is finding a good spot where you can benefit from natural light. Avoid harsh overhead lights that can cast shadows on your face. If there's somewhere with a wide window that you can work undisturbed, go for it. All that light from outside is going to give you that jumpstart into looking good online.
Webcam as mirror
A great tip from Cosmopolitan's Deputy Beauty Director, Chloe Metzger, is to use your webcam as your mirror while doing your makeup. This allows you to see exactly what people on the other side of your screen sees! This can also help you adjust your makeup to whatever lighting situation you have at home.
Luminous skin
Celebrity makeup artist Vincent Oquendo says, "You need to prep and prime your canvas." He likes using Tatcha's The Dewy Skin Cream to add luminosity to the skin. Next is to apply an illuminating foundation to "add a little glow and even skin tone," says another celebrity makeup artist Laura Geller. A cult favorite among makeup artists is Armani's Luminous Silk Foundation. Armani beauty collaborator Noako Scintu advises starting your application in the middle of your face and around your nose as those areas usually need more coverage. Just blend outwards, then add concealer where it's needed - usually under the eyes.
Also read: Makeup Primer: The Key To Achieving A Flawless Face
Add dimension
Apply some blush on your cheeks and a little highlighter to your cheekbones to give instant freshness and to add some glow. For a subtle highlighter that won't look oily on cam, try Perricone MD No Makeup Highlighter.
Make your eyes pop
Look bright-eyed and bushy-tailed even if you overslept. Define your creases with natural colored eyeshadow. Follow your eye's natural shape and keep the shadow rounded. Creating an almond shape will make the eyes look elongated and sleepy on camera. Use your trusty eyelash curler to open up the eyes and apply generous coats of mascara to add definition. Check out Smashbox Super Fan Lash Lengthening Mascara or drugstore favorite L'Oréal Voluminous X Fiber Mascara.
Flushed cheeks
Geller says, "You cannot forget blush." Her tip is to go for warmer tones as cool shades look darker on camera. Think coral or peach. Sweep blush along your cheekbones and down to the apples of your cheeks. Oquendo suggests going bright to avoid looking washed out. Budget-friendly options are E.L.F.'s line of blushes and Maybelline Cheek Heat Blush in Berry Flame. If you want to go a little extra, Tarte's Amazonian Clay 12-Hour Blush or NARS Blush in Exhibit A are worthy splurges.
A full pout
Find a lip liner that matches your natural lip color and using it to define your cupid's bow. Then use satin or glossy formulas for a fuller-looking pout. Celebrity makeup artist Kelsey Deenihan shares that she "tends to stay away from matte colors during this time because I want my lips to look fuller." Makeup artist Jo Baker tip is a bold red lipstick for confidence and to project that "Business as usual" aura.
Related Article: Top Winter Makeup Trends For 2020: No to Doom and Gloom