Prince Harry and Meghan Markle sent the whole world into a frenzy following their explosive tell-all interview with Oprah Winfrey.
Aside from their controversial relationship with the royal family, the Duchess of Sussex also reflects on her most unforgettable red carpet look that caused her unwavering pain.
The Shocking Truth About Meghan Markle's 2019 Red Carpet Dress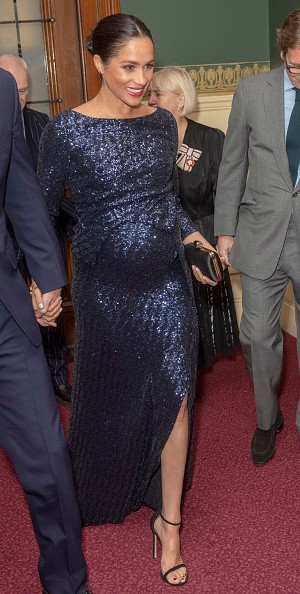 During the bombshell interview, the soon-to-be mother-of-two revealed that she was "still haunted" by a photograph of herself at the 2019 public appearance with Prince Harry.
At the time, the former "Suits" star, who was still pregnant with her first child, Archie Harrison Mountbatten-Windsor, attended the red carpet of Cirque du Soleil's Totem show in Royal Albert Hall.
She told Oprah that a friend sent her a photo of her during the event and complimented her look; however, looking at the snap, the former royal "saw the truth of what that moment was."
In addition, the 39-year-old Duchess revealed that behind those smiles is a sad reality that she and her husband are both "doing their job" and trying to get through the night.
The brunette beauty confessed that she was crying to her husband every time the lights went down and felt like she "didn't want to be alive anymore."
"Every time those lights went down in that royal box, I was just weeping," she mentioned, adding "He (Harry) was gripping my hand and it was 'Okay an intermission coming, the lights are about to come on, everyone's looking at us again' ... and you had to just be 'on' again," the duchess mentioned, in a report obtained by Hello magazine.
READ MORE: Meghan Markle's Fashion in Tell-All Interview with Oprah Costs a Whopping $12,000
Meghan Markle's Red Carpet Dresses
At the time, it was one of the most talked-about looks of the Duchess of Sussex.
Prince Harry's wife dazzled in a longsleeved sparkly navy sequined dress that features her signature style-- which is an elegant bateau neckline and a subtle leg slit.
Meghan Markle's red carpet dress was made by the French fashion designer, Roland Mouret, who happens to be her close friend.
To cap off the glam look, she paired the $1,330 dress with a black Givenchy clutch and black suede strappy heels by Stuart Weitzman.
Meghan Markle's Princess Diana Inspired Outfit
Interestingly, the modern royals also get their inspiration from some of the royal family members, including the iconic look of the late Princess Diana.
According to Marie Claire, Meghan Markle's Cirque du Soleil's red carpet style was inspired by the Princess of Wales' 1986 gown during her royal tour in Australia alongside her then-husband, Prince Charles.
The blue-green Catherine Walker gown was said to be one of Princess Diana's favorite dresses as she was pictured wearing it on multiple occasions, including the 1990 Diamond Ball.
The dress was actioned by the beloved royal herself, three months before her tragic car accident.
Aside from the resemblance to her late mother-in-law's gown, Meghan Markle also wore the late princess' bracelet as a tribute to Prince Harry's mother.
READ MORE: Meghan Markle Maternity Fashion: 5 Best Pregnancy Looks of the Duchess of Sussex