Since the onset of the global pandemic, Prince William and Kate Middleton have been busy doing virtual appearances, speaking to health workers and frontliners.
In a recent post shared by the couple's official Instagram account, @KensingtonRoyal, the Duke and Duchess of Cambridge was spotted in a smart casual look as they discussed the importance of mental health through the helpline Shout 85258.
"The Duke and Duchess spoke to a family whose lives were changed by a text message to the Shout 85258 mental health support service," the caption reads, alongside a short clip of Prince William and Kate Middleton inside their Anmer Hall home located in Norfolk, England.
The father-of-three sported wearing his signature preppy outfit, donning a mint green knit sweater over his button-up shirt.
As for the royal mom, the brunette beauty appeared in a familiar outfit.
Kate Middleton's casual style features a black and white silk polka dot long sleeves top, with her hair pulled back in a chic half ponytail.
For her accessories, the 39-year-old duchess opted for minimal silver double hoop earrings.
READ MORE: The Hidden Meaning Behind Kate Middleton's Jewelry Collection
Royal Repeat Offender
According to Express UK, this is not the first time that the future queen consort was spotted in a similar outfit.
Kate Middleton's top is said to be from a Los Angeles-based brand, Equipment that retails for $277 (£200.)
The Duchess of Cambridge previously wore this during the couple's royal tour in Dublin, Ireland last year.
At the time, she paired it with a black high waist trouser for a polished yet chic look.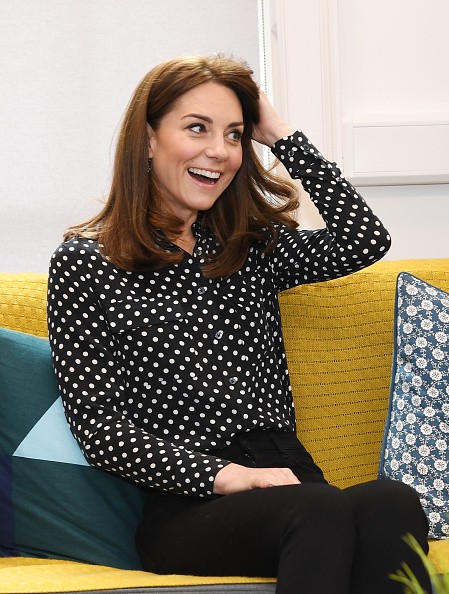 Aside from this, the royal mom was also photographed in the exact same silk blouse during her 2019 surprise appearance at Evelina London Children's Hospital to meet with the Family Nurse Partnership.
During the brunette beauty's unannounced public engagement, she arrived sporting the Equipment blouse as she tucked it in a cropped, wide-leg trousers while capping off the look with pointed-toe pumps with block heels.
Kate Middleton's Best Recycling Fashion Moments
Despite her royal status, the Duchess of Cambridge likes re-wearing her favorite outfits--whether it's a blazer, her favorite printed dress, and luxury shoes.
Moreover, she is often spotted in similar pieces from famous designers such as Stella McCartney, Alexander McQueen, and Jenny Packham.
This only proves that she has a timeless taste when it comes to clothing.
After their one year of marriage, Kate Middleton appeared in an Alexander McQueen tartan coat dress during the couple's visit to Dundee, Scotland, where they are known as the Earl and Countess of Strathearn.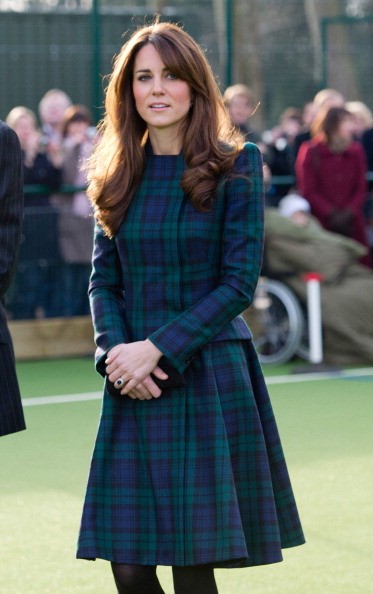 A year later, she was caught in the same coat dress on Christmas as she paired it with suede boots and a green fascinator for a more casual vibe.
Another is her iconic fiery red Luisa Spagnoli skirt suit, where she was spotted on three occasions.
The Duchess of Cambridge, who is fond of neutral and subtle colors, graced the royal engagements back in 2011, 2014, and 2017 in an ultra-bright red two-piece suit that features a pure wool jacket and cinched waist detail alongside a matching red skirt.
READ MORE: Kate Middleton Who? Dua Lipa Spotted in the Duchess of Cambridge's Signature Style