Gigi Hadid made a major comeback as she officially returned on the runway for Versace Fall 2021 Fashion Show.
The supermodel, who just gave birth to her daughter, Khai, last September, surprised the audience with her stunning post-baby transformation.
Gigi Hadid's Jaw-Dropping Versace Fall 2021 Look
The Vogue cover girl opened and closed the socially distanced event with her Beth Harmon fiery red hair as she dazzled with colorful makeup and sleek, long hair.
For her first look, the new mom slayed the runway wearing a black cropped bustier, skirt, and a matchy blazer.
As for her second look, Gigi Hadid graced the catwalk donning a cap-sleeve printed mini dress paired with black tights, sky-high platform shoes, and accessorized with a wide belt.
For the finale for Versace's Fall 2021 Fashion Show, the 25-year-old supermodel closed the show sporting a sheer long sleeve dress with beaded monogram details at the top part. She then finishes off the look with a sheer scarf tied around her head.
Over Gigi Hadid's Instagram, she thanked Versace's artistic director and fashion icon Donatella Versace for her "best comeback."
Moreover, she also mentioned how she missed walking the runway.
"opening & closing @versace is always an honor and was the best comeback.' mostly just lucky to be healthy, working, and in a safe/tested environment to hug so many I've missed like family this past year. Thank you to everyone who made this possible, especially my Italian Taurus queen @donatella_versacealways & forever & Grazie for the major moments sweet @gvsgvs," she wrote.
READ MORE: How to Get Gigi and Bella Hadid's Glowing Skin at Home
Family Affair
Gigi is not the only Hadid who walked for Versace's Fall 2021 Fashion Show.
She was joined by her little sister Bella Hadid who appeared donning a colorful red eyeshadow and sleek brunette hair as she wore a black zip-up corset paired with a buckled skirt and tailored coat.
Capping off the look, the younger Hadid sports a satin bandana and chunky platform boots.
Gigi Hadid Goes Viral with her Runway Comeback
Fans can't help but gush over Gigi Hadid's Versace fashion show.
The supermodel sent Twitter into a frenzy as fans expressed how proud they are of the mother-of-one.
"MISS GIGI HADID OPENED VERSACE OMFG I COULDN'T BE MORE PROUD OF HER," one wrote.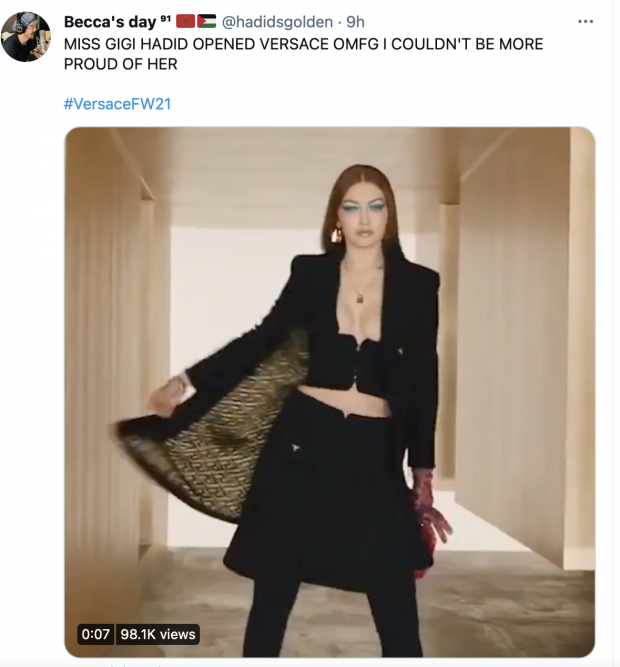 The second user pointed out her stunning transformation, calling it an "epic comeback."
"Finally! Gigi Hadid just walked the Versace Fall Winter 2021 fashion show showing off her new beautiful hair! We are completely in love with this epic comeback."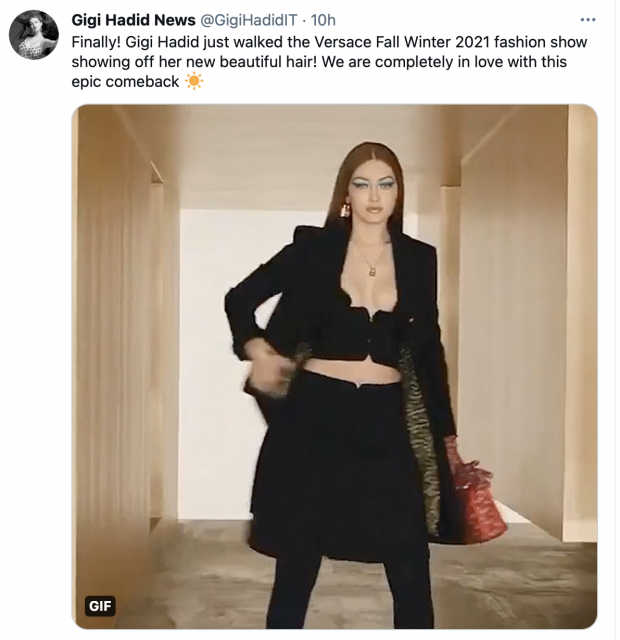 The same goes with an individual who echoed the same sentiment and mentioned, "Gigi Hadid SLAYING the Versace Fall 2021 Runway," alongside a gif featuring a slow-mo catwalk of Hadid.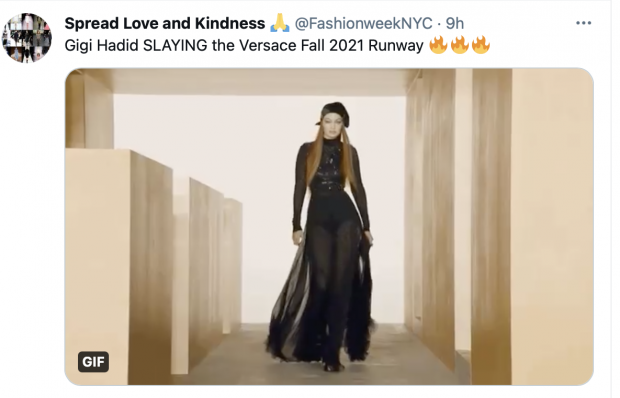 A Tribute to Khai
Prior to her Versace Fall 2021 Fashion Show, the Maybelline muse has been spotted donning an uber-cute accessory.
One of Gigi Hadid's jewelry collections features a gold chain-link necklace from spelling out Khai's name, whom she shares with boyfriend Zayn malik.
The said accessory was a custom-made necklace from a female-owned brand, The Sis Kiss.