There's no stopping Dolly Parton from performing and being the undisputed Queen of Country.
Since her debut in 1967, the blonde beauty has been the face of the country music scene.
Dolly Parton's Fashion Style
Aside from her impeccable voice range and chart-topping music, the "Jolene" hitmaker is known for her exquisite taste in fashion.
At 75, the singer-songwriter often sports voluminous wavy hair and embellished figure-hugging ensembles on stage.
You can never miss the Tennessee-born superstar with her colorful clothes, mostly in pink and pastel hues.
However, there's one thing that fans are curious about--and it's her signature style that involves fingerless gloves.
READ MORE: Throwback Thursday: Classic beauty, Dolly Parton
Why does Dolly Parton wear those gloves on her hands?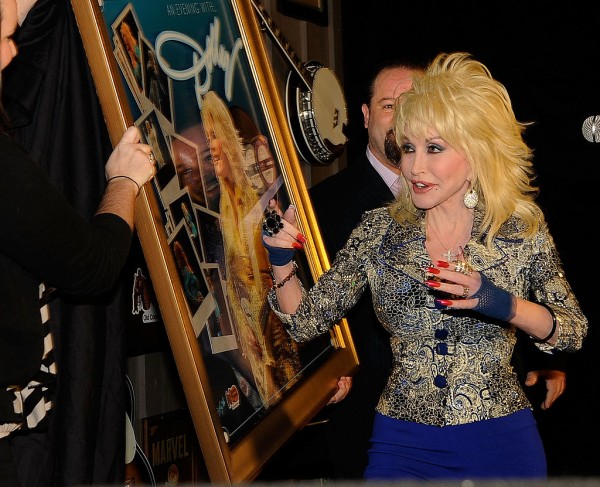 Over the Internet, fans are intrigued as to why the iconic singer always dons fingerless gloves.
"Anyone to tell the craic with @DollyParton hands ??" one asked, in reference to her recent appearance with the Late Late Show, while someone pointed out that it's a nude tone hand accessory.
"Looks like skin-color gloves."
Meanwhile, an individual posted her theory about Dolly Parton's gloves that involves her rumored multiple tattoos.
"FUN FACT: did you know Dolly Parton has loads of tattoos on her arms, so to keep her image, she wears arm-length gloves to cover them and has never really been photographed without them?"
When Did Dolly Parton Start Wearing Gloves?
To shed some light, a superfan named Duane Gordon explained the reason behind her signature look.
In a report cited by The Sun, he shared that the "9 to 5" songstress has been asked this question multiple times but never gave out a concrete meaning behind her fingerless gloves.
"She has not publicly given her real reason for wearing them. Consequently, although many fans have asked me about them, I can't give an answer with first-hand information," he mentioned.
According to the publication, the blonde beauty sported this trend since 2010 and had been wearing it to concerts and photoshoot ever since.
Instead of covering her whole arm with long sleeves, she opted for fingerless gloves.
This style has been seen on Paris Hilton, most recently during her engagement with Carter Reum, where the hotel heiress dons in sheer rhinestone hand gloves.
As for the Country music legend, Gordon cited an instance where Parton joked about getting her hands cold and thinks that it's aesthetically pleasing.
On the other hand, the superfan mentioned something about a surgery that left a scar on the singer's hand.
"However, I can relay third-hand information that she was asked about the gloves by fans while filming scenes for her upcoming movie Joyful Noise and told them that last year she had had corrective hand surgery (medical, not cosmetic) and it left a scar that she's covering," he furthered.
Dolly Parton's Tattoo
Another possible reason is having multiple tattoos and her plans to cover them.
In a previous interview with People, she broke her silence regarding rumors about her tattoo.
She admitted that she does have multiple inks but mentioned that "they're tasteful," adding that she's not a "tattoo girl."
In addition, she also hinted about the tattoos that she wants to cover. Initially, she had it done to cover scar tissue.
READ MORE: Locked & Loaded: Essential Winter Accessories To Help Keep Skin Soft & Hydrated