HOT GOSSIP
The Truth About Meghan Markle's Cartier Love Bracelet She Wore During Oprah Interview Finally Revealed!
Mar 03, 2021 09:35 PM EST
Prince Harry and Meghan Markle are sending a subtle message to the people through their outfits.
Experts believe that this has been one of the British Royal Family's signature traits since they can't express any political opinions publicly.
For more than a year after stepping down from their roles as senior royals, the Duke and Duchess are breaking their silence in an upcoming bombshell interview with Oprah Winfrey.
Meghan Markle's Oprah Interview: The Truth About her Cartier Love Bracelet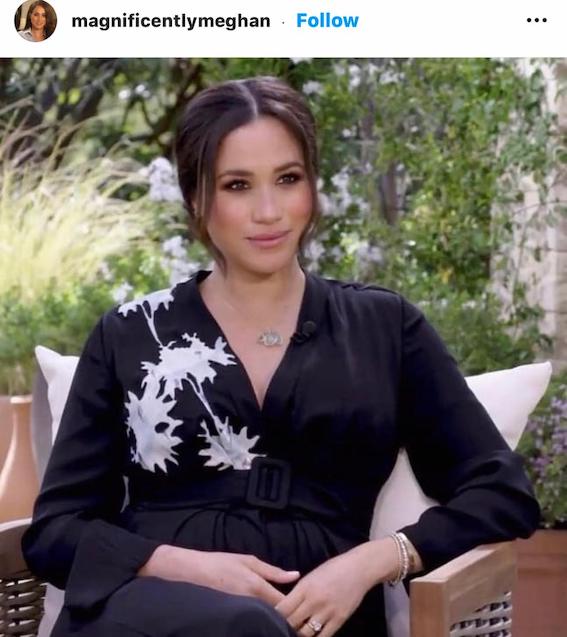 (Photo : @magnificentlymeghan Instagram)
Meghan Markle dress
After CBS released a 30-second clip of the duo being interviewed by their longtime friend, royal watchers noticed Meghan Markle's Cartier Love bracelet, which is said to be from Princess Diana's jewelry collection.
This has been confirmed by a Sussexes spokesperson in Today, stating that the stunning diamond bracelet belonged to the late Princess of Wales.
READ MORE: Meaning Behind Meghan Markle's Pregnancy Dress - Revealed!
Why did Meghan Markle Wore Princess Diana's Love Bracelet During the Interview?
The spokesperson explained to the publication the jewelry is the couple's tribute to Prince Harry's mother.
"They wanted to wear the bracelet to have [Harry's] mother there with them during the interview," a representative of the Duchess of Sussex mentioned in a statement.
Aside from this, the said accessory, which retails for almost $175,000 (£125,000), also plays a significant role in Prince Harry and Meghan Markle's marriage.
It came after the father-of-one had two diamonds taken from the bracelet and used it for his then-fiancee's three-diamond trinity engagement ring.
In addition, the three-stone ring, which features one large center stone that the 36-year-old prince sourced from Botswana--the first country that the duo visited as a couple.
Back in 2017, following their engagement announcement, Prince Harry revealed to BBC the story about Meghan Markle's engagement ring.
"The ring is yellow gold because that's [Meghan Markle's] favorite, and the main stone itself I sourced from Botswana, and the little diamonds either side are from my mother's jewelry collection to make sure that she's with us on this - on this crazy journey together," he mentioned.
Princess Diana has worn the Cartier love bracelet on several occasions, including the auction of her outfits in New York in 1997.
Meanwhile, aside from Meghan Markle's Oprah interview, the duchess also wore the Princess of Wale's bracelet during Prince Charles' 70th birthday at the Buckingham Palace.
Prince Harry's Grey Suit was a Tribute to Baby Archie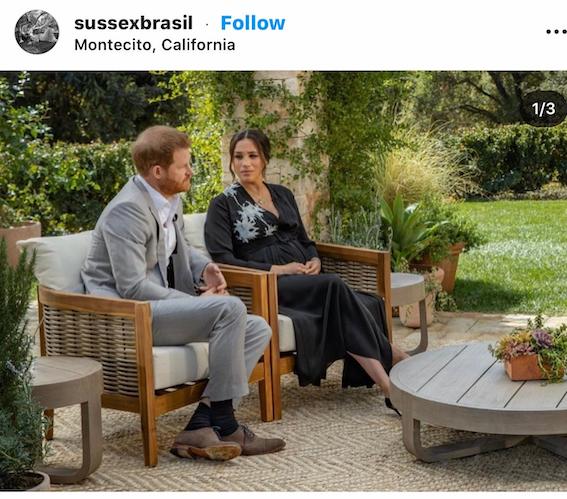 (Photo : @sussexbrasil Instagram)
Apart from the duchess' jewelry, Prince Harry also dons in a significant outfit.
During the tell-all interview, the 36-year-old prince was caught re-wearing his J.Crew grey suit, which is said to be one of his favorites.
The former royal appeared in a lightweight grey suit over a white button-down long sleeve shirt paired with brown loafers.t
According to People, this was the same suit that Prince Harry wore when the couple introduced their son, Archie Harrison Mountbatten-Windsor, to the world.