Prince Harry and Meghan Markle are in the middle of another controversy amid their upcoming bombshell interview with Oprah.
Earlier this week, CBS released a 30-second clip, where the Duke and Duchess of Sussex are being asked by their longtime friend about their life after stepping down from their royal positions.
Meghan Markle's Oprah Interview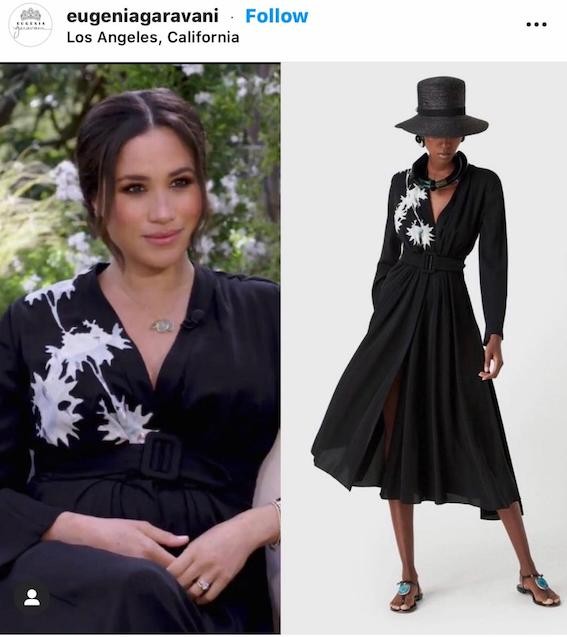 The former "Suits" star, who is currently pregnant with her second child, looked stunning as she appeared in a spring-ready ensemble, wearing a $4,700 black floral wrap dress by Armani, as cited by Page Six.
Moreover, the 39-year-old duchess then paired her simple yet elegant look with black Aquazzura pumps that retail for $695.
During the preview, the soon-to-be mother-of-two was also seen wearing a $6,550 Cartier Love bracelet and a diamond bracelet from the late Princess Daina's jewelry collection.
According to People, the 36-year-old duke "took two stones from his late mother's bracelet to include in Meghan's three-stone ring."
This is said to be the couple's tribute to the Princess of Wales, who passed away in a tragic accident in 1997.
As for her look, Meghan Markle's makeup featured neutral tones, with subtle smokey eyes and nude lips, while her hair is parted in the middle with face-framing details at the front.
READ MORE: Meghan Markle's Fashion in Tell-All Interview with Oprah Costs a Whopping $12,000
Meghan Markle's Uncanny Resemblance to Wallis Simpson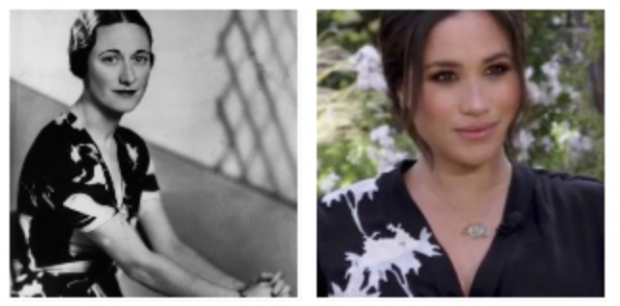 Following this, viewers can help but to point out the resemblance between Meghan Markle and Wallis Simpson.
To recall, the Duchess of Windsor is an American socialite who married the then King Edward VIII.
Since Simpson is a divorcee, King Edward VIII had to abdicate from his throne to officially marry the brunette beauty. This caused a massive stir in the British Royal family as the crown was passed on to Albert Windsor, known as King George VI.
As for the Duchess of Sussex, Twitter mentioned how the former royal took styling inspiration from the Duchess of Windsor with her black floral dress.
"Did Meghan Markle take style inspiration from Wallis Simpson?" one user wrote.
The second user echoed the same stance and posted, "Kinda hard to not compare Meghan Markle to Wallis Simpson. Truly."
The said photo of Wallis Simpson was taken a week before King Edward VIII stepped down from his royal role.
The Duchess of Windsor was photographed wearing a black floral dress with her hair parted at the center.
Internet Questioned Prince Harry's Suit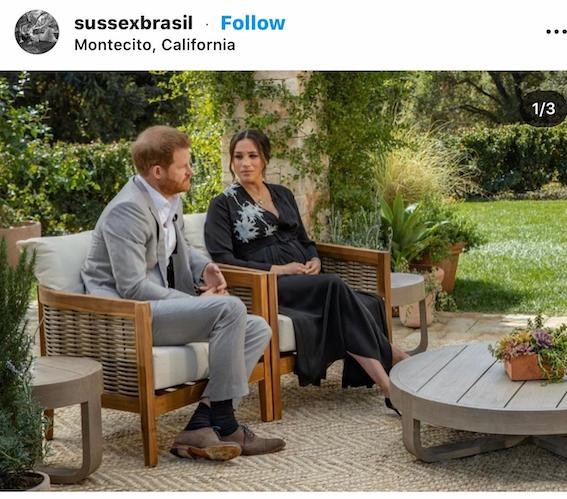 While Meghan Markle's chic look became the talk of the town, Prince Harry's outfit during the Oprah interview was mocked by social media.
According to the Daily Mail, the Duke of Sussex sported a white long-sleeve shirt with a J.Crew grey suit that reportedly cost almost $650.
"Prince Harry wears favorite outfit (2 sizes too small) for Oprah Winfrey interviews and dirty shoes. Usually, a wife who cares and loves her husband wants him to look good and would never let him out of the house to embarrass himself," one wrote.
On the other hand, several publications noted that this is the former royal's favorite outfit since he was spotted in this suit on multiple occasions.
Prince Harry wore a similar outfit during baby Archie's christening at Windsor castle in May 2019.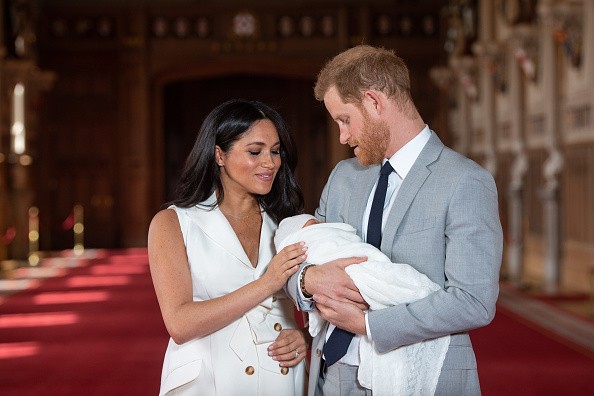 READ MORE: Meaning Behind Meghan Markle's Pregnancy Dress - Revealed!