Kate Hudson took a trip down memory lane as she recalls her most unforgettable experience during the 2005 Golden Globes.
In her recent interview with People, the blonde beauty, who is also nominated at 78th Golden Globe Awards as Best Actress in a Musical or Comedy Motion Picture, reminisces her wardrobe malfunction while sitting next beside Prince.
The Story Behind Kate Hudson's Golden Globes Dress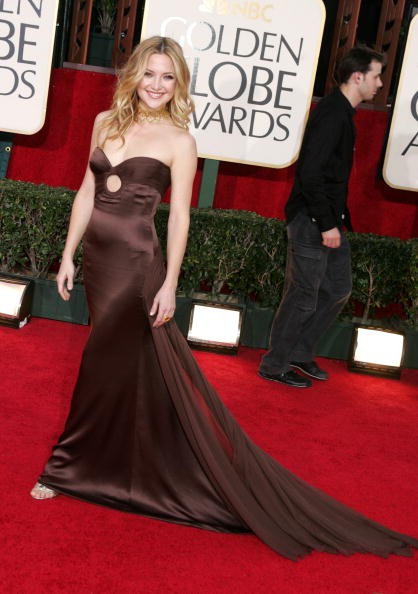 She revealed that she spent the entire ceremony not being able to sit as she was careful not to ruin her gown.
The "How to Lose a Guy in 10 Days" star recalls trying to figure out how to move around by not ripping her form-fitting gown.
At the time, the late iconic singer thought that Hudson's dress dilemma was hilarious as she attempted to find a comfortable spot.
"I was trying. I was sideways. He just thought it was so funny. And God rest his soul, but I was sideways the whole time," the A-list star shared, adding, "And then if I sat too much, the whole dress would have split. That was a bit of a malfunction."
Usually, celebrities have a fitting session a few days before the event to try out and make adjustments to the gown if needed.
Unfortunately for the "Fool's Gold" star, she confessed that they did not even think about fitting her dress and mentioned having to stand in it while inside the car and on their way to the ceremony.
To recall, Kate Hudson wore a strapless, dark chocolate body-hugging gown from Versace, with cut-out detail at the center alongside a flowy trail.
The Hollywood star went on a chic yet full glam look with her messy hair, statement eye makeup, and a nude lip.
As for her accessory, the award-winning actress wore a chunky beaded choker and gold bold ring.
READ MORE: Kate Hudson Ann Taylor Fall 2013 Campaign: Fabletics Designer Rocks Fashion Looks [PHOTOS]
Golden Globes 2021 Red Carpet
On the other hand, her longtime stylist, Sophie Lopez, shares the preparation for the upcoming Golden Globes 2021.
As we all know, even award ceremonies and red carpet need to adjust to the new normal and have to undergo safety precautions as mandated by health officials.
During a recent Zoom roundtable interview alongside various celebrity stylists like Andrew Gelwicks, Avo Yermagyan, and Tara Swennen, together with Hollywood Foreign Press journalist Margaret Gardiner and this year's Golden Globe ambassadors, Satchel and Jackson Lee, as they spoke about the details of dressing up celebrities for virtual ceremonies.
Lopez revealed that her client is not a fan of dress fittings and shared that they haven't done any up to this date.
However, the celebrity stylist is confident that their team will pull off Kate Hudson's Golden Globes look, and everything would go smoothly.
"Not every client is the same way, but we generally know each other so well that we can. It doesn't stress me out like I slept fine last night. We have what we need, and hopefully, there's a dress come Sunday," she mentioned, as obtained by WWD.
READ MORE: Golden Globes 2021 Predictions: Celebrity Stylists Share What to Expect on the Red Carpet