Kaia Gerber has officially ditched her quarantine blonde hair and went for her natural hair color.
In her recent social media post, the 19-year-old model debuted in balayage brunette locks featuring a French bob haircut, which is totally on-trend right now. Moreover, she also had layered curtain bangs for a face-framing effect that highlighted her big brunette eyes.
"My hair has been on a JOURNEY, but we're back!" Kaia Gerber's Instagram Story reads, adding, "Can you tell I'm happy?"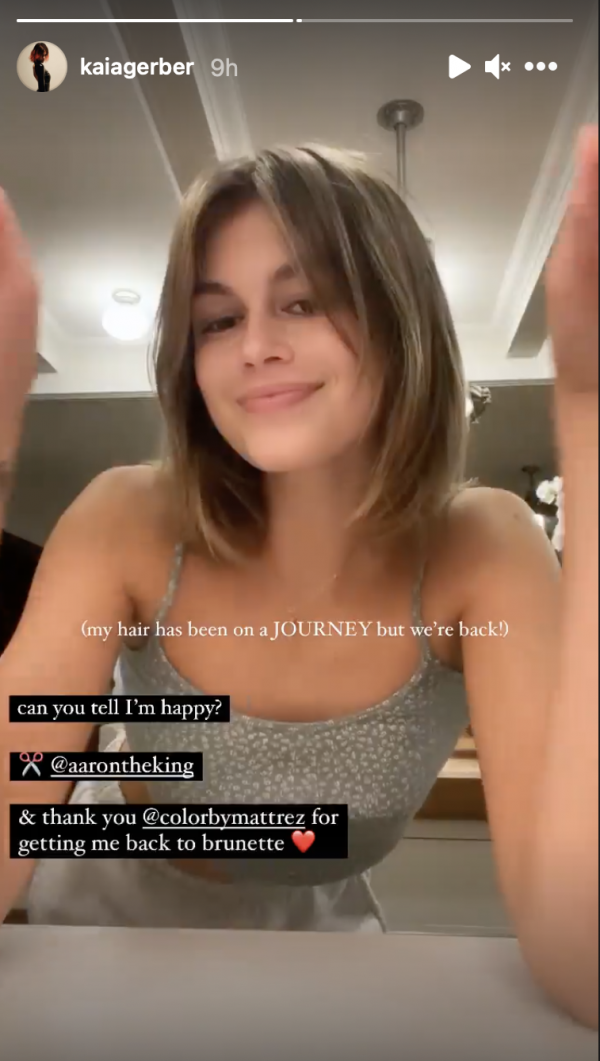 Obviously thrilled with her new hair transformation, Cindy Crawford's daughter was seen dancing joyfully as she scrunched her new haircut.
She also tagged celebrity hairstylist Aaron King, who is responsible for her cut, and the Los Angeles based celebrity hair colorist, Matt Rez for balayage hair, writing, "Thank you @colorbymattrez for getting me back to brunette.
IN CASE YOU MISSED: VP Kamala Harris Is a Total Fitspo
Kaia Gerber's Seven Hour Makeover
Unlike her 2020 makeovers, the Vogue cover girl sought the help of the experts this time.
According to multiple reports, she spent seven hours at the Studio City hair salon, where she was spotted donning a casual yet trendy outfit.
Gerber wore a white short-sleeved cropped top paired with muted brown trousers and white sneakers.
Of course, she was also seen sporting a black face mask and brown baguette bag to match her outfit. After that, she headed to a coffee shop to see her mom and dad, Rande Gerber.
What is French Bob?
Hair experts predict that the short French bob style will be the most significant hair trend this 2021.
Considered as a classic hairstyle, this features an ultra-short blunt bob and often has wispy bangs.
It looks perfect to those with an oval-shaped face--may it be the short or mid-length bob.
In a previous report cited by Glamour, celebrity hairstylist Alex Brown explained how this low-maintenance cut goes.
"A French bob is typically shorter than your typical chin-length bob we've been seeing a lot of lately," he mentioned, adding. "It has a bit of a 'wedge' look to it and is so chic and stylish."
ALSO CHECK: Emilia Clarke Talks About Makeup and Her Skincare Products
Celebrities Who Are Rocking French Bobs
Last year, there were a few celebrities who were seen embracing this classic hairstyle.
In July, former model and now TV personality Chrissy Teigen traded her long wavy locks to French bob care of celebrity hairstylist Irinel de León.
For a glam loom, she also did some highlights that suited the mother-of-two's skin tone.
The "Ghost Rider" actress Eva Mendes also joined the French bob trend. Her go-to hairstylist, Giannandrea, got rid of her Monroe-Esque curls and went short this time.
He also added texture to her hair with subtle blonde highlights for a low-maintenance but stylish "mom hair."
On her Instagram, she wrote, "My coworker getting her kicks and teasing me about my "cute" new hair. Thanks to @giannandreahair for making my mom's life a helluva lot easier."
Next on the list is the "Game of Thrones" star, Maisie Williams. She has been wearing this haircut for years; however, she went full-on blonde in 2020.
READ MORE: Louis Vuitton Criticized for $8,200 Puppet Hoodie