The British Royal Family are notoriously private when it comes to their personal life, most especially Queen Elizabeth II.
It is safe to say that the last thing they'll ever discuss with the public is their health and beauty regime.
As part of their strict protocols, royal ladies are not allowed to wear full glam makeup during their public engagements; hence, you will never see any royals sporting winged eyeliner, false lashes, or even smokey eyes.
Since heavy makeup is considered a sign of distaste in the royal language, most of them wear a bit of eyeshadow and lipstick to brighten their face.
In Case You Missed It: Is Rihanna's Fenty Fashion Label Shutting Down?
Queen Elizabeth II's Favorite Beauty Item
Leave it to Her Majesty the Queen, who was always seen wearing soft, neutral makeup looks.
Interestingly, the 94-year-old monarch can't live without her two beauty items. "Elizabeth the Queen: The Woman Behind The Throne," author Sally Bedell Smith revealed that Queen Elizabeth II considered her lipstick and compact mirror as the most important things in her handbag.
"At the end of a luncheon or a dinner, even a banquet set with silver gilt and antique porcelain, she has the somewhat outré habit of opening her bag, pulling out a compact and reapplying her lipstick," she writes.
There are also a few instances where the Queen was caught reapplying her lipstick. On one occasion was during the Highland Games in 2011, where she was beside the Duke and Edinburgh and was photographed putting on a bright shade of pink lippie.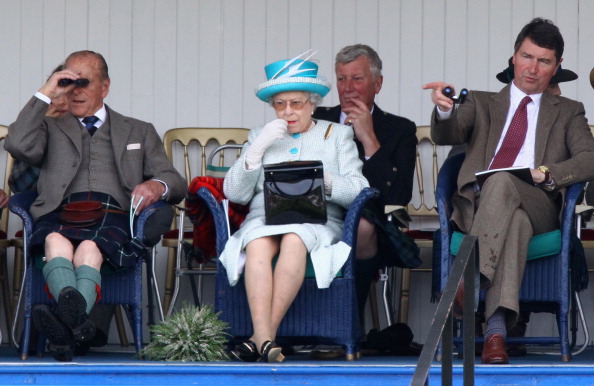 Also Check: First-Ever Biodegradable Makeup Sponge Is Now On The Market
Queen Elizabeth II's Coronation Makeup
As for her favorite cosmetic brand, the Queen and other royal's commercial preferences are relatively under the radar and can be derived from the royal warrants.
This means that only a few or selected companies that hold royal warrants can supply goods and services to the House of Windsor--and Clarins is one of them.
According to Hello! then-Princess Elizabeth commissioned the French luxury beauty brand to make her personalized lipstick for her coronation at the famous Westminster Abbey in London.
At the time, the 25-year-old Elizabeth II acceded to the throne in 1953, following her father's death, George VI.
Clarins then created a shade of red lipstick to match her ceremonial coronation robes that marked one of her signatures looks for many years.
Queen Elizabeth II Swears by Clarins' Ever Matte Powder
Aside from the red lippie, the brand is also her go-to cosmetic brand for foundation.
Town and Country previously noted that Her Majesty the Queen reportedly wears Clarins Ever Matte powder and is considered one of her beauty must-haves.
Retailing for $36, it is made from pure mineral ingredients and Tanaka powder that instantly helps mattify, controls shine and evens the skin complexion by giving you that healthy and natural glow.
Moreover, it also features a lightweight and non-drying formula that leaves the skin velvety soft.
Another great thing about this is its matte finish that lasts long hours, perfect for the Queen's numerous royal engagements.
Read More: Cardi B Goes Makeup-Free On Instagram