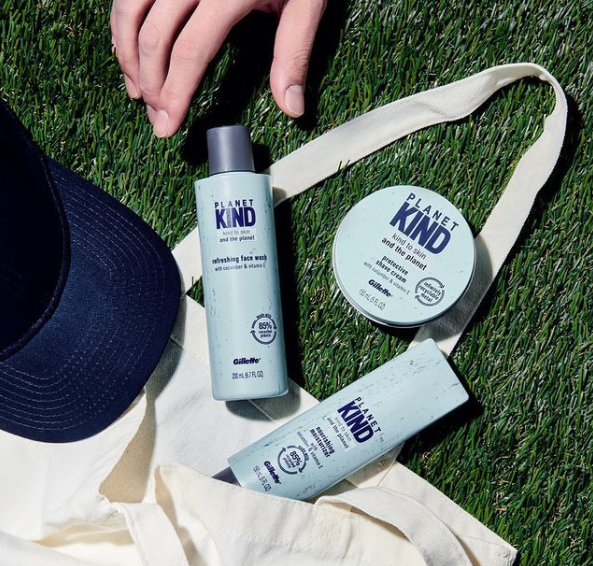 Credit : planetkindbygillette/Instagram
Another major player is climbing on the sustainability bandwagon. Gillette, a leading brand in men's grooming products, just launched Planet KIND, a line of refillable products made with sustainable materials. Business Wire shares that Planet KIND packaging is made from 85 percent recycled plastic, 85 percent paper or recyclable aluminum. The razor that's included in the Planet KIND lineup is also made of 60 percent recycled plastic.
Gillette will be working with Plastic Bank to ensure that for every Planet KIND product sold, 10 plastic bottles will be prevented from entering the ocean. This initiative began on February 1 and as Premium Beauty News reports, Planet KIND aims to prevent 10 million plastic bottles from polluting the ocean within its first year in the market. Gillette has also teamed up with Terracyle to repurpose hard-to-recycle blades and razors. As written in the Procter & Gamble press release, Planet KIND's launch is a part of Gillette's 2030 Sustainability Goals to have "100% of Gillette packaging be recyclable by 2030 and to increase the use of post-consumer recycled content for products."
ALSO READ: Colgate Launches Colgate Keep Reusable Toothbrush