BEAUTY
11 Transfer-Proof Makeup Products That Will Not Smudge Under a Mask
Dec 10, 2020 06:48 PM EST

Wearing a mask outdoors is a must and while it's totally necessary for health reasons, makeup junkies were bummed out by how mask-wearing has messed up their beauty routines. A bit shallow as others may see, but truly relatable, isn't it? Smeared foundation, smudged lipstick, uneven blush and all this mess imprinted on your mask? No, thank you.
While most have learned to play up their eyes and giving their lipsticks a rest, some do feel naked without a fully made-up face and that's okay. Finally, here's a list of the best transfer-proof makeup compiled by the beauty editors of Cosmopolitan, Marie Clare and Popsugar.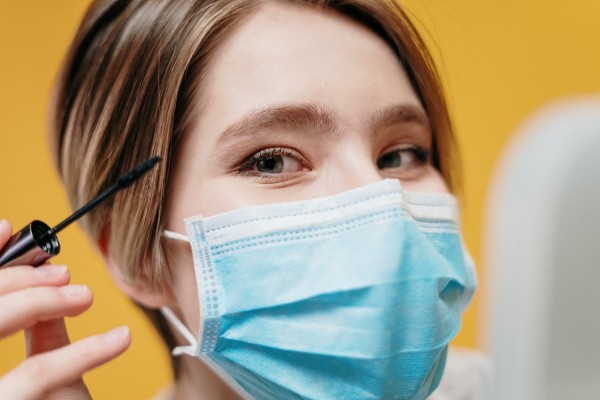 (Photo : cottonbro / Pexels)
Wear more than just mascara and eyeshadow with transfer-proof face and lip makeup!

MAC Studio Fix Soft Matte Foundation Stick
This multipurpose product can be used as a foundation or concealer, stays put for the whole day and has a matte finish. It's guaranteed to be transfer-proof and comes in 33 shades.

It Cosmetics CC+ Cream Oil-Free Matte with SPF 40
Avoid mask acne with this oil-free matte CC cream that last for hours and doesn't cake or transfer. It also has the added benefit of sun protection.

Pat McGrath Labs Skin Fetish: Sublime Perfection Foundation
The special polymers in this foundation allows it to latch onto skin for extended wear. It comes in 36 shades, so it won't be too hard to find your match.

Kevyn Aucoin Stripped Nude Skin Tint
If you want to skip the foundation and go for something more lightweight, try this skin tint from Kevyn Aucoin. While sheer makeup isn't known for its staying power, this tint is long-lasting and again, transfer-proof.
ALSO READ: According to Beauty Experts, These Are The Best Hydrating Foundations for Winter

Dermablend Cover Care Full Coverage Concealer
For days when you want a breather, just use this waterproof, sweat-proof, and transfer-proof concealer to hide dark under eye circles and blemishes. This also does the trick if you have overslept for a Zoom conference.

BareMinerals BarePro Glow Bronzer
You're probably looking a little pale after spending so much time indoors. For a warm and natural-looking glow, swipe on some of this liquid bronzer that's designed to last for 16 hours.

Maybelline SuperStay Matte Ink Liquid Lipstick
This drugstore liquid lipstick lives up to its name and has forty colors to choose from. From classic nudes and bright reds to dark and moody shades, Maybelline SuperStay will really stay put and won't transfer.

L'Oréal Rouge Signature Lightweight Matte Lip Stain
Another worthy drugstore find is the L'Oréal Rouge Signature Lightweight Matte Lip Stain. Swipe it on and let it dry. You won't find a trace of it on your mask once you take it off after running all your errands.

Yves Saint Laurent Tatouage Couture Matte Stain
Lip stains are a good substitute to lipsticks. The color payoff is great, they're non-sticky and once they dry, they stay put. This YSL matte stain needs only a thin application for smudge-free lips.

Glossier Cloud Paint
This Glossier cult favorite is lightweight, buildable, and long-lasting. It will give you a natural-looking flush that won't melt off when you're wearing a face mask.

Elaluz Lip & Cheek Stain
This newcomer is hydrating and stays put on the lips and cheeks. Use your finger for a soft and diffused look and once it dries, you won't be able to talk it off without double cleansing.
RELATED ARTICLE: How to Combat Mask Acne and Perfect Your Mask Makeup