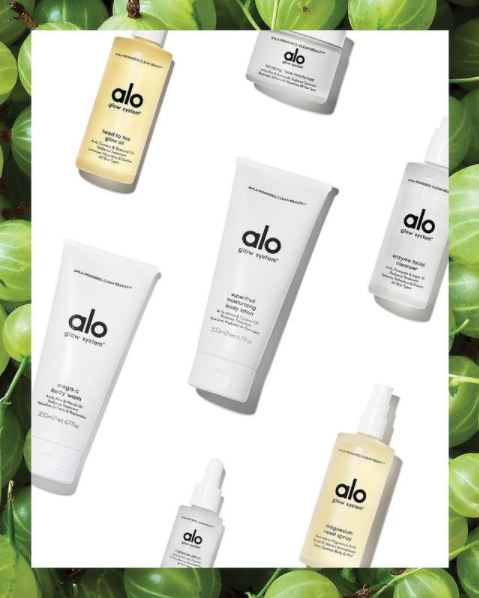 Alo Yoga is a Los Angeles-based activewear brand that is well-known for their comfortable and fashionable workout gear that many even wear beyond the confines of yoga studio or gym. They've amassed a cult following of nearly 3 million followers on Instagram and according to Women's Health, their fans include celebrities like Taylor Swift, Cindy Crawford, Halle Berry, Gigi Hadid, Kaia Gerber, and Hailey Beiber. That said, Alo Yoga is moving beyond active wear and wellness and into the skincare industry.
As Allure reports, Alo Yoga just launched their Alo Glow System which includes seven skincare and wellness products that hero the amla or Indian gooseberry. The amla is rich in vitamin C and packed with antioxidants - 50 times more than blueberries, 60 times more than pomegranates and 75 times more than goji berries.
It has long been used in Ayurvedic medicine and has anti-aging and anti-inflammatory properties. All the products are vegan and clean which means they are free from aluminum, artificial colors, dyes, mineral oil, parabens, PEGs, phtalates, propylene glycol, silicones, sulfates, and synthetic fragrance.
Also read: The Top Clean Skincare Products That Took Over in 2020
The Complete Product Line
Enzyme Facial Cleanser
Aside from amla, this gentle yet powerful cleanser is formulated with soothing aloe, moisturizing argan oil and brightening pineapple enzymes. It promises to remove sweat and grime without stripping off the skin's natural moisture barrier.
Radiance Serum
Using K-beauty technology, this serum is formulated with amla, hyaluronic acid, fermented K-beauty ingredients, and potent botanicals. The serum aims to brighten skin tone, smoothen fine lines and refine skin tone.
Liminizing Facial Moisturizer
If you get dry and flaky skin like Women's Health beauty director Kristina Rodulfo, then this rich and creamy moisturizer is for you. Thanks to the added benefits of aloe, avocado oil and marula oil, Rodulfo says her skin looked more plump and felt bouncier after using it.
She also says it's great for sensitive skin as it has zero fragrance and does not trigger her dermatitis. She adds that a nickel-sized amount goes a long way, and the moisturizer dries down matte. In her opinion, the thick consistency makes it ideal for night use.
Mega-C Body Wash
Just like the facial moisturizer, the Mega-C Body Wash is formulated with amla, aloe, avocado oil, and marula oil. It is also naturally fragranced with a bright citrus blend with herbal botanicals and vanilla base notes.
Super Fruit Body Lotion
For Alo's body lotion, amla is combined with arnica to soothe tired muscles, argan oil and aloe soothe and nourish skin while coconut oil restores lost moisture.
Head-to-To Glow Oil
This multipurpose body oil combines amla with turmeric, marula oil, aloe, avocado oil & potent botanicals for healthy and glowing skin. Best applied to damp skin after bathing and can be used on the face, hair, and body.
Magnesium Reset Spray
The last product on the Alo Glow collection is this stress relieving spray. Great for soothing tired muscles, it's also a nice aid for some aromatherapy.
The product line ranges from $24 to $88 and is now exclusively available in in Alo Yoga stores and on aloyoga.com.
Related article: Sneak Peek: Jennifer Lopez's JLo Beauty Full Product Lineup