BEAUTY
Bakuchiol: The Gentler Alternative to Retinol
Dec 07, 2020 04:03 AM EST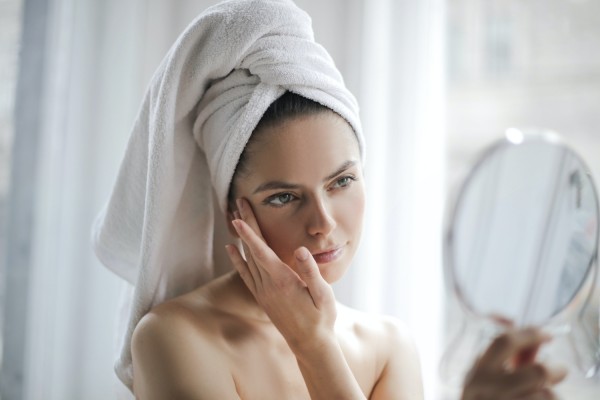 (Photo: Andrea Piacquadio / Pexels)
Instead of retinol, try bakuchiol to address fine lines and wrinkles.
Retinol is one of the most popular skincare ingredients and is commonly found in anti-aging products. It aids in the production of collagen and elastin and increases cell turnover to reveal younger-looking skin. According to Glamour, retinol addresses a wide array of skin concerns from acne and hyperpigmentation to fine lines and wrinkles. However, retinoids can be harsh on skin and those with sensitive skin have reported negative side effects like redness, dryness, and peeling. If you've tried retinol, enjoyed its benefits but don't like the side-effects, try bakuchiol instead.
Bakuchiol is derived from the Psoralea Corylifolia plant, otherwise known as Babchi. It was traditionally used in Ayurvedic and Chinese medicine and thanks to its antioxidant, antibacterial and anti-inflammatory properties, modern science is now paying attention, too.
Bakuchiol Benefits
Board certified dermatologist Dr. Sejal Shah shares with Allure that bakuchiol, like retinoids, also increases cell turnover and stimulates collagen production. Both ingredients basically reduce the signs of aging and help clear up acne. An added advantage of bakuchiol is that unlike retinol, bakuchiol doesn't make your skin sensitive to sun exposure. It actually helps skin be less sensitive to sun and that makes it safe to include bakuchiol in your morning skincare routine. Cosmetic chemist and Freelance Formulation founder Vanessa Thomas also tells Byrdie that multiple studies have already shown that bakuchiol is a proven alternative to retinol without the undesirable effects.
Also read: Succinic Acid: New Kid on the Acids Block
Bakuchiol-infused Skincare Products
Glamour suggests that the best time to start using retinoids is in your late 20s, especially if you suffer from regular breakouts and hyperpigmentation or uneven skin tone. Since bakuchiol offers the same benefits without the sting, Allure recommends the following skincare products:
Dr. Zenovia Bakuchiol Hydrating Cleanser
Allure editors are big fans on this bakuchiol cleanser. Say goodbye to breakouts with this pH-balanced cleanser that combats acne without leaving your skin feeling stripped and irrated.
Herbivore Botanicals Bakuchiol Serum
This serum is often sold out thanks to its water-based and gel texture formulated with bakuchiol and holy basil extracts. The bonus of healing eggplant also gives this serum its dreamy lavender color.
Alpyn Beauty Plantgenius Melt Moisturizer
Apart from bakuchiol, this moisturizer packs a powerful punch with hyaluronic acid, squalene, ceramides, glycolic acid, and vitamin C.
The Inkey List Bakuchiol Moisturizer
To get the most of its hydrating, smoothing, and clarifying properties, apply this moisturizer over your toner or serum. The lightweight consistency makes it a great choice for those with oily complexions or for those who live in warm climates. The Inkey List also produces top-notch skincare products at a drugstore price. Win-win.
Paula's Choice Clinical 0.3% Retinol + 2% Bakuchiol Treatment
Paula's Choice combines retinol and bakuchiol, but the bakuchiol is obviously in a higher concentration and that makes this treatment friendlier to sensitive skin.
Ole Henriksen Goodnight Glow Retin-ALT Sleeping Crème
Reveal radiant skin in the morning by using this night cream formulated with retinol alternative bakuchiol and alpha hydroxy acids. The added AHAs helps even out skin discoloration by gently exfoliating your skin overnight.
Related article: How Dermatologists Treat Melasma and How To Deal With It At Home