Nov 30, 2020 03:29 AM EST
(Photo : Valeria Boltneva / Pexels) Perfect your cat eye with these easy eyeliner tricks!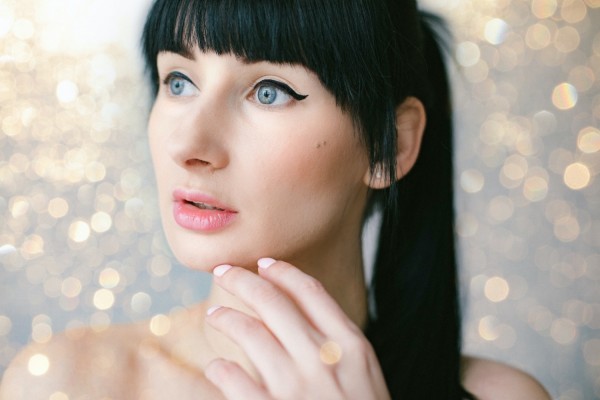 In this age of mask-wearing, the beloved lipstick caddy has been moved to the bottom of the vanity and the eye makeup drawer made its way to the top. Beauty bloggers have been creating stunning looks with rainbow-colored eyeshadows, glitter, and even different rhinestones ala Euphoria. But for the daily grind, low-maintenance eye makeup does the job. Simple, however, doesn't mean less attractive. Case in point, the classic cat eye. The cat eye is making its way back and is going to be one of 2021's biggest makeup trends. Here are easy cat eyeliner tricks to make eyes look strikingly bigger.
Tightlining
Celebrity makeup artist Emily Cheng starts by tightlining the eyes. Tightlining is done by using an eye pencil or liquid eyeliner to trace the upper waterline, getting in between every lash, and filling in the gaps at the base to make your eyelashes look thicker and fuller. This is also known as the invisible eyeliner technique and is a favorite trick among makeup artists for a subtle and effective look. If you want a softer look during the day, go for a brown or taupe eye pencil. Vogue recommends L'Oréal Infallible Pro-Last Waterproof Pencil Eyeliner in Bronze or Mac Eye Kohl in Teddy. Cheng also suggests a maroon eyeliner for a subtle pop. Try Revlon's So Fierce! Vinyl Eyeliner in Righteous Rum.
Go natural
After tightlining, celebrity makeup artist Tasha Reiko Brown creates a clean backdrop for contrast. She applies a natural brown shadow to the crease, adds a nude eyeliner on the eye's inner corners and on the lower inner perimeter. She says that this technique opens up the eyes instantly and creates that illusion of bigger eyes. This technique will be especially helpful for those with monolids.
Also read: Beauty Editors Present Their Top Eye Makeup Picks for 2020
Spread your wings
To create the classic winged cat eye, Brown advises to start at the inner most corner of the eye and finish your line slightly past the end of your eye. Start as thinly as you can and gradually thicken the line as you go outwards.
As everyone's eye has a unique shape, Cheng finds it best to follow the shape of your bottom waterline to guide your upward flick or wing. She also adds that it's better to keep your eye open while making your ideal shape and to just relax your face. Cosmopolitan's top eyeliner picks are Stila Stay All Day Waterproof Liquid Eye Liner and Maybelline HyperEasy Brush Tip.
Q-tips are your friend
It takes time to perfect your eyeliner game. If you went to thick, too far or you just need to clean your lines, a pointed makeup Q-tip with some micellar can easily erase small imperfections. Stick to micellar water and avoid your usual makeup removers for this to avoid disturbing the rest of the line and that oily residue it leaves.
Top off with mascara
Eye makeup is never complete without mascara. To wrap up your classic cat eye, curl eyelashes carefully and swipe on some mascara. If you want to try something new, get a tubing mascara. Tubing mascara wraps your lashes with water-resistant polymers to make it longer and thicker. It's also easier to remove than waterproof mascara and saves your delicate eye area from all that rubbing with the makeup remover. All you need is warm water and very gentle pressure and the tubing mascara will slide off. Some of Allure's top picks are Blinc Mascara (the original tubing mascara), L'Oréal Paris Voluminous Million Lashes Excess Mascara, Kevyn Aucoin The Volume Mascara and one of Japan's best, D.J.V. Miaray Fiberwig Mascara.
Related article: Zendaya is Lancôme's Ambassador for the New Lash Idôle Mascara
See Now: 100 Most Beautiful Women In The World
PHOTO GALLERIES
BEAUTY IDEAS
HOW TO