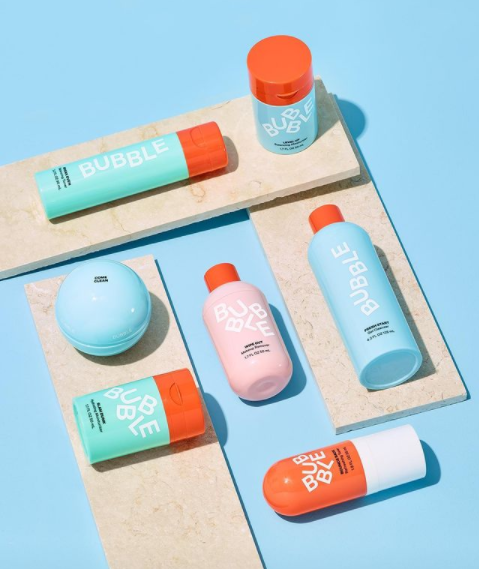 Meet Bubble, a new skincare line founded by Shai Eisenman, 29. Bubble was created with Generation Z in mind, with the brand having curated their products with the help of some 5000 teenagers. If that doesn't sound enough, enter Hawaii-based skincare junkie Hyram Yarbo, whose one million followers on Instagram, six million followers on TikTok and nearly four million YouTube subscribers trust his opinions and recommendations regarding skincare. Yarbo is of the opinion that, at present, most products branded for teens in the market are "heavily fragranced, highly irritating, and stripping" which do not help adolescent skin concerns like acne, sensitivity and breakouts. He's happy that Bubble tapped him to help out with the brand. Yarbo also highly appreciates that Bubble is fragrance and essential oil-free, vegan and cruelty-free. One of his contributions is helping Bubble launch Skin School on their official website. Skin School aims to teach teenagers about skincare, product ingredients, skin myths and the like. His favorite from the product line is the Level Up Balancing Moisturizer. Allure recommends the Bounce Back Refreshing Toner, Come Clean Detoxifying Clay Mask and Slam Dunk Hydrating Moisturizer. Since Bubble is targeted for Gen Z, nothing costs above $19.
Here's the complete lineup of Bubble:
Fresh Start Gel Cleanser
Star ingredients:
Spearmint extract - refreshing plant extract that helps calm skin
Red algae extract - helps in reducing oil production
Gluconolactone - a polyhydroxy acid (PHA) that helps in skin exfoliation, evens out tone and texture and removes excess oil. It's also a gentle acid for sensitive skin.
Caffeine, Aloe Leaf Juice and Lavender Flower Water - soothing and calming ingredients that combat redness and puffiness.
Break Even Balancing Toner and
Bounce Back Refreshing Toner (spray formula)
Star ingredients:
Green Tea Extract - an antioxidant that calms and soothes skin. It also protects skin from pollution.
Sodium PCA and Niacinanamide - combined, this duo improves skin texture and evens out skin tone.
Willow Bark Extract -gentle exfoliator that reveals glowing skin.
Also read: Common Skincare Mistakes Dermatologists Always See
Slam Dunk Hydrating Moisturizer
Recommended for dry skin.
Features blue light protection.
Star ingredients:
Aloe leaf juice - antioxidant that calms, soothes and moisturizes.
Vitamin E - helps fight free radicals and environmental stressors to restore healthy skin cells.
Avocado Oil - helps reduce redness, softens and moisturizes.
Hoya Lucunosa Flower Extract - plant extract that soothes skin and promotes skin radiance.
Level Up Balancing Moisturizer
Recommended for oily skin. Also features blue light protection.
Star ingredients:
Zinc PCA and Niacinamide - these two improve skin's texture and gives a more radiant tone.
Yarrow extract - restores hydration and prevents dryness.
Come Clean Detoxifying Mask
Features Brazilian purple clay.
Star ingredients:
Vitamin E - antioxidant that promotes healthy skin cells.
Montmorillonite - mineral-rich clay that absorbs impurities and deeply exfoliates pores.
Melia Azadirachta Flower Extract - helps clear acne prone skin,
Azelaic Acid - multitasking ingredient that exfoliates and purifies skin for even tone and texture.
Wipe Out Makeup Remover
Star ingredients:
Meadowfoam Seed Oil - non-greasy oil that balances skin.
Chickweed Extract - plant extract rich in minerals and antioxidants to soothe and calm skin.
Raspberry Seed Oil - botanical oil rich in vitamins and antioxidants that help restore moisture.
Check out Bubble's launch video featuring young achievers Olympic gymnast and medalist Laurie Hernandez, Netflix's Outer Banks' actors Jonathan Daviss and Madison Bailey and dancer Mackenzie Ziegler. The video also stars Noah Beck, a TikTok-er with 20.5 million followers and Chase Hudson who has 10.3 million. You can expect surely Bubble to penetrate the Generation Z market with those famous faces.
Related article: Gen Z: Influences and Makeup Trends