Nov 11, 2020 08:34 AM EST
(Photo : Steven Ferdman/Getty Images) Does your hair need some TLC? Cardi B shares her DIY hair mask recipes. Check them out here!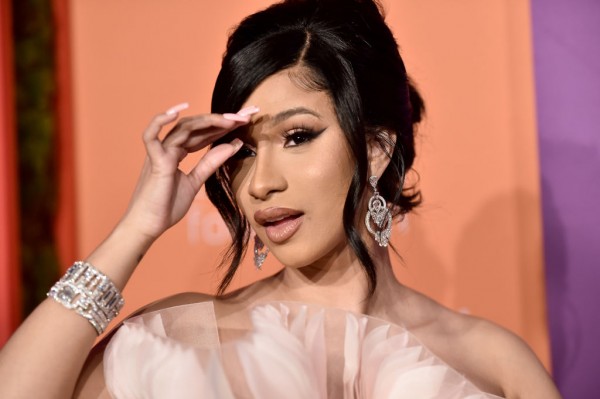 One celebrity that seems to get a kick out of DIY masks is the inimitable rapper Cardi B. With most hair salons still closed or operating on a limited capacity, people have been taking care of their grooming and beautification at home. Since social distancing is also key, celebrities have also been giving their glam squads a rest.
Cardi's latest concoction is a moisturizing hair mask she makes for her daughter, Kulture. As she shares on her Instagram Story, this hair mask is "for Kulture because her hair's been really dry lately." If your hair is also dry and could use a moisture boost, you may want to try this recipe, too. All you need is one avocado, one egg, a generous amount of honey and coconut oil and some castor oil. A quick ingredient check: Castor oil contains ricinoleic acid and omega-6 fatty acids that dermatologists say can prevent hair fall and improve hair growth.
Mix all ingredients in a blender until the mixture is smooth and creamy. You certainly don't want chunks of avocado in your hair. Since that's where Cardi ends her story, use this mask as you would any hair mask. Spread evenly on hair, cover with a shower cap and wait for 20 to 30 minutes. Rinse and style as usual.
Coconut Oil Hair Mask: Try These Recipes for Different Hair Types
Cardi has another recipe if you want to keep up with this DIY mask pattern. She shared this one through Instagram in June. The ingredients include banana, avocado, two eggs, mayonnaise, argan oil, black castor oil, olive oil and honey. This combination already sounds like a moisture bomb which Cardi's natural hair texture needs. If you share Cardi's thick and kinky hair texture, give this a shot. Again, chuck everything in a blender and apply on hair.
While we're on the subject of DIY masks, here are some recipes from Good Housekeeping that you can easily replicate at home:
Honey, Apple Cider Vinegar, and Coconut Oil Mask
If your hair is starting to look dull, this will bring back that glossy shine. Mix equal parts of organic honey, ACV, and coconut oil. Apply the mixture to damp hair, leave it on for a least 20 minutes them shampoo it off. This mask is suitable for all hair types and best for colored hair that's losing vibrancy.
Cinnamon and Coconut Oil Mask
If your issues include thinning or slow-growing hair, try this simple combo. Cinnamon is known to improve blood circulation and promote hair growth, while coconut oil has vitamins and fatty acids that nourish your scalp and penetrate deeply into hair cuticles. It also helps keep dandruff away. Mix equal amounts of cinnamon and coconut oil, then massage onto your scalp and roots. Leave it alone for 30 to 45 minutes and rinse. GH suggests doing this once a week.
Egg White and Lemon Mask
For greasy hair, egg whites contain protein enzymes that help remove excess oil. Mix whites from one egg and juice from half a lemon. If you have long hair, just double the amount. Apply from roots to tips and leave on for 30 minutes to an hour. GH says the longer the better. Rinse with lukewarm water.
So, there you have it. While trips to the salon are still a no-go, pamper your hair at home with these DIY mask recipes.
Related article: How Often Should I Wash My Hair? Read on to Find Out.
See Now: 100 Most Beautiful Women In The World
PHOTO GALLERIES
BEAUTY IDEAS
HOW TO