Oct 15, 2020 02:41 AM EDT
Money soap with real cash makes a viral thread on TikTok this week. Seldom you may get the chance to find real money inside a bar of soap. This is possible as a novelty money soap can be bought online as a gift to surprise family or friends.
Anyone who buys the bar gets the chance for real cash like $1, $5, $10, and even $50 as the money soap jackpot price.
Recently, a young man named Michael bought a money soap and created a video out of it. He published the video on TikTok and went viral with over 20 million views.
The video showed Michael and his friend took two money bars and ran them under a sink faucet in the bathroom. As the soap becomes soft and comes in half, a small plastic emerges with real bills inside.
@_mmallach123 This is so worth it ##moneysoap ♬ Billionaire (Made Famous by Travie McCoy feat. Bruno Mars) - Ringtone Masters
The two friends opened the small bags; one bag had a 10 dollar bill while the other had a 50 dollar bill.
People got surprised by the fast money soap. Others shared their experience of getting the money soap during Christmas and as gifts.

"Where did you get this?", Rudi on TikTok.

"I get them every year for Christmas and every single year I only get a dollar," Hannah on TikTok.

"Finally a soap that motivates humans to wash their hands properly," Ben on TikTok.

Novelty money soap is available to purchase online. On Amazon, the money soap coast $15 each. However, others might get doubtful to spend money on buying the money soap. The risk of getting the $1 is possible, as nobody knows the exact amount you get on each piece.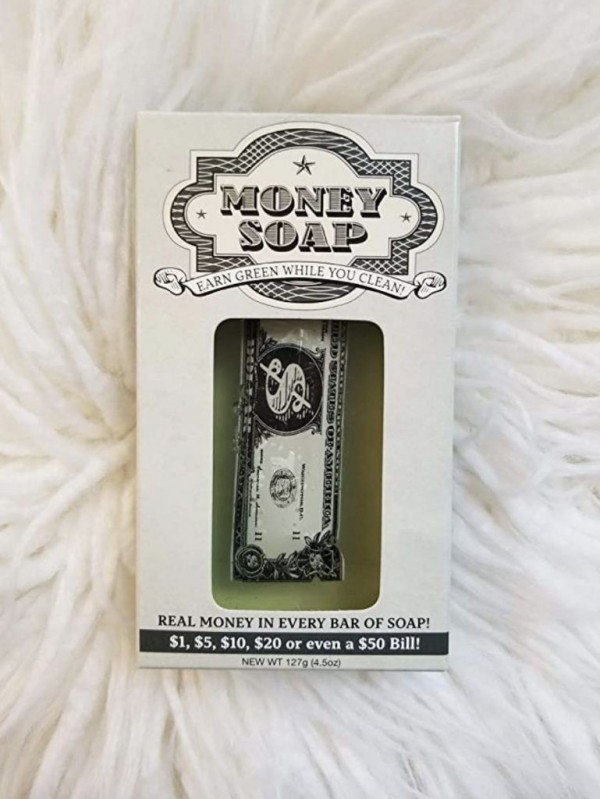 The money bar on the video is from an American-made product New Hampshire Novelty. The company is a family-owned business, and they promote fun, real money as a gift, and all products made from the US.
See also: How to Get Rid of Eye Bags: Best Easy Routine at Home
Money gift ideas
There are a lot of money ideas as a gift for the holidays. Either you can make your own or buy online to surprise your loved ones.
Pizza Box Money Gift
Create or look for a pizza box and placed bills formed into a circle just like a pizza. Anyone loves to eat pizza and will sure love pizza and money in one.
Balloon Money gift
Money inside a balloon is one of the ordinary gifts we have that is good for any occasion. Roll the bills and put inside the balloon, then pump air inside for your desired size.
Money Lei
Money lei is fun and brings joy to anyone as a gift on any occasion.
Money Topiary
A cute money topiary as a gift goes a long way. Imagine a vase with money formed as flowers or leaves will make your jaw dropped.
Money Umbrella
Buy a nice umbrella and tie money bills inside. Once you open the umbrella, money hangs on your head, making your heart skip.
See also: AOC's Birthday Gets Gen Z Support Through Inspired TikTok Makeup Tutorials
See Now: 100 Most Beautiful Women In The World
PHOTO GALLERIES
BEAUTY IDEAS
HOW TO