Oct 04, 2020 09:26 PM EDT
Smart Virtual Mirrors Now in Ireland and More Beauty Company Is Doing It(Photo : Diego Rosa on Unsplash)
Smart virtual mirrors have landed in Ireland, bringing excitement to customers and businesses.
Smart virtual mirrors open its door to beauty lovers in Brown Thomas and Arnotts, Ireland. The first virtual beauty mirror replaces samples and testers when doing makeup shopping.
The innovative virtual mirror could be found in stores' beauty hall. It allows shoppers and beauty lovers to try on new products on their faces. It will shows the user wearing blush and lipstick in perfect lighting to get an exact color match.
The smart mirror is powered by an artificial intelligence solution analyzing facial characteristics. It helps customers to find makeup products that fit their age, skin, or eye color. It showcases customer's real-time results once they face the mirror. Cosmetic brands can create preset makeup looks to recommend items that go together.
Brown Thomas and Arnotts aim to give loyal customers a new experience while shopping. The world shifts to a new way of buying beauty products due to the pandemic. The virtual mirrors can take customers through perfect shades. From brands like Charlotte Tilbury, Tom Ford, MAC, NARS, Laura Mercier, and many more.
Virtual mirrors provide more choices than a store has on its shelves. It offers 1,000 shades. It's the first smart virtual mirror in Ireland to showcase many brands. Smart virtual mirrors let customers save their selection. Customers will receive an email using an OR code.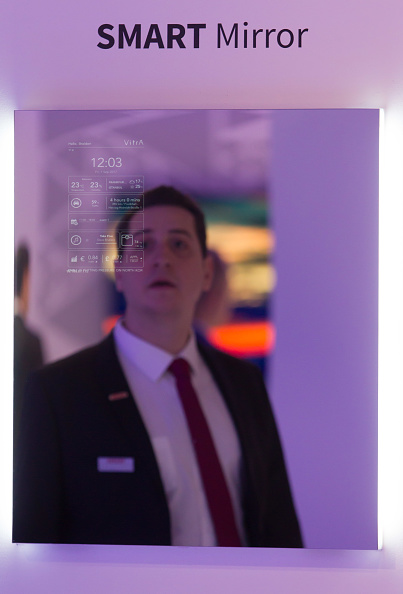 Smart virtual mirrors available in more stores
More beauty brands around the globe are shifting to interactive beauty mirrors. It helps their consumers to try on different products. More color cosmetic shades and makeup looks in an instant to choose from.
German retailer Douglas opens its smart virtual mirrors in stores. Douglas retail stores across Germany, Austria, Italy, Poland, and the Netherlands are using it. They also allow customers who are living outside these countries to access the app. Shoppers can visit online through the official Douglas app.
Sephora company offers a 3D augmented mirror to its stores worldwide. Customers are able to try different products or can move their faces from side to side. The augmented eye shadow or lipstick stays where it will create a realistic effect. Sephora shifts its market strategy to drive more sales. Give and enhance the customer experience to discover new products to buy.
Neiman Marcus is popular for its luxury merchandise. This includes women's couture, designer apparel, cosmetics for men and women. The company installed MemoMi's virtual mirrors in 34 locations across the globe. The virtual mirror in stores has combined a full-length mirror with high technology features. It has a 70 inches LCD, a computer, and a high definition camera. It can record videos so you can save, share, and review your shopping experience.
As technology transitions, more companies are gearing to make smart virtual mirrors accessible. The pandemic gives another avenue for artificial intelligence to penetrate the beauty industry. It helps retail stores and online experience more real-life and interactive.
Read Also:
How to Get Clear Skin Naturally with Home Remedies
How to Get Rid of Eye Bags: Best Easy Routine at Home
Virgin Coconut Oil as a Makeup Remover | What You Need to Know
See Now: 100 Most Beautiful Women In The World
PHOTO GALLERIES
BEAUTY IDEAS
HOW TO