BEAUTY
Valentine's Day Nails: Our Favorite Looks From Instagram
Feb 13, 2014 10:33 PM EST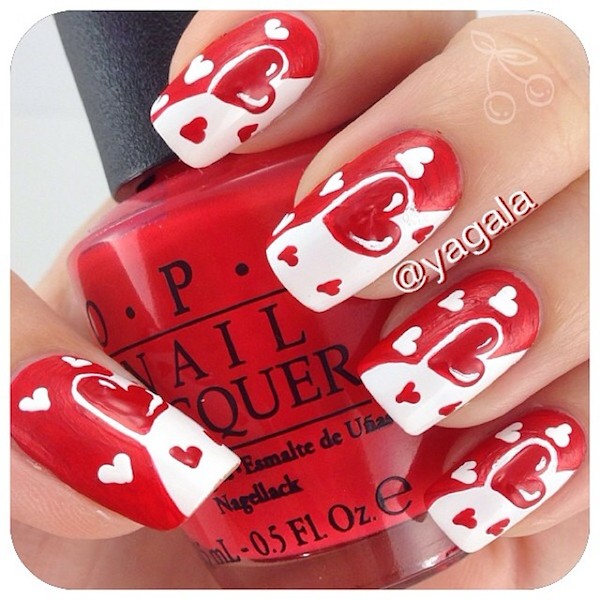 Credit : Instagram
Happy Valentine's Day Beauty World Newsers!
Forget about wearing your heart on your sleeve, check out these manis that prove you can never show your nails too much love!
We've picked out our top 20 favorite manicures that celebrate cupid's day. Check out each romantic style and let us know which is your fave.
From reds, to pink, purples, greens, glitters, and even throwback crackles, these polished wonders have got it all covered. Stripes, hearts, dots, teddy bears, bling, kissable lips, and candy are all fun and cute accents that take these nails over the top.
The one color most of these manic have in common, however? The color red! Nail expert Katie Saxton of Custom Nail Solutions agrees that red will always be the Valentine's Day go-to color.
"The color red evokes images of romantic rose bouquets and heart-adorned Valentine's Day cards," Saxton said. "This year, coat your nails with a deep and enchanting red polish or sparkly red to woo your sweetheart, or to catch the eye of one...or two!"
Second color runner up in this polish populariy contest is definitely pink. "For an extra flirty and feminine look, coat your nails with a pale pink, purplish-pink, or sparkly pink polish," Katie explained. "Valentine's Day is not complete without pink conversation hearts, and this universal color also will complete your look for the big date!"
Unlike the usual seasonal guidelines we often keep in mind when picking out a color, we love that there are no rules when it comes to holiday manicures. The hokier, the more outrageously cute, the better!
Use the pics we loved best to get any last minute V-day nails inspiration too. Today kicks off what's sure to be a fun Valentine's Day weekend, so there's still time to make it up to your manicure!
What fun mani style are you crushing on the most? Let us know by leaving us a love note below!