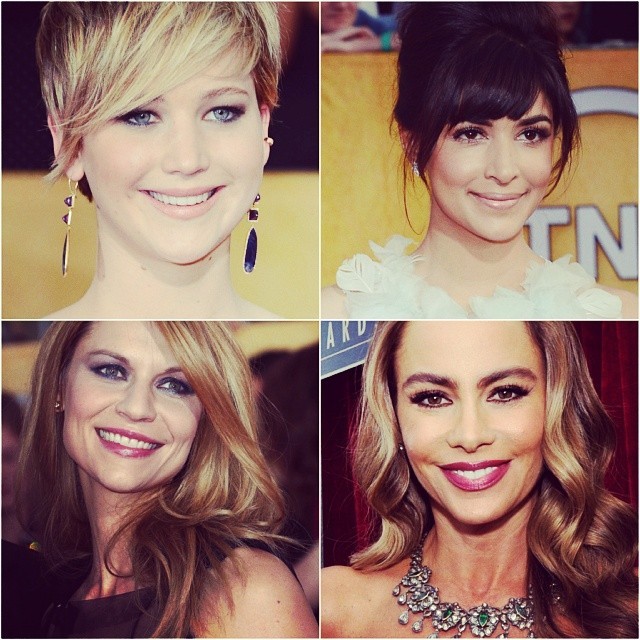 Credit : Instagram
The 2014 SAG Awards were filled with so much glitz and glam, we need our resident beauty experts, Kylee Heath and Amy Nadine to help break them down for us! Wondering what trends these professional beauty junkies spotted? Check out the two key hair and makeup styles they noticed up and down the red carpet and click through the slideshow to see the trends in action on your favorite stars. Let us know which look you love with a note below!
Spring Lips. "The big trend for last Saturday's SAG Awards was a hint of spring on the lips," celebrity makeup artist, Amy Nadine explained. "From tangerine reds, to rosy pinks, to raspberry, it's an ultra-feminine and flirty look that's really flattering. Especially paired with an effortless eye and gorgeous skin."
Get the Look. For a pretty pair of your own spring lips, Amy recommends trying COVERGIRL LipPerfection Jumbo Gloss Balm in Watermelon Twist ($8). In addition to the vibrant seasonal hue, the formula treats lips to shea and mango butters, for a smooth application and feel. Also try using Olay Fresh Effects Satin Finish Lotion ($12). "Part lotion, part gel, it's the best of both worlds to help keep you shine-free," Amy explained. And an added tip for completing your look? "Keep the focus on the lashes by skipping liner and really coating the lashes," Nadine said. "Try the new Bombshell Volume Mascara for this final touch ($10)."