Ten years after her first pairing with LV, Yayoi Kusama returns for a second collab with the storied fashion house. The collab will feature the artist's signature polka dots atop a new collection of ready-to-wear, bags, shoes, accessories, suitcases, and fragrance, among others.
LV, a French luxury fashion brand with a history of 169 years, has been embracing pop culture and contemporary art. It opens its arms to fun new things at the cutting edge of futurism. Fans always marvel at "LV's explorations of contemporary and future lives". So does this collab.
Since its inception in China, Douyin has boasted of keen fashion senses. Over the years, it has grown into a vital hub for pop culture. Having noticed this, LV selected Douyin to promote its artist collab collection. It rolled out a sticker filter "polka dot pumpkin" with Douyin, and launched a branded campaign under the hashtag #lvxyayoikusama.
The AR-enabled filter applies the collab sticker to the user's face as they look into the camera in real time. With this, LV innovated the conventional unilateral promotion of Fashion x Art collab. Numerous Douyin users were thus engaged in the fusion of art, fashion and consumption through creative and derivative works. Meanwhile, the post-click marketing campaign allowed LV to effectively drive leads interested in the new collab collection and boost conversion.
Part 1 No Boundaries, Fashion x Art for All
In recent years, Fashion x Art crossover has been gaining popularity with many collabs under the spotlight. But only a few fashion insiders felt engaged and relatable.
LV aims to make art accessible to all through fashion collabs. Yayoi Kusama's marvelous style of pop art fits in with LV's initiative with unique charm and lasting relevance. Her art breaks away from aesthetic conventions and instead presents a mashup of sophisticated design with consumerism, mass culture and vulgarity, demonstrating its unconventional and rebellious genes.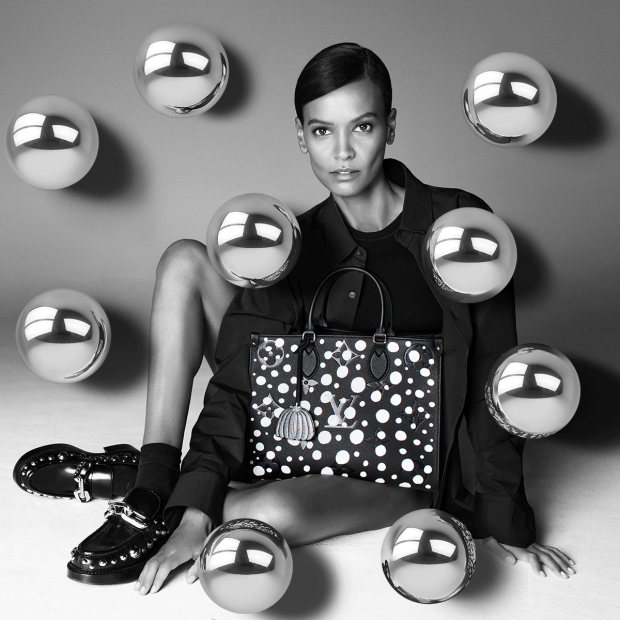 The collab is a golden opportunity for LV to embrace the postmodern culture and consumer trends for the future. As the co-branded products and elements become window displays in physical stores and commodities on the shelves, and get turned into various symbols and re-created by Internet users, everyone is entitled to interpret art and bring new life to it.
How can a brand reach out to people of all circles via a collab?
LV noticed that Douyin's DAU hit more than 600 million, of which many are high-quality consumers from all walks of life. The influence and appeal of various fashion stars and KOLs are compelling. The growing user base and improving content matrix have transformed Douyin from a platform for fashionistas into a rendezvous for various youth cultures and more diverse audiences. Undoubtedly, Douyin has become a preferred channel for LV to embrace all young consumers. This prompted LV to get on board with Douyin and release its first video via its official account on August 3, 2020.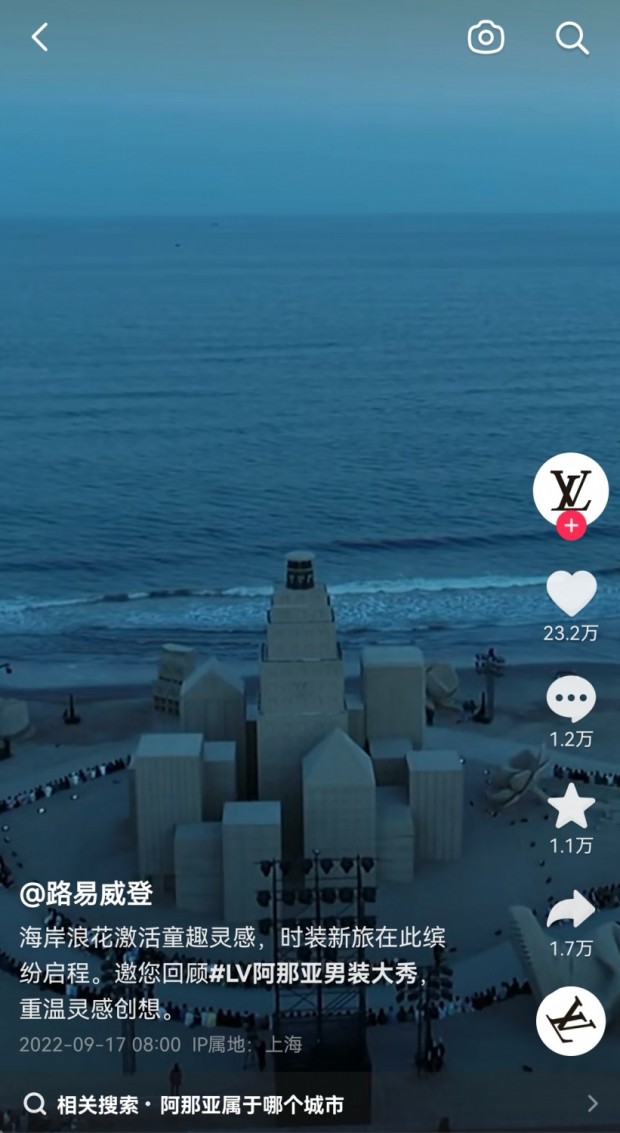 This time, LV launched its very first artist collab campaign on Douyin with a branded sticker filter jointly rolled out with Douyin. The creative selection of marketing channel and strategies allows LV to make Fashion x Art collab more accessible to common consumers. As the polka dot pumpkins occupy the screen, they capture the hearts of young users. LV has also reaped more insights into pop youth cultures.
Part 2 Innovative Artistic Communication, Douyin AR Stickers Go Viral Among Young Users
LV has been dedicated to bringing an unparalleled interactive experience to users in various ways. In September 2022, LV presented Douyin users with a Spring-Summer 2023 Men's Collection in Aranya, China. It racked up 57.85 million impressions for a single runway show. As a popular platform providing highly immersive, interactive and customized live experiences, Douyin has enabled netizens to enjoy the artistic fascination closely. LV has also grown into a forerunner in the marketing upgrade of luxury brands.
Nonetheless, LV wants to take a step further. Like all luxury brands, LV has never stopped thinking: Other than reaching out to wider audiences, how can it communicate with users in a more pioneering, personalized, and "exclusive" way?
More and more people now perceive luxury products as an embodiment of self-reward, good taste and a sense of ritual on top of wealth, appearance and personalization. Against this backdrop, if a brand uses tools including Douyin stickers, BGM, and AR, netizens will be inspired to create and engage in content creation as well. The Fashion x Art collab helps a brand unshackle the limitations of the traditional top-down one-way campaigning approach, and achieve real-time interaction and zero-distance communication with users from various sectors and circles.
LV made a branded AR sticker "polka dot pumpkin head" on Douyin, which is inspired by the most iconic polka-dotted pumpkin motif from the collab. It also invites all users to create content with the hashtag #lvxyayoikusama.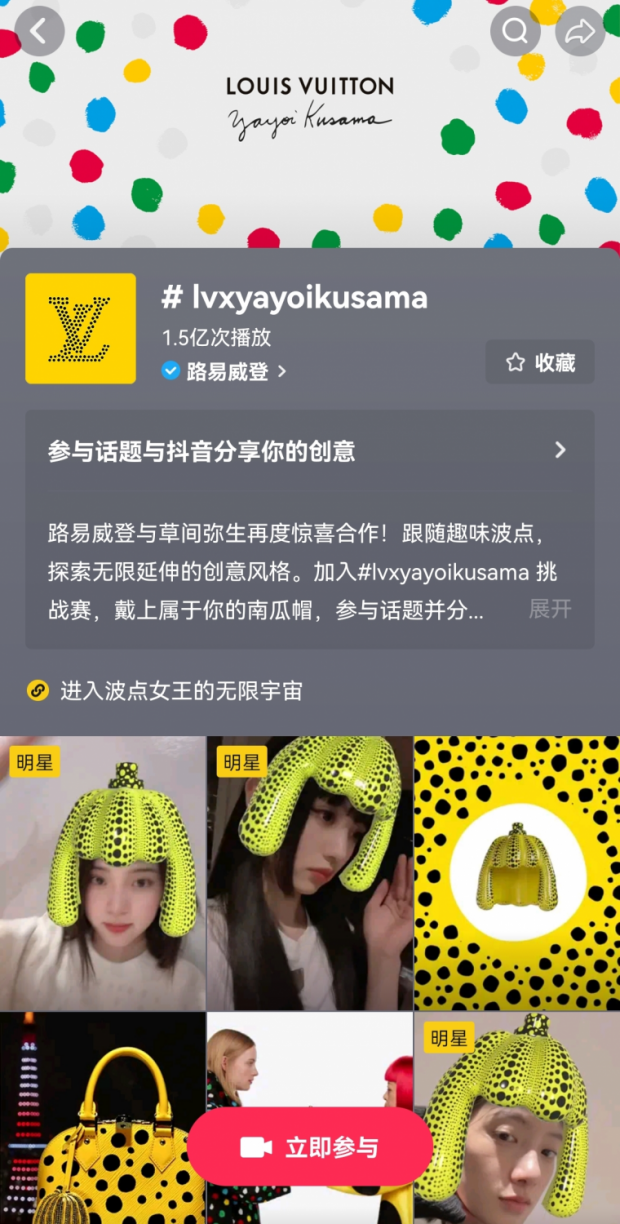 The "Douyin exclusive" AR sticker jointly authorized by LV and the artist has not only brought the brand-artist connection to life, but has also offered a distinctive experience. The sticker applies fascinating AR effects to users' hairstyle and hair color to give them a "polka dot pumpkin head", allowing the artist's iconic elements to present unique texture and brilliance on different people. Users can also share their creative look using the hashtag #lvxyayoikusama.
This creative approach has further demonstrated LV's pioneering mindset: innovative communication of art and culture should not be restricted by practicality. Instead, we should be bold to try novel approaches to extend artistic design to the greatest extent and engage everyone.
After the campaign was launched, LV challenged a few celebrities and KOLs to create content with creative stickers. By clicking the sticker anchor point in the video and the hashtag in the text, users could jump to LV's collab topic. The chic sticker inspired fans to follow suit. Simultaneously, LV used ToPView, information flow and other tools to further promote the videos of celebrities, which enlarged the brand's share of voice. Soon more users joined the re-creation. Within only one week, the hashtag #lvxyayoikusama recorded 140 million video views, 117,000 derivative videos, and 5 million interactions.
Part 3 Whole-Scenario Marketing Enhances Brand Relations via New Products
For many, luxury brands were born alienated from common people. Fashion x Art collabs allow luxury fashion brands to reshape consumers' brand perceptions and reach more potential customers. The post-click campaigns on Douyin enable luxury brands to break through marketing bottlenecks. They redirect users to the brand's landing page, thus boosting lead generation.
On the #lvxyayoikusama page, users can click on the brand name to immediately jump to the brand's landing page, embedded with an exclusive sticker page where users can browse and order new products. The collab sticker has boosted users' association with and interest in the new products. Meanwhile, users are presented with the design and styles of the collab, which further improves the marketing efficiency and impresses the users.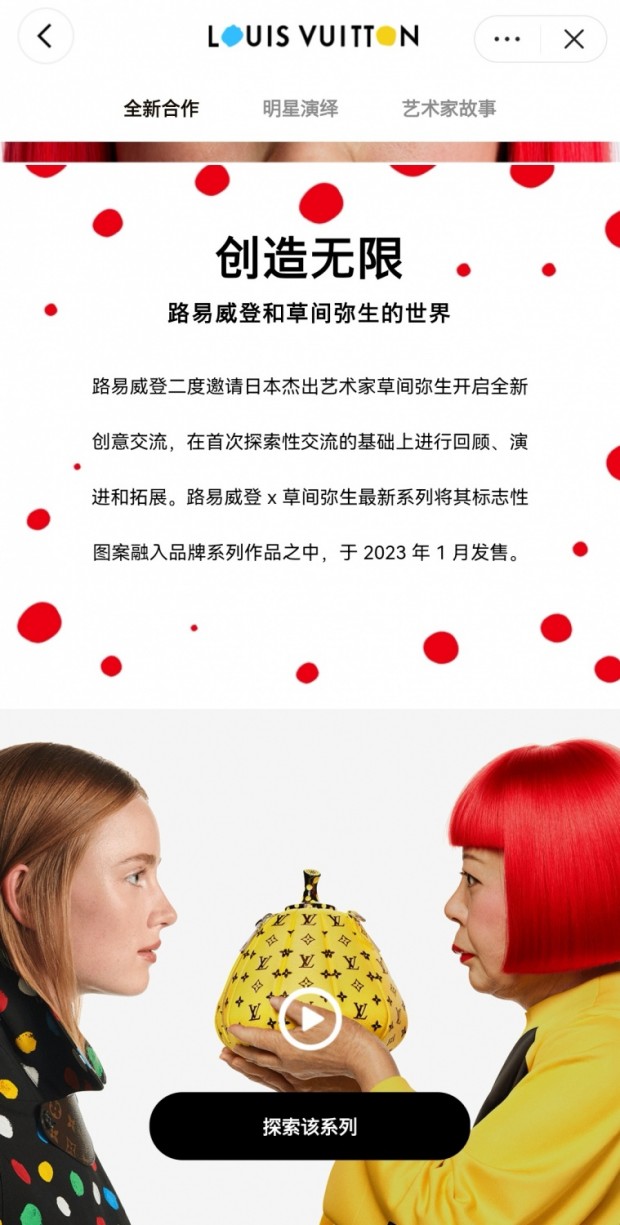 Suffice to say that after reaching consumer groups with diverse contents and forms, post-click serves as the "conversion agent" for content marketing of luxury brands. The built-in redirect link helps LV fully leverage the previous impressions and interactions to retain followers and convert impressions into sales. The brand can further explore effective marketing strategies targeting loyal followers, such as refined follower management based on data and content analysis using Ocean Engine's word clouds to maintain long-term consumer/brand relationships. Through this collab campaign, LV saw a 160% year-on-year growth of consumer groups throughout Kotler's 5A's of the consumer path.
Luxury brands like LV can gain a deeper understanding of the target consumers by expanding consumer groups. Such insights in turn allow them to engage target consumers on a large scale in a refined manner under various scenarios, thus expediting the consumer journey from generating interest, bringing in new customers, to repurchasing. Meanwhile, every promotional video released by KOL, UGC content below each hashtag, and comments below each video would be stored on Douyin permanently. The long-tail effect will help the brand develop differentiated aesthetic assets and achieve ominichannel communication.
Epilogue
Digital technology has become a trump card for fashion brands to take the highland of future aesthetics and fashion trends. An increasing number of luxury brands have realized that only by leveraging technological advances in campaigning can they transform brand assets into fresh momentum and build more "surreal dreams" appealing to more users.
Backed by the youthful, fashion ecosystem of Douyin and its in-depth insights into Gen Z, Ocean Engine aims to bring the benefits of digital technology to luxury brands, including massive traffic, diverse content, and innovative features. It is working to foster a new era of luxury fashion powered by digital intelligence.