BEAUTY
Bed Positioning Is Crucial - Mattress Importance And Types
Mar 10, 2021 11:15 AM EST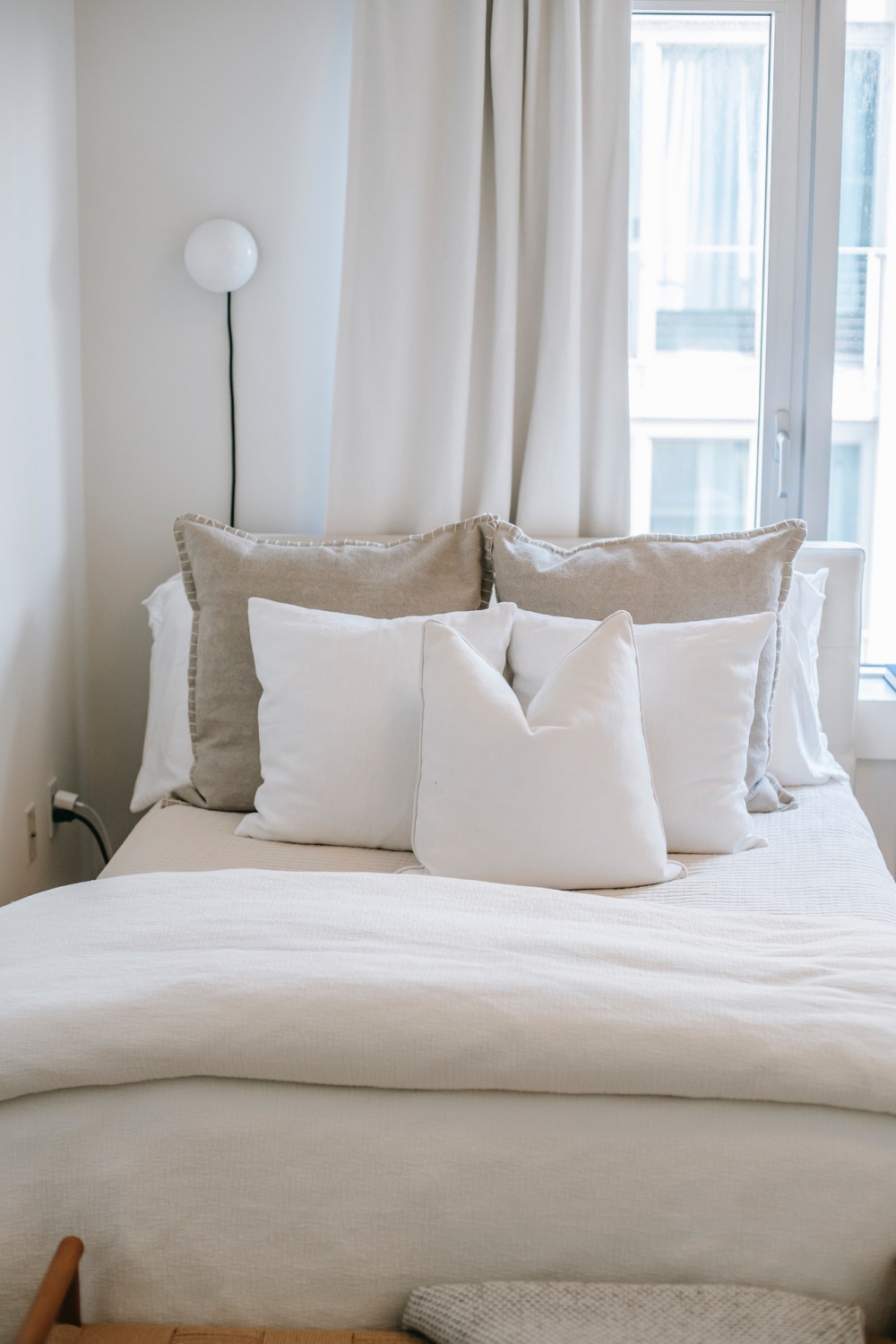 Credit : Pexels
Where should I place my bed in the bedroom? This is one common question which most of the people generally ask while designing their bedroom. If you are one among them then have a look below to find an answer to your question.
When it comes to their room designing people want everything to be perfect from wall paint color to furniture. One important thing which most people forget while designing their room is bed position. Not placing your bed at the right position in your bedroom can also cause sleep problems, even if you are using one of the best mattresses. You can also feel more comfortable by placing your bed at the right position in your bedroom.
# Bed Positioning In Your Bedroom
● Corner Bed: If you feel that you have a smaller bedroom then place your bed at one corner in your bedroom to save the space available in your room. Placing your bed at a corner would also be your best choice if you want to add some eye catchy décor items or furniture to your room. You can actually have a comfortable sleep by placing your bed in this position.
● Centered Bed: Positioning your bed right at the centre of the longest wall in your bedroom can make the room look more elegant and spacious. If you want to make the bed a focal point in the bedroom then put it against the center of longest walls in your bedroom. You can actually add some other furniture like tables or a dressing table beside your bed as you will have enough space on both the sides of your bed because it is put in the center. Use the available wall space in your bedroom by adding some interesting wall decors. However, this may not work in a few cases. For example, if there are any water pipes inside the walls of your room the sounds from those pipes can wake those people who are sleeping beside the wall. Hence, you have to make sure that you place your bed at the right place in your bedroom.
● Bed Island: If you want to make your bedroom look unique then place your bed right in the middle of your bedroom just like an island. Island bed position is one of the popular bed positions. People with big bedrooms could try this bed position to enjoy a sound sleep.
● Opposite Windows: There are many people who believe that placing beds underneath windows can cause sleep problems during winter. You may also feel distracted while sleeping due to the natural light coming from windows. In order to avoid this kind of situation, you could place your bed opposite the windows.
What is the importance of a mattress?
A mattress also plays a very important role in achieving quality sleep. Keep in your mind that choosing a mattress without doing proper homework or research can cause sleep problems. Moreover, sleeping on either too firm or soft mattresses can cause sleep problems and body pains. Hence, you have to make sure that you choose the right mattress to have a quality sleep. With the increased options made available in the mattress market finding a good mattress can be difficult and overwhelming.
Besides, each and everybody has their own preferences when it comes to purchasing a mattress. For example, some people look for soft mattresses while others may consider eco-friendly or firm mattresses. In general, it all depends on their requirements. Here is the list of a few things which you should consider while buying a mattress.
● Comfort Levels: Comfort should always be your first priority, while purchasing a mattress. There are a lot of sellers online who offer different types of mattress at good rates. You will visit their website and check the different kinds of mattress varieties displayed. Even read the specifications and features to understand the comfort level better, before choosing. If you have a back pain problem then choose a firm mattress as it can support your back well.
● Size: Choose a mattress always according to the space available in your bedroom. Besides, some of the common mattress sizes include California king, king, full, twin and queen.
● Sleep Position: One important factor which you should always keep in mind while choosing a mattress is sleeping position. For example, some people are side sleepers while a few sleep on their back or stomach. Side sleepers can feel comfortable while sleeping on a plush mattress. Back sleepers will need a little firm mattress. Sleep position comfort is also a crucial factor to make sure that you will enjoy sound rest all night.
● Quality: Buying a quality mattress is extremely important, if you want to save your money in the long run. Remember cheap quality mattresses found in the market do not last for a long time. In fact, you may have to replace your mattress more often than expected. Thus, investing in a cheap mattress now is a waste of your time and money. Poor-quality mattresses may soon hamper your sleep, so why compromise on quality? Sleep is more crucial for health and well-being.
● Material: You should also choose the right mattress material to have a quality sleep. Some of the popular mattress materials include polyurethane foam, blend latex, natural latex, synthetic latex, wool, flax, cotton, etc.
● Cost: Check the price of different mattress brands. Make a note of the details of the different types of the mattresses. Now compare the prices of different brands while keeping different factors like comfort levels, quality, etc. in mind. Last but not least, choose the brand which offers the best mattress at an affordable price.
What are the different mattress types?
Mattress industry has caused a revolution in the last couple of decades. Innovative matters technology is flooding the market. People are getting aware of sleep significance and to fulfill their demand mattress makers are making a good attempt to offer their customers a good sleep they deserve.
● Hybrid Mattress: Hybrid mattress is a combination of both memory foam and innerspring mattresses. If you don't want to use the same traditional spring mattresses then these hybrid mattresses would be your perfect choice. The two important benefits of these hybrid mattresses is back support and body contouring.
● Memory Foam Mattress: Memory foam mattresses support your whole body and they are made up of polyurethane.
● Latex Mattress: Latex mattresses are a great choice for the people who are looking for eco-friendly mattresses. They are made up of petroleum or are plant based material.
● Air Beds: These air beds are also called adjustable air or dial mattresses. The best part of these air beds is you can adjust its firmness, according to your requirement. They are also odor free and durable. Air beds are very low in price. This is the reason why a lot of people use air beds.
● Water Beds: Water beds would be your right choice if you suffer from arthritis and back pain. These beds offer a great support to your spine while sleeping. Hence, you can sleep very comfortably. The best part of these mattresses is they will have an inbuilt heater, which you can use during winter to have a comfortable sleep. Even these mattresses are long-lasting and very easy to maintain. These water beds are available at a very affordable price online.