HOT GOSSIP
Will Kris Jenner's Beauty Inc Surpass Kim Kardashian and Kylie Jenner's Beauty Empire?
Feb 22, 2021 08:36 PM EST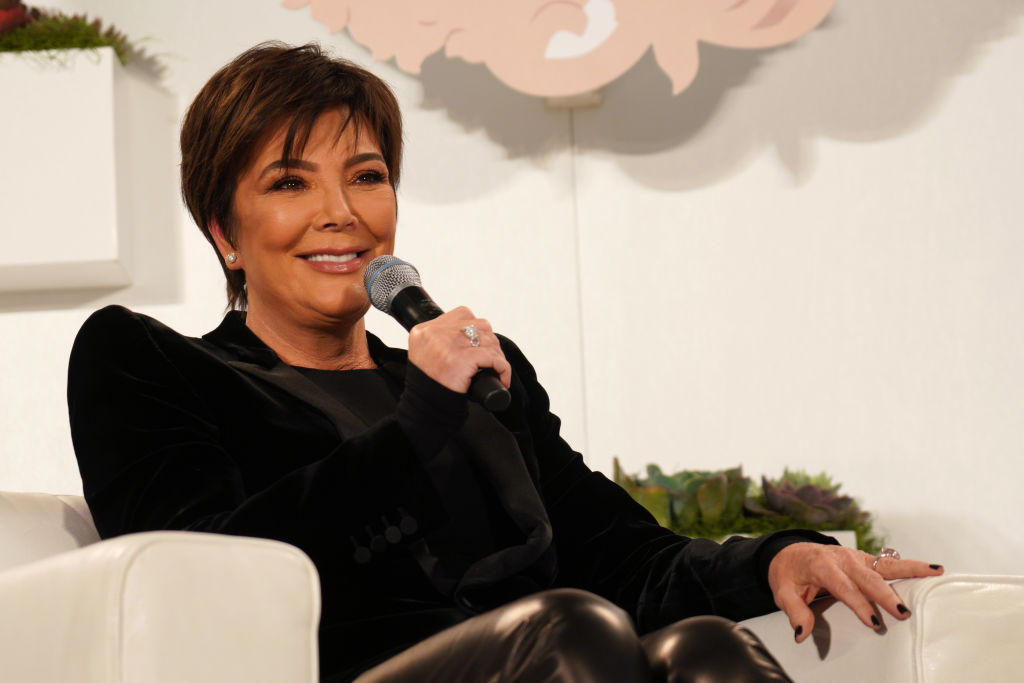 Credit : JC Olivera/Getty Images
Kris Jenner is expanding her empire by taking her first step to venture into the beauty industry through her Kris Jenner Beauty Inc.
The 65-year-old reality star is said to be the latest A-lister to join the celebrity beauty brand bandwagon.
The Kardashian Momager is Set to Launch Kris Jenner Beauty Inc
The surprising news came after the "Keeping Up with the Kardashian" star reportedly trademarked a beauty and skincare brand.
In a report cited by E! News, the famous momager filed intellectual property for "Kris Jenner Skin," "Kris Jenner Beauty," and "Kris Jenner Skincare."
Moreover, her upcoming beauty brand covers a wide array of products, including skincare, makeup, haircare, nail care products, fake eyelashes, fragrances, and more.
The Kardashian Beauty Empire
Aside from being the CEO of Jenner Communications, it is safe to say that with this move, the Kardashian matriarch is following the footsteps of her daughters Kim Kardashian and Kylie Jenner.
To recall, the 23-year-old Jenner is the first member of the Kar-Jen clan to venture into the world of cosmetics.
In 2015, the mother-of-one launched Kylie Cosmetics, formerly known as Kylie Lip Kits. At the time, the beauty mogul's collection was her best-selling liquid lipstick and lip liner set, dubbed as the Kylie Lip Kits.
Following the success of her first collection, Kylie Jenner expanded her reign to skincare and launched Kylie Skin in March 2019 and reportedly became a top-selling skincare brand in the US.
The beauty mogul's lucrative businesses in the beauty industry made her reach the peak of her success after she was named Forbes' world's youngest self-made billionaire.
At the time, Kylie Jenner was only 21-years-old and was able to surpass Facebook's Mark Zuckerberg, who received the title at 23.
Aside from Kylie Cosmetics and Kylie Skin, WWD also mentioned that the youngest Kardashian-Jenner member is looking forward to creating baby products and haircare line--varying from "hairbrushes, electrically heated hair brushes, hair combs, hairdryers, curling irons, shampoos, conditioners, hair care preparations, hair masks, dry shampoo, and hair dye."
Of course, Kylie Jenner is not the only one who played the market of the beauty business.
Kim Kardashian-West launched her cosmetic line, KKW Beauty, in 2017.
The 40-year-old reality star, who is famous for "breaking the internet," released her first collection that includes Crème Contour and Highlight Kit.
According to Fortune, these reportedly went sold out in just five minutes, garnering $14.4 million in sales.
Following this, she then released her own fashion line, known as Skims that caters to shapewear and lounge wears.
Will Kris Jenner Beauty Inc Eclipse the Success of Kylie Cosmetics and KKW Beauty?
There is no denying that KKW Beauty, Kylie Skin, and Kylie Cosmetics are among the leading brands when it comes to beauty and skincare.
As for the famous momager, it is safe to say that she can be able to match the success of her daughter; after all, there's a saying that goes, "the Devil works hard, but Kris Jenner works harder."