BEAUTY
The Top-Selling Beauty Products From Ulta Beauty In 2020
Dec 22, 2020 05:51 AM EST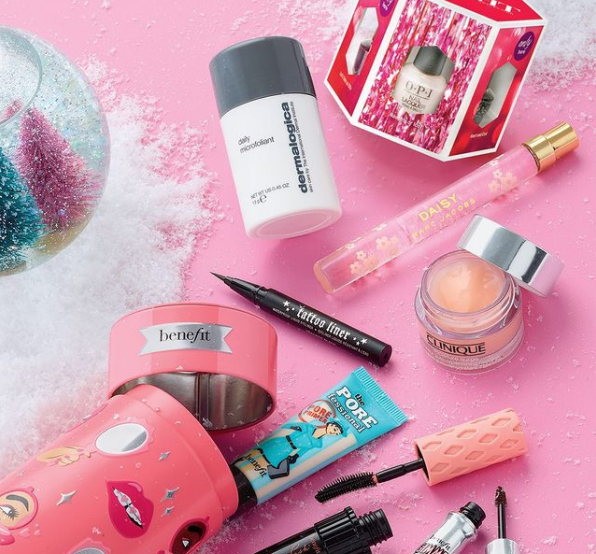 Credit : ultabeauty / Instagram
Since opening in 1990, Ulta Beauty has grown to be the largest retailer of cosmetics, skincare products, haircare products and fragrances. They have a wide selection of both luxury and drugstore brands and they also offer on-site salon services. As Glamour writes, one of the best indicators of what everyone has been buying for the past year is to check Ulta's bestselling items. As you would probably expect, this year has been all about at-home beauty treatments and skincare essentials and extras.
Here are some of the beauty products that been very in-demand this 2020.
Skin Care
Tula Cult Classic Purifying Face Cleanser
Probiotic skincare has been trending this year. Elle reports that live bacteria calms down the skin barrier and when your skin barrier is strong, it stays balanced, hydrated, and can fight off free radicals. This gel cleanser contains lactic acid to refine skin texture and is packed with anti-inflammatory botanical ingredients to soothe skin.
Kinship Naked Papaya Gentle Enzyme Face Cleanser
As dermatologists suggest, switch to a creamy and moisturizing cleanser for the winter. This one is formulated with papaya, jojoba oil and sunflower oil to hydrate and soften dry, flaky and irritated skin.
Philosophy Ultimate Miracle Worker SPF 30
Some people think they don't need sun protection in the gloomy winter, but dermatologists will tell you that you need it every single day. To save yourself a step, get a hybrid product like Philosophy Ultimate Miracle Worker SPF 30 to enjoy the benefits of a moisturizer and the protection of SPF.
The Ordinary AHA 30% + BHA 2% Peeling Solution
It seems like this peeling solution has been on everyone's radar this year. Just take a quick peek on Instagram and TikTok and you'll see selfies that highlight this blood-red chemical exfoliant. While you'll get a kick out of its unusual color, it's a fan-favorite for a reason. It's super affordable and delivers excellent results. Just make sure to follow instructions as it's a very potent formula.
Also read: The Best New Drugstore Beauty Buys and Upcoming Products for 2021
Makeup
Tarte Maneater Mascara
As this year has been all about the eyes, mascara sales have skyrocketed and at Ulta Beauty, this one leads the pack. The Tarte Maneater Mascara curls your lashes and gives you volume and length without clumping or flaking.
KVD Vegan Beauty Tattoo Liner
The classic cat eye is back and here to stay. Maybe it never really left. This liner is waterproof and sweat-proof, while the brush tip makes it easy to draw precise lines, graphic wings or following the trend, the classic cat eye.
Kylie Cosmetics Velvet Lip Kit in Red Velvet
Even if lipsticks have taken a backseat this year, there is nothing that can take the place of a red lip. Perfect for your holiday Zoom parties, Red Velvet will ward off the winter chill.
Hair Care
Bondi Boost Hair-Growth Shampoo
Dermatologists and cosmetic chemists have warned us off on parabens and sulfates and this shampoo is free from those toxic ingredients. Bondi Boost Hair-Growth Shampoo will wake you up in the morning with refreshing peppermint and will soften hair and remove product buildup with its blend of amino acids, vitamins, and minerals.
It's a 10 Miracle Leave-In Product
Our hair has definitely missed a hairdresser's touch this year. It's a 10 Miracle Leave-In Product will make it up to your hair by repairing damage, smoothing frizz, and adding shine. Glamour suggests getting an extra-large bottle because you'll surely go back for more.
Madison Reed Radiant Hair Color Kit
For health reasons, most people have chosen to avoid salon visits and at-home hair dyes have become saviors. Madison Reed Radiant Hair Color Kit is easy to use and the argan oil and ginseng root in the formula won't dry out your hair.
Hot Tools 24K-Gold Charcoal-Infused One-Step Blowout Tool
For those who love their blowouts ala Kate Middleton, the Hot Tools 24K-Gold Charcoal-Infused One-Step Blowout Tool brush and blower hybrid saves you time and gives your hair lots of shine with its charcoal-infused bristles and ionic technology.
Related article: The Best Beauty Subscription Boxes of 2020