Dec 07, 2020 06:05 AM EST
(Photo : Patrick Malleret / Unsplash) Folliculitis is common on the back and bottom and can appear like acne.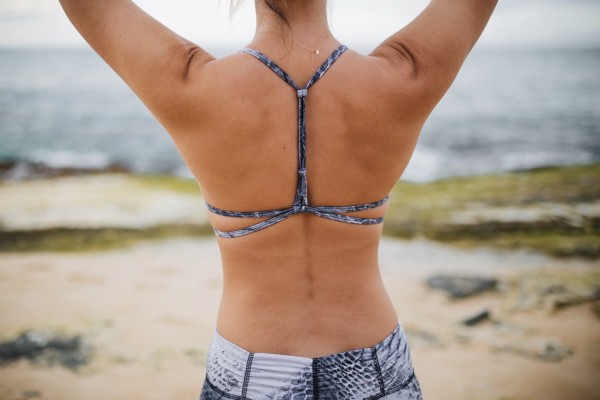 While it appears to be like acne vulgaris or the acne that is commonly found on the face, the ones that form on your back or butt is actually folliculitis. Folliculitis is the inflammation of the hair follicles and it appears as small bumps that are either itchy or painful. When these bumps get irritated, they can develop into bigger clusters. Folliculitis is also common on the scalp.
The more common causes are shaving, waxing, and wearing tight clothing. More serious types of folliculitis are caused by bacteria or fungi and these can be infectious. Avoid shared facilities like hot tubs in the spa or gym.
Treatment for Back and Butt Acne
The use of benzoyl peroxide, salicylic acid and other exfoliating acids are the most common treatments for back and butt acne. Look for liquid facial cleansers or body washes formulated with those ingredients to replace your regular soap. Refinery29 recommends Replenix Acne Solutions Acne Wash 10% Benzoyl Peroxide, Mario Badescu A.H.A Botanical Body Soap, Dermalogica Clearing Skin Wash, Neutrogena Pink Grapefruit Body Clear Body Wash and The Body Shop Tea Tree Body Wash. If you need something stronger, Dr. Hilary Baldwin tells Allure that you can ask your dermatologist for a prescription of BenzEFoam, a fast-acting peroxide foam that kills inflammation-causing bacteria.
You can also try spot treatments like Allure favorites Clean & Clear Advantage Spot Treatment, Versed Game Over Acne Drying Treatment and Dr. Dennis Gross DRx Blemish Solutions Acne Eliminating Gel. While these are commonly used on the face, they can also be used on the body. Blemish-clearing sprays also help treat bacne. Try Dermalogica Breakout Clearing All Over Toner or Paula's Choice Acne Body Spray.
Also read: How to Get Rid of Ingrown Hair
For butt acne, you can spare them from chafing against your clothing by using pimple patches. Look for Hero Cosmetics Mighty Patch Surface, Peace Out Acne Patches and Cosrx Acne Pimple Master Patches.
To avoid hyperpigmentation after all treatments, Allure suggests using a deeply moisturizing lotion like AmLactin 12 % Lactic Acid Moisturizing Lotion.
Things to Avoid for Back and Butt Acne
Physical Exfoliation
Some may think that scrubbing away may get rid of bacne and butt acne. Board-certified dermatologist Dr. Shereene Idriss tells Allure that instead of getting a smoother back or rear end, using a scrub or loofah will just worsen existing inflammation and might result in hyperpigmentation or scarring.
Tight Clothing
While you have bacne or butt acne, avoid tight clothing. While those coordinating outfits might look more flattering in the gym, they also trap sweat and bacteria and chafe against your back and bottom. If you can't resist those brightly patterned tops and leggings, make sure to shower right away after your session and wear less restrictive clothing afterwards. In addition, while you still have butt acne, steer clear of skinny jeans and opt for looser pants and skirts.
Waxing
To avoid folliculitis in other parts of the body, try other forms of hair removal other than waxing. Waxing can obstruct the hair follicles and worsen inflammation. Dr. Idris suggests using good-quality razors. Laser hair removal is also another idea to consider.
Related article: How Much Does Laser Hair Removal Cost? And Other Things You Need to Know
See Now: 100 Most Beautiful Women In The World
PHOTO GALLERIES
BEAUTY IDEAS
HOW TO