Dec 05, 2020 05:32 AM EST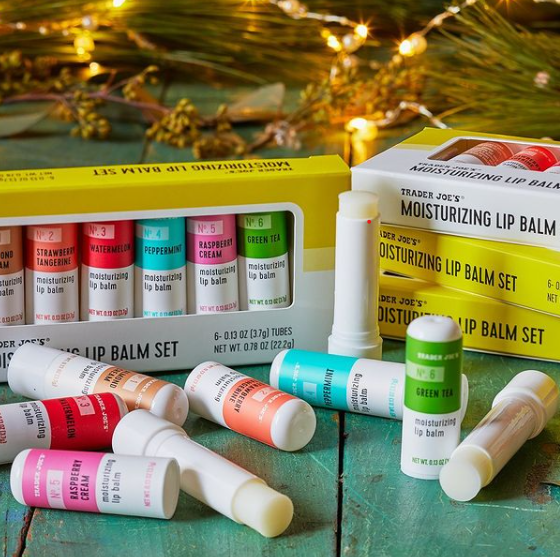 Worry not if your holiday bonus hasn't arrived yet. Some people don't even expect it anymore with Covid-19's impact on the economy. While gift-giving can take a backseat this year, it doesn't have to because Trader Joe's is coming to the rescue!

You can find these awesome beauty buys that were tried, tested, and compiled by Popsugar beauty contributors for $10 or less:
Trader Joe's Moisturizing Lip Balm Set
Lip balm is a staple in everyone's purse. This set comes with six tubes in various and unique flavors: Almond Cream, Strawberry Tangerine, Watermelon, Peppermint, Raspberry Cream, and Green Tea. Lip balm will be especially handy come the cold winter weather. Say goodbye to chapped lips!

Trader Joe's Rose Facial Oil
Rose oil is excellent for acne-prone skin and gives any skin type a healthy dose of moisture. Trader Joe's Rose Oil also has the added benefits of vitamin E and squalene.

Trader Joe's Shea Butter and Coconut Oil Hair Serum
Who doesn't struggle with flyaways and frizz? This hair serum has shea butter, vitamin E, keratin, coconut oil, and argan oil. That's a potent combination that will only lead to sleek, shiny, and smooth hair.

Trader Joe's Watermelon Facial Mist
A facial mist is a perfect pick-me-up in the middle of a humid day. It also provides a good dose of moisture come winter.

Trader Joe's Watermelon Overnight Mask
Complete the watermelon duo with an overnight mask. Formulated with skin-loving ingredients such as squalene and hyaluronic acid, there'll no cause for dehydrated skin in the winter.
ALSO READ: Christmas Shopping 2020: Gifts That Guys Will Actually Want To Use

Trader Joe's Face Mask Trio
When your face is looking a little dull, indulge in a little mask time. This trio includes the Clay Detox Mask, Papaya and Pineapple Enzyme Mask, and Rose Gel Mask.

Trader Joe's Exfoliating Body Scrub Trio
Exfoliating gets rid of dead skin cells and reveals brighter and smoother skin. Make it a weekly habit with this scrub trio that has three great-smelling variants - Brown Sugar, Citrus, and Green Tea.

Trader Joe's White Pine Hand Soap and Lotion
Amidst a pandemic, you can never wash your hands too often, and that can be drying on the skin. Take this liquid hand soap and lotion set and give this to someone you know that works in the healthcare industry.

Trader Joe's Warm Vanilla Body Butter
With the winter closing in, dry skin is inevitable. Slather on this body butter and inhale its delicious warm vanilla scent. You won't only save your skin. Plus, you get to enjoy some aromatherapy.

Trader Joe's 100% Pure Jojoba Oil
As dermatologists always say, take off your makeup every night. This jojoba oil removes makeup while unclogging pores and soothes skin. It can also be used as the first step in double-cleansing. You can also use Trader Joe's Facial Cleansing Oil for that. Follow it up with a facial cleanser like Trader Joe's Face Wash With Tea Tree Oil for squeaky clean, blemish-free skin. All products mentioned are still under $10.

Trader Joe's Moisturizing Gel with Aloe Vera
A lightweight moisturizer is always good for those with oily and acne-prone skin. For a totally refreshing experience, keep it in the refrigerator. Aloe vera is also a soothing and cooling ingredient to keep in the kitchen for that occasional oil splatter.
RELATED ARTICLE: Christmas Shopping 2020: The Best Beauty Gifts Under $50
See Now: 100 Most Beautiful Women In The World
PHOTO GALLERIES
BEAUTY IDEAS
HOW TO